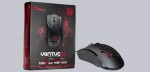 Layout, design and features …
Let's have a closer look at the Tt eSports Ventus X.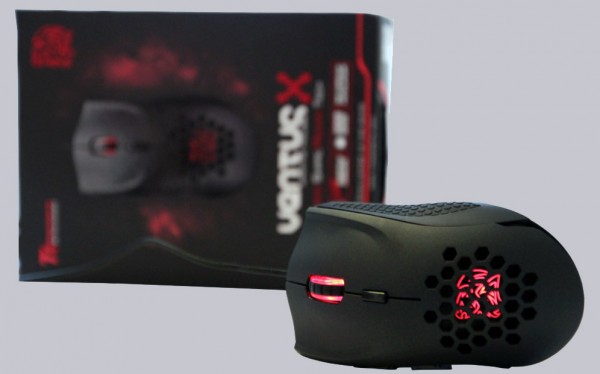 With the light turned off only the honeycomb pattern stands out. These cut-outs are supposed to keep your palm cool and reduce sweating.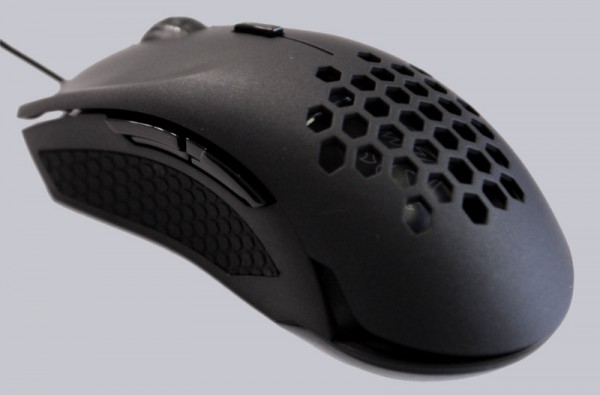 As soon as the mouse lights up it becomes as flashy as we know it from other gaming products. The logo even pulsates in a nice slow pattern.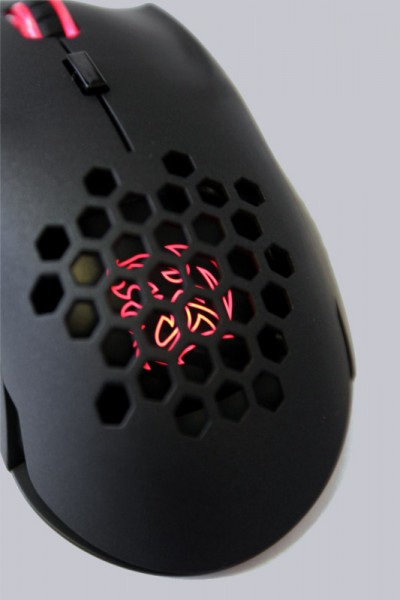 The button layout does not have many surprises for us. Two main buttons, one wheel, two thumb-buttons and one button below the mouse wheel can be used. The supported software let's you bind different actions to each.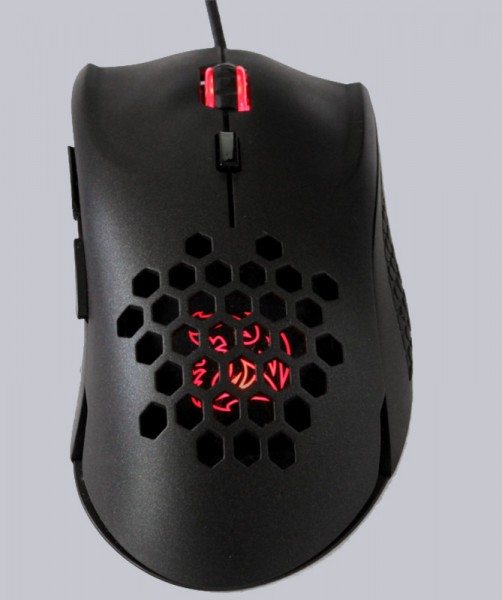 The front view shows that left-handed people might have their problems with this mouse.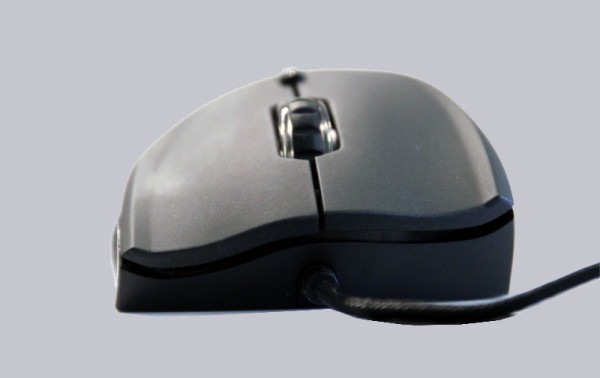 The lateral surfaces have rubber pads layed in which won't wear down as much as most rubber coatings would.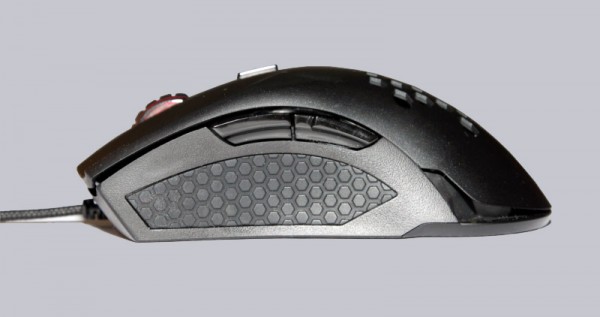 The cable is surrounded by a textile sleeve and the USB-Port is gilded.
Das Kabel ist komplett von Tüll, also einem Stoffgewebe, umhüllt und der USB-Anschluss ist vergoldet.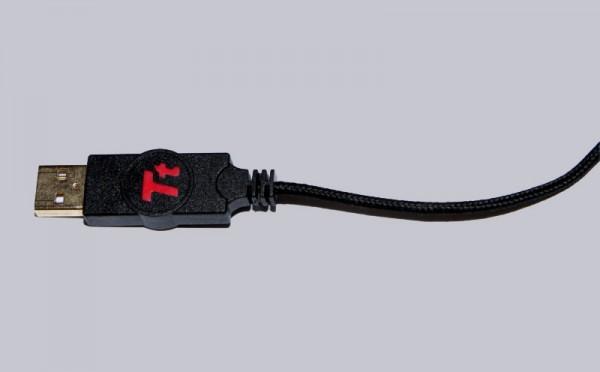 There are three big sliding feet on the bottom as well as the laser sensor and a hatch.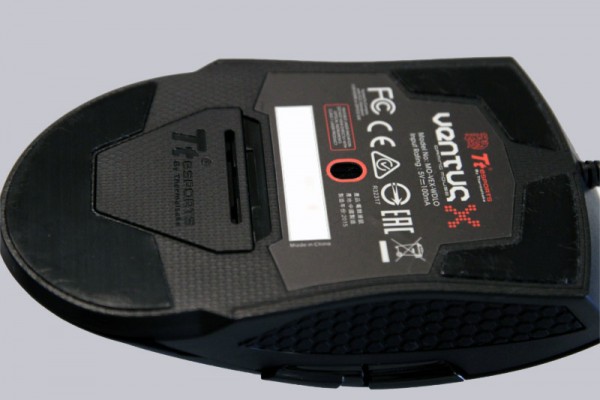 Underneath this hatch we find the three with drawable weights.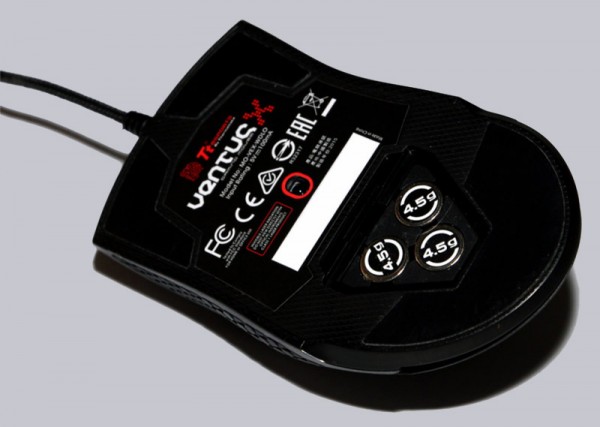 The Software …
The supported software from Thermaltake is called "command center". Before the first start it loads a firmware update for the mouse which didn't cause any problems.
you can easily orient yourself in the main menu because most of the controls are self-explaining and you get additional information on each one by mouse-over tooltip. The upper part let's you choose on of five profiles.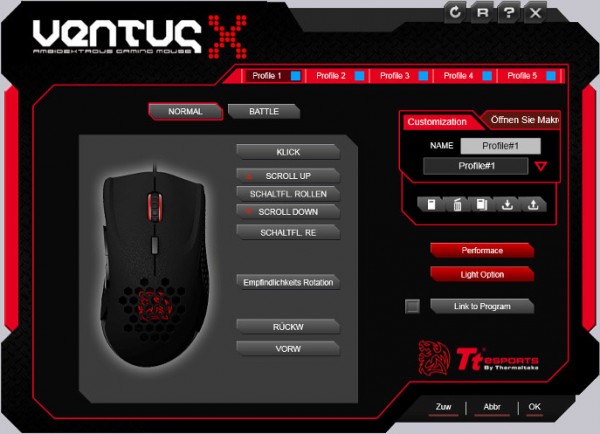 In the center you see an illustration of the mouse with the present assignment of keys, which you can change by clicking on it. You can choose between mouse- or keyboard command, macro, start of an app or changing of the mouse profile. This way even hard to please MMO gamer can resort to a huge number of commands or macros which can even be automatically repeated.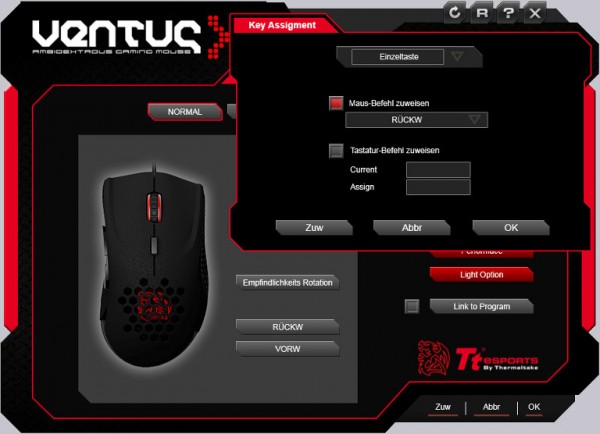 Above you can convert to so-called "battle-mode". This makes the mouse lighting blinking speed depending on how fast you click.
On the right we find the button for the macro editor. Here you can record or import a variety of macros.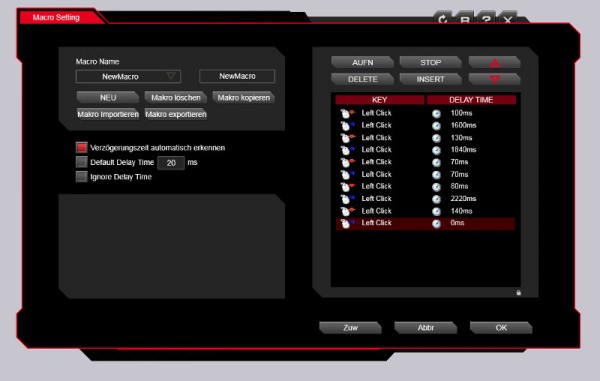 Underneath we find two red colored buttons. The upper one called "performance" leads us to a menu to adjust polling-rate, dpi and lift-off. Remarkably, we can change dpi for X- and Y-axis independently.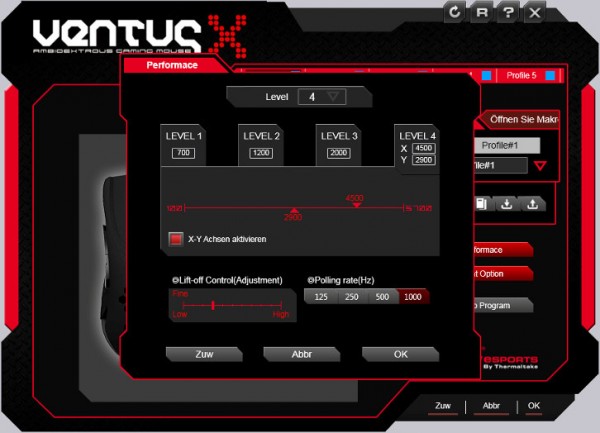 The button 'light option' brings us to a small menu to turn on/off the two illuminated areas.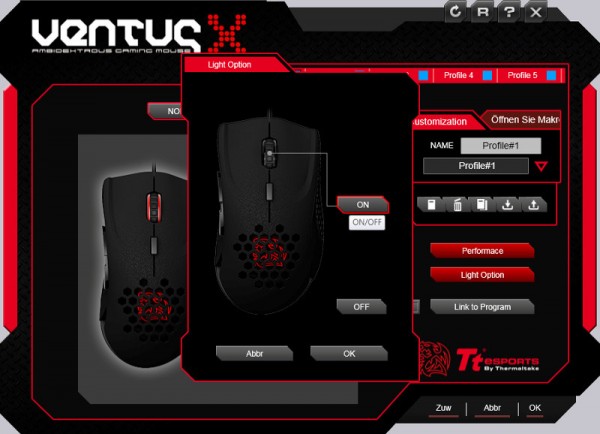 The last button lets us link the current profile to a program so that the profile will be set at the start of it.
A big advantage: Because of the internal memory we can use these settings on other computers without having to install the command center.
Tt eSports Ventus X operation …