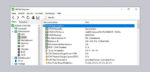 Intel N3450 not overclockable …
Officially, the Intel N3450 processor is unfortunately not overclockable due to Multi lock. But when the Multi is locked and the BCLK is locked, there is another way to get at least a bit more performance out of the Intel CPU.
CPU Power Limit Short Duration Long Duration …
Because there are two limitations with which Intel not only limits power consumption and reduces temperature development, but ultimately also limits CPU performance: Long Duration Power Limit and Short Duration Power Limit. With Short Duration CPU Power Limit, the maximum power consumption of the CPU in watts for a very short time is specified. Long Duration CPU Power Limit limits the maximum power consumption of the CPU in watts at a longer load (Power Time Window in seconds), even if the CPU Max Power Limit is set to Unlimited.
Read out CPU power limit …
The CPU power limit can be read with SiSoftware Sandra or AIDA64. With our Intel N3450 Test CPU from the Martrea Acute Angle Mini PC the TDP (Thermal Design Power) of the Intel CPU is 6 Watt and therefore the Long Duration CPU Power Limit is 6 Watt from 28 seconds Load. The very short duration CPU power limit is 15 watts.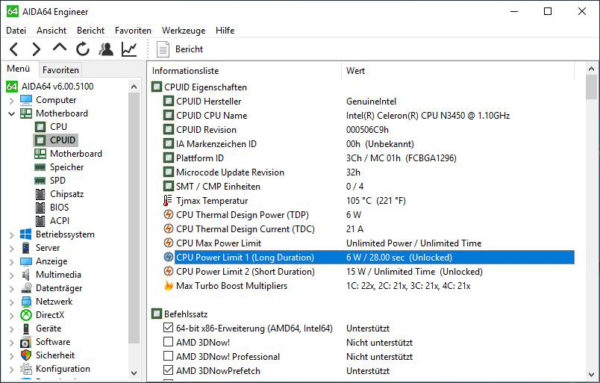 CPU-Z CPU benchmark before …
Before unleashing the CPU, it achieves 123.4 Single Thread Score and 589.5 Multi Thread Score with CPU-Z.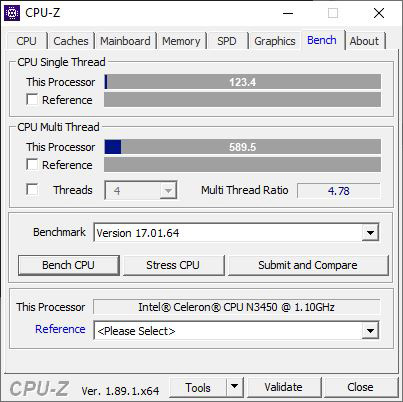 Equire good cooling …
Before we start, we should have a look at the CPU temperatures with SpeedFan, SiSoftware Sandra or AIDA64 and improve the cooling if necessary. Because an increase of the CPU power limit also increases the CPU temperature! Of course we don't take over any guarantee, because overclocking is outside the specification and in case of possible damages also warranty claims expire.
Change CPU Power Limit …
With high-quality motherboards you can change the CPU power limit values relatively easily in the BIOS or UEFI, but what to do if the values are not changeable there? In order to change the two CPU power limits, we used a small tool called Readwrite everything, with which you can write registers via command lines, more precisely WRMSR (Write to Model Specific Register). However, since it is certainly much too inconvenient for most users to struggle through columns of numbers, we have also programmed a small OC Tool, with which you can easily set the CPU power limit values. So just download the RWEverything Tool as RwPortable (e.g. RwPortableV1.7.zip) and extract it to the desired directory. Now download our OCinside.de Unlock TDP Tool and extract it into the same directory. Now we call the OCinside.de_Unlock_TDP.bat in the Readwrite everything directory and can choose which TDP or Long Duration Power Limit we want to set. We chose "Unlimited" directly. In the tool we integrated the 6W, 10W and 15W gradation.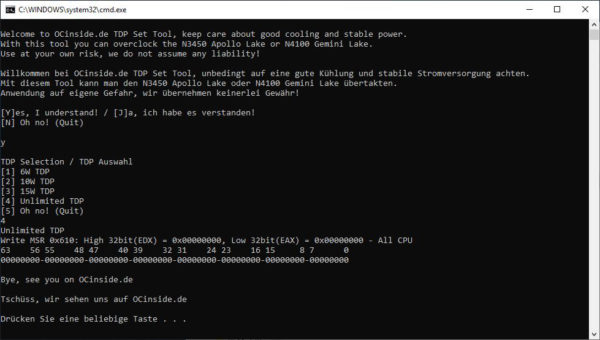 Check CPU power limit …
Now we read the values again with AIDA64 or SiSoftware Sandra and see … nothing. And that's a good thing, because Unlimited removes both the short and the long duration power limit.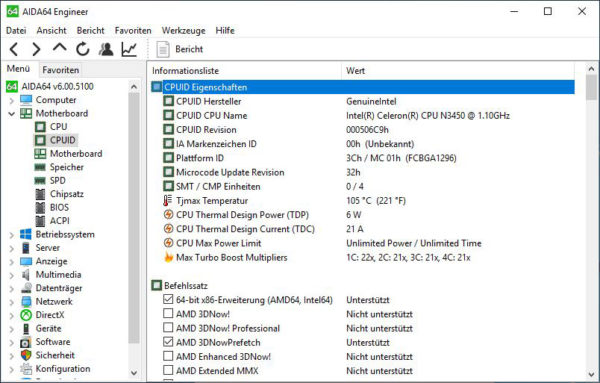 CPU-Z CPU Benchmark afterwards …
Now let's do the test to see if it did any good and lo and behold, the CPU-Z benchmark in the single thread score climbed from 123.4 to 160.5 and the multi thread score improved from 589.5 to 631.9. Now it's best to check the CPU temperature again under load and if necessary help with better cooling. To improve cooling, an additional fan, better thermal paste or even liquid metal can help.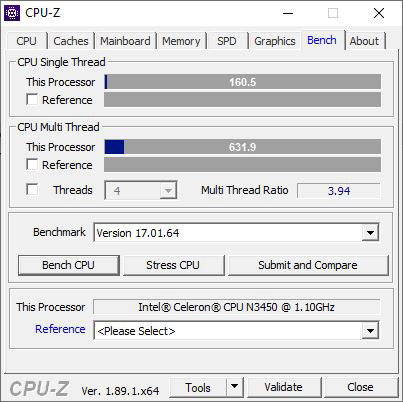 Of course you can also select a CPU power limit of 10W or reset it to 6W with the OC tool. A restart of the system also reset the values.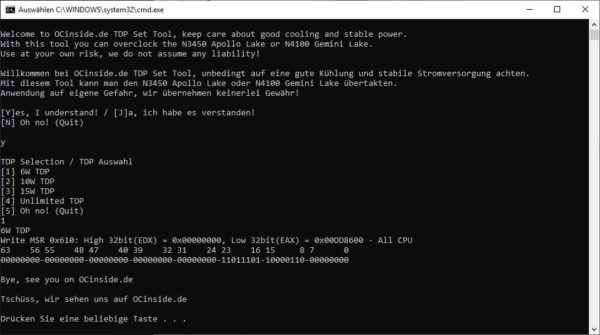 A quick look at AIDA64 shows that we again have a long duration limit of 6W.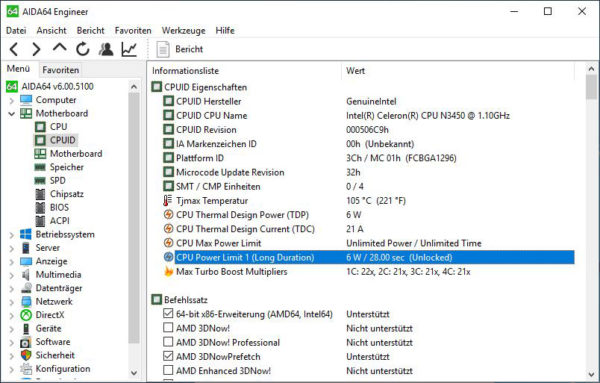 Intel Apollo Lake OC Result and general impression …