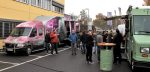 Today OCinside.de visited Berlin, more precisely the LG Cloud Monitor Roadshow, which was arranged on the company ground of Caseking. Enjoy the small picture gallery.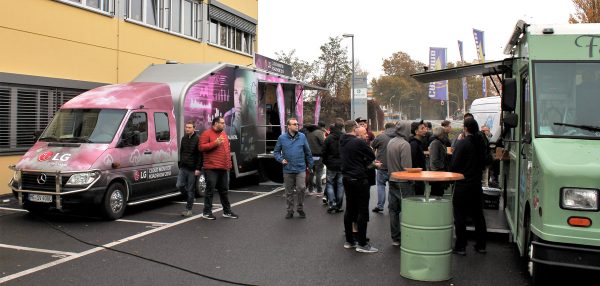 Many thanks for the support …
Many thanks for the interesting roadshow to the manufacturer LG and thanks for the support to Henro.
With Cloud Monitor LG means monitors with integrated thin clients, a kind of lightweight all-in-one PC with which many employees can connect and work together remotely on a server.
AMD's hardware equipment is very interesting and almost reaches the performance of a "normal" office PC, even though everything is integrated in the monitor (see HP TouchSmart 520 All-In-One Touchscreen PC review).
As an alternative there was also the LG Cloud Box to be admired, a separate thin client, also with AMD hardware and a stylish passive cooler case.
Of course LG didn't miss it and also showed some highlights from the gaming and beamer area, e.g. the 4K Laser Beamer HU80KA, which we already had the chance to see at this year's IFA, several UltraWide UHD displays or the really impressive UHD 4k Monitor 27UK600-W with HDR!
For the physical well-being a food truck took care after the small tour, so that one could be brimming with warm food after the grey Berlin drizzle weather.
Enjoy the picture gallery 🙂
Click on the following picture to open the gallery with the pictures of the LG Cloud Monitor Roadshow 2018. The cursor keys right/left and the arrows within the image takes you to the next or previous image.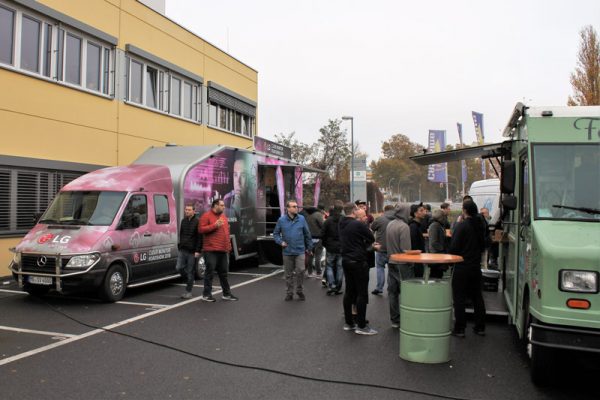 Select images directly:
1, 2, 3, 4, 5, 6, 7, 8, 9, 10, 11, 12, 13, 14, 15, 16, 17, 18, 19.
Many thanks to LG, who presented their monitor innovations at the LG Roadshow 2018 in Berlin.
Discuss about the LG Cloud Monitor Roadshow 2018 …
Here you can order current LG monitors …
Continue to the overview of all OCinside.de computer tradeshow reports …