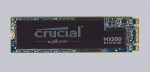 A few weeks ago we reviewed the Crucial MX500 1TB SSD in 2.5-inch format and today we are testing the Crucial MX500 1TB SSD as M.2 version on OCinside.de. In the review we show the differences between the MX500 2.5-inch vs. M.2 SSD and test the M.2 both with and without passive M.2 heatsink on the ASRock Z390 Extreme4 motherboard. So we can be curious whether the small surcharge to the M.2 SSD is worth it and how well the M.2 temperature can be lowered with a passive heatsink.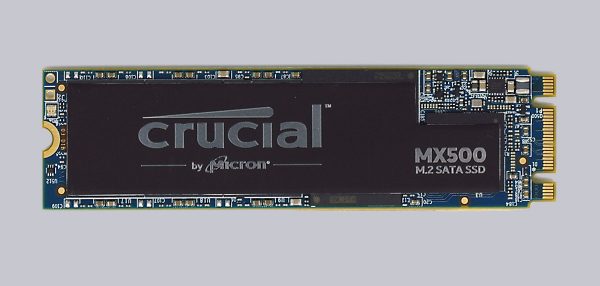 Thanks for the support …
Many thanks for the support with the Crucial MX500 1 TB M.2 SSD by the manufacturer Crucial.
The Crucial MX500 1 TB M.2 SATA3 SSD CT1000MX500SSD4 has at review date a price of approx. 159 Euro and is also available in the Crucial shop.
The Crucial MX500 SSD series currently includes the following models:
SATA SSD: Crucial MX500 250GB CT250MX500SSD1, MX500 500GB CT500MX500SSD1, MX500 1TB M.2 CT1000MX500SSD1 und MX500 2TB CT2000MX500SSD1
M.2 SSD: Crucial MX500 250GB CT250MX500SSD4, MX500 500GB CT500MX500SSD4 und MX500 1TB M.2 CT1000MX500SSD4
Here you can buy the Crucial MX500 SSD at a reasonable price.
The delivery of the Crucial CT1000MX500SSD4 SSD …
As with the previous Crucial M.2 SSDs the M.2 board was delivered in this packaging.


That is contained in the delivery …
The plastic packaging can easily be opened by pushing the back of the package backwards. You don't need scissors and the blister packaging can even be resealed.


The Crucial MX500 M.2 SSD CT1000MX500SSD4 comes with an Acronis True Image HD Software Activation Key and two M.2 mounting screws. With the Acronis True Image HD software you can back up and restore hard disks and SSDs, as well as copy Windows from a hard disk or another SSD to the new M.2 SSD and migrate correctly. Alternatively, we offer some copy SSD instructions in the forum.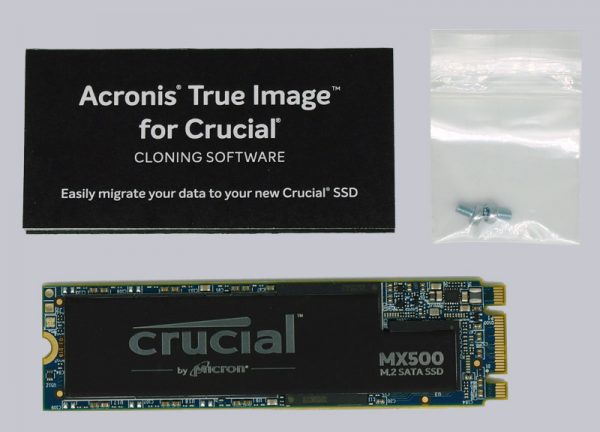 Crucial MX500 1 TB technical data …