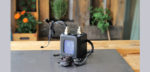 Water cooler AIO pump replacement tutorial video …
We have already published some guides on how to rebuild NZXT Kraken or Asetek AIO water coolers with pump in CPU cooler in our Water Cooler Build Guide section.
This time we have disassembled the Alphacool Eisbaer Aurora AIO watercooling to replace the weaker pump or damaged pump in the CPU cooler case.
Everything is quite simple: unscrew the CPU cooler, remove the old pump, insert the new pump and screw everything back together – done 🙂
How we solved this in detail, you can watch first as a 12-minute instruction video on our OCinside YouTube channel.
Note: Please allow our cookies first to see this external content!
In addition, there is also again an illustrated step by step AIO mod guide to read …