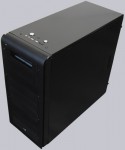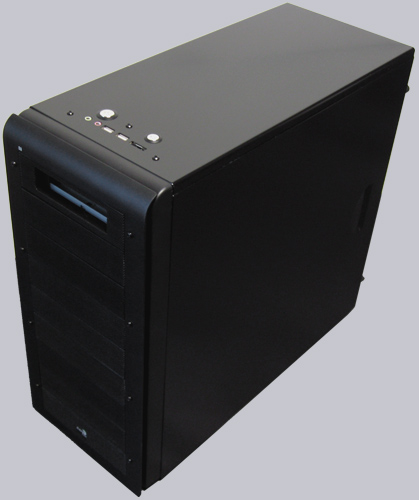 The technical data …
Form factor: The Aerocool S9 Standard Mid Tower is designed for conventional ATX or Micro ATX motherboards.
Dimensions: The overall height is 440 mm, the width is 200 mm and the depth is 475 mm.
Weight and material: The basic weight of the steel case with aluminium front is approx. 6.7 kg (shipping weight approx. 8.1 kg).
Drive bays: There are 9x 5.25 inch front drive bays. Whereby 1x 3.5 inch bay can be used as front 3.5 inch bay and 3x 5.25 inch bays can be equipped with the anti vibration HDD mounting frames to use them internal as 3.5 inch bays.
Slots: It's possible to mount up to 7 expansion cards.
Cooling: The contained Young Lin Tech DFS122512L 120 mm of is illuminated with four blue LEDs, it can be operated with up to 12 Volt, uses up to approx. 2.2 Watts, runs with approx. 1200 rpm, got approx. 62 CFM and the noise level is with approx. 25 dB relatively silent. The sidepanel can be equipped with further 2x 120mm fans and the rear can hold another optional 1x 120mm fan.
Miscellaneous: The case offers at the top of the case a Power Button, Reset Button, 2x 3.5 jacks for headphones and mic, 2x USB 2.0 connectors and one eSATA connector. A HDD LED or a power LED is unfortunately not integrated.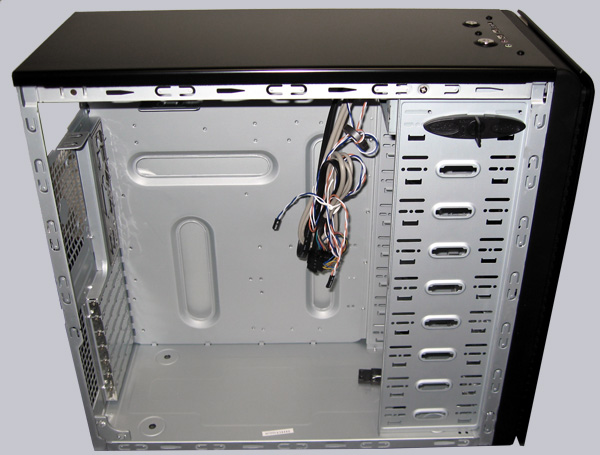 Layout, Design and Features of the Aerocool S9 Standard Case …