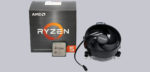 Installation and test setup …
The installation is AM4 typical quite simple and as long as you have a compatible board there should be no hurdles. However, it is important to install the latest BIOS before installing the CPU.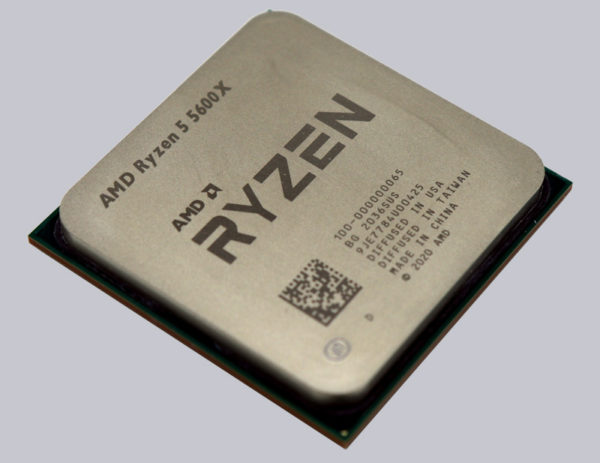 It should be noted that according to AMD, only the X570 and B550 chipsets are fully compatible and there is also the AMD A520 chipset. Depending on the motherboard manufacturer, there are also beta UEFIs for the X470 and B450 chipsets. The A320, B350 and X370 chipsets are unfortunately not officially compatible with the Ryzen 5000 series, even though manufacturers have worked on a UEFI update for Vermeer.
Once the CPU is installed, it does not take long until the BIOS screen reports a successful installation.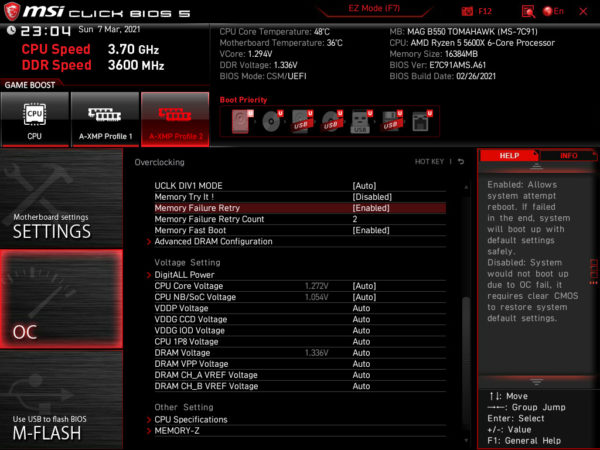 Since the B550 chipset used is officially not compatible with the Ryzen 7 2700X used for comparison, I use 2 different motherboards with otherwise identical hardware.
| | |
| --- | --- |
| CPU 1 | AMD Ryzen 7 2700X |
| CPU 2 | AMD Ryzen 5 5600X |
| Motherboard 1 | MSI X470 Gaming M7 AC |
| Motherboard 2 | MSI MAG B550 Tomahawk |
| RAM | 2x 8GB Thermaltake Toughram RGB 3200MHz @ 3600MHz CL 16 |
| Graphics card | Sapphire RX5700XT Nitro+ SE |
| SSD | Samsung 960Pro M.2 NVMe SSD 256GB |
| PSU | Silverstone Evolution 1000W |
| Case | MSI Gungir |
| OS | Windows 10 Home Premium |
We use an Enermax Liqmax 240mm AiO water cooling system so that the temperatures don't throw a spanner in the works.
Is it worth upgrading from AMD Ryzen Gen2 to Gen4?
To see if upgrading from a Ryzen 7 2700X with 8 cores 16 threads to an AMD Ryzen 5 5600X is worth it, we created a test course. We deliberately did not disable the 2 cores on the Zen+ to see if an upgrade from an 8 core to a 6 core CPU can also be worthwhile.
For the benchmarks, we chose the following programs, which can be downloaded from the download page.
Benchmark Tools
Cinebench R20 (Version R20.060)
Cinebench R23 (Version R23.200)
CPU-Z (Version 1.94.0 x64)
PCMark (Version 2.1.2508 64)
3DMark (Version 2.17.7137 64)
Unigine Superposition (Version 1.1 build 8628)
The AMD Ryzen 7 2700X and the 5600X were tested with the same memory settings, both running at 3600MHz CL16. Both also have PBO enabled (Precision Boost Overdrive), and the 5600X was also tested without PBO.
Each benchmark was run a total of 3 times per setting to minimize measurement errors. The screenshots show the average value of the results.
We'll continue with the measurement results and the overclocking.
AMD Ryzen 5 5600X overclocking, power consumption, temperature and benchmark …