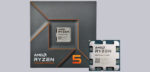 The technical data …
Here is an overview of the technical data of the Ryzen 5 7600X CPU:
Manufacturer
AMD
Description
Ryzen 5 7600X
Model number
100-100000593WOF
Codename
Raphael
Architecture
Zen 4
Socket
AM5
Construction
1 Compute DIE @5nm, 1 I/O DIE incl. graphics unit @6nm
Number of cores
6
Number of threads
12
Base clock rate
4.7GHz
Max. Power clock rate
5.3GHz
Total L1 cache
384KB
Total L2 cache
6MB
Total L3 cache
32MB
max temp (Tjmax)
95°C
Multiplier
open
PCI Express Version
PCIe 5.0
Standard power consumption / TDP
105W
Memory type
DDR5
Max. Memory clock frequency
5200MHz
max. RAM capacity
128GB
Memory channels
2
Platform
Desktop
Command sets
AES, AMD-V, AVX, AVX2, AVX512,
FMA3, MMX(+), SHA, SSE, SSE2, SSE3,
SSE4.1, SSE4.2, SSE4A, SSSE3, x86-64
Date of publication
September 27, 2022
Special features
Only available without cooler now.
AM4 cooler fit if the original AMD backplate is retained.
These are the technical data of the integrated graphics unit, of the Ryzen 5 7600X CPU:
| | |
| --- | --- |
| Description | AMD Radeon Graphics |
| Architektur | AMD RDNA 2 |
| max. number of displays | 4 |
| max. resolution | 4K @60Hz |
| Interfacen | HDMI 2.1 @48Gb/s, Display Port 2.0 @UHBR10 |
| Base clock freq | 400MHz |
| max. clock freq. | 2200MHz |
| Memory | 512MB shared RAM |
| API | DX 12.2, OpenGL 4.6 |
| Video Encoder | H.264, H.265 |
| Video Decoder | AV1, VP9, H.265, H.264 |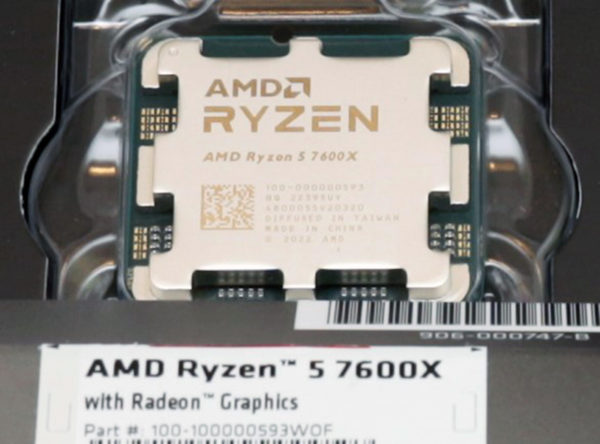 AMD Ryzen 5 7600X Layout, design and features …