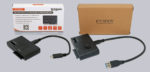 Use an M.2 SSD on the fly! We have already tested several removable frames from Icy Dock, which make life easier around the HDD or SSD and these two novelties are definitely one of them. If you want to access a SATA, M.2 SATA or M.2 NVMe SSD on your PC, notebook or even your tablet or smartphone, you can do this easily with a proper EZ-Adapter. Today, we are testing the Icy Dock MB104U-1SMB USB 3.2 Gen 2 docking station for NVMe and SATA as well as the SATA docking station MB031U-1SMB on OCinside.de!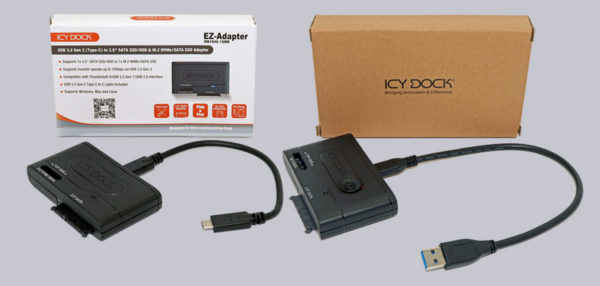 Thanks for the support …
Thanks for the support to the manufacturer Icy Dock/Cremax Tech LTD.
The Icy Dock EZ-Adapter MB031U-1SMB currently has a price of approx. 29 Euro and the Icy Dock EZ-Adapter MB104U-1SMB currently has a price of approx. 69 Euro (01/2023).
Here you can order the Icy Dock Docking stations.
The delivery of the EZ-Adapter …
Icy Dock ships the MB104U-1SMB in a white printed cardboard box (pictured left) and the MB031U-1SMB in an eco-friendly cardboard box as usual (pictured right).


On the back, we see the product description in different languages as well as the serial number and, in the case of the MB104U-1SMB, the most important technical data.


This is included in the delivery package…
The boxes each contain the product, safely protected in LuPo foil. Also included is a manual and a short USB cable. The Icy Dock MB104U-1SMB comes with a short USB Type-C to USB Type-C cable of about 20cm and the Icy Dock MB031U-1SMB comes with a short USB Type-C to USB Type-A cable of about 30cm. From this, you can also immediately guess which product is designed for a higher speed.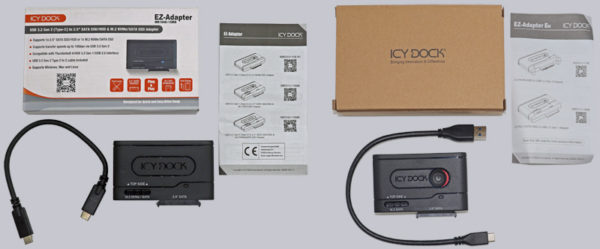 Let's first take a look at the technical data of the EZ-Adapter …