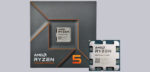 Layout, design and features …
Quickly get to the right feature …
AMD Ryzen 5 7600X heatspreader
AMD AM5 LGA Socket
AMD Zen 4 Architecture
AMD DDR5 Rate
AMD EXPO Profile
PCI Express 5.0
AMD Ryzen 5 7600X overclocking
AMD Precision Boost Overdrive
AMD Performance Presets
AMD SAM

Heatspreader …
The solid, nickel-plated copper lid, which is soldered to the silicon DIEs, stands out when viewed from above. Its shape is very jagged and it is not sealed all around the PCB. The relatively high weight comes from the thick heatspreader, as AMD wanted to maintain compatibility with AM4 coolers despite the lower AM5 socket. AMD probably decided on this design trick because no coolers are included with the Ryzen 7000 processors anymore and many users already have a good cooler or would not have used the original cooler anyway.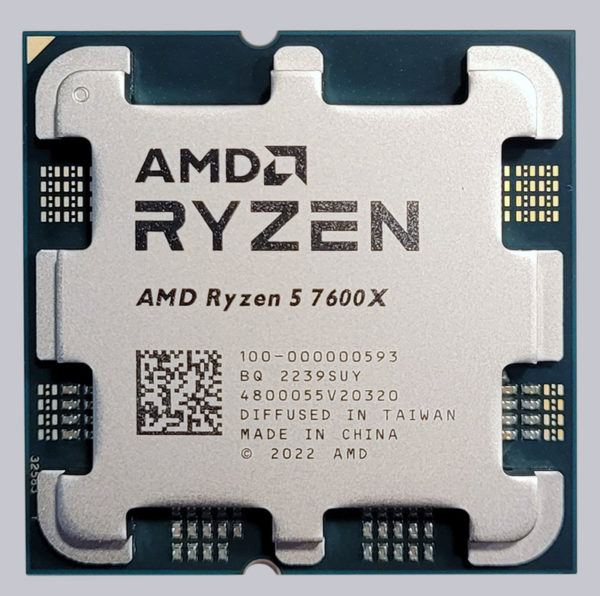 AMD AM5 LGA Socket …
There are now no pins on the bottom because of the new LGA1718 AM5 socket (see AMD AM5 PGA to LGA socket change discussion. Instead, there are now 1718 flat contact points. Bent pins on the CPU are a thing of the past, but bent pins in the socket can occur (see AMD LGA CPU installation guide.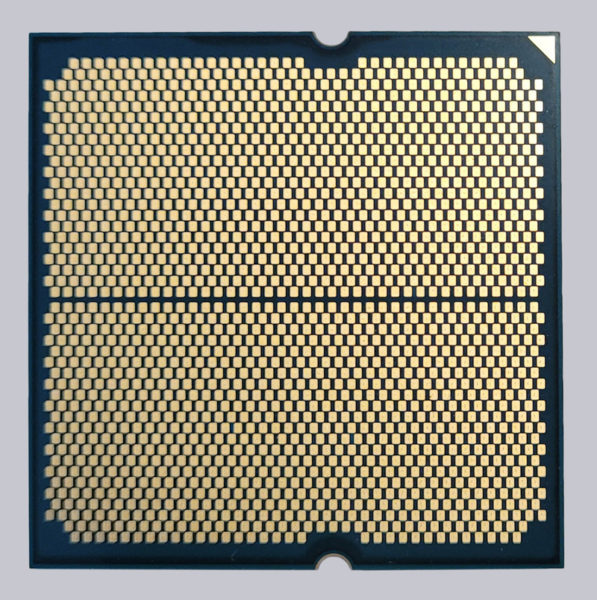 Zen 4 Architecture …
Although a new socket has arrived with Ryzen 7000, the Zen 4 architecture is only a moderate further development of the previous Zen 3 processing units. With Zen 4, the new processors get a small IPC (instructions per clock) uplift and achieve about 10-15% higher clock rates than their predecessors. In addition, energy efficiency has been improved thanks to new manufacturing methods. The processing units are now manufactured in TSMC's 5nm FinFet technology, instead of 7n in the predecessor Zen 3. The I/O DIE, which also houses the RDNA 2 graphics unit, has been changed from 12nm to 6nm.
DDR5 Rate …
All Ryzen 7000 processors have received a new 2-channel DDR5 memory controller that can run up to 4 memory modules. Officially, this is specified up to 5200 MHz. In reality, however, RAM modules with 6000MHz and more can be operated. Here you can see an AM5 motherboard with four DDR5 RAM slots, 2 of which are equipped with Crucial DDR5-4800 modules.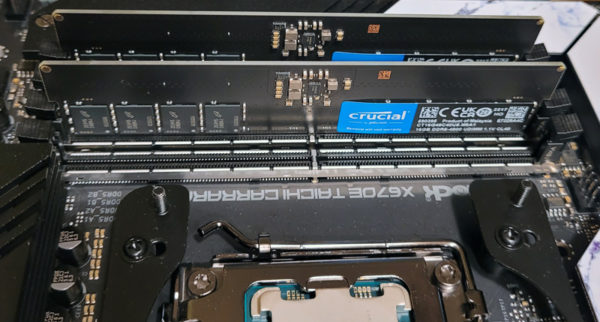 DDR5 AMD EXPO Profile …
For an improved RAM compatibility with AMD processors, the so-called EXPO profile was developed especially for AMD processors. Memory manufacturers can store such an EXPO profile in the RAM module, which is then read by the mainboard and sets the RAM timings accordingly. This should enable users to put fast memory into operation as easily as possible. Similar things are also known from Intel with the already longer established XMP profile, which many AMD motherboards can also read and process. Thus, no special EXPO RAM is required for AMD Ryzen 7000 processors. The Crucial RAM we used in the test does not contain an EXPO profile and was recognized and set by the motherboard without any problems.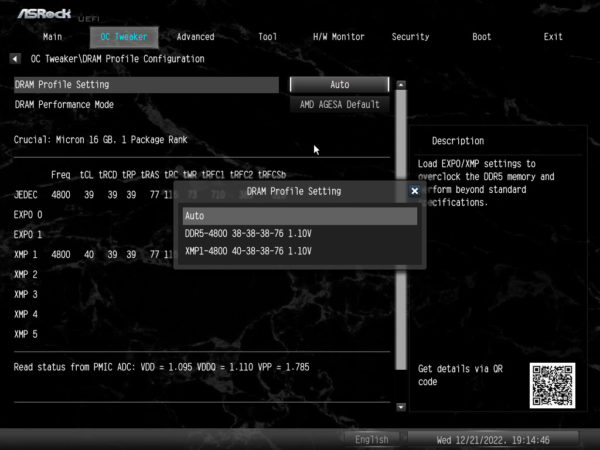 PCIe 5.0 …
Ryzen 7000 processors support the new PCIe Gen 5 standard, which enables twice the bandwidth of PCIe Gen 4 for data transfer. At this point, users do not get much out of it because SSDs and graphics cards do not yet support this standard, but that should change soon. Since PCIe Gen 5 is backwards compatible, previous devices can still be used and upgraded later. Thus, with Ryzen 7000 you are already well prepared for future hardware. Whether and how many PCIe Gen 5 interfaces can be used depends on the motherboard's equipment. This should be considered when buying, because not every AM5 motherboard really offers PCIe Gen 5 interfaces. In our tests, we used a 1 TB Crucial P5 Plus PCIe Gen 4 SSD in a PCIe Gen 5 slot.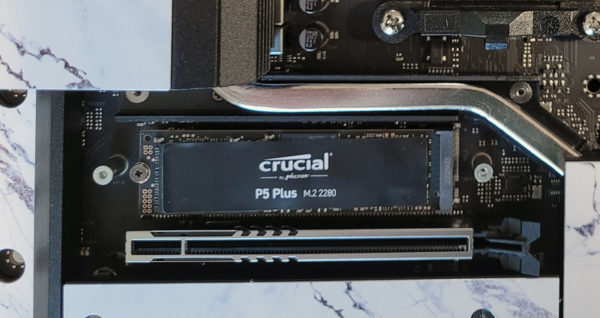 AMD Ryzen 7000 overclocking …
AMD has unlocked the multiplier in all Ryzen 7000 processors released so far, which gives the user a free choice of clock frequency if desired. However, you should keep in mind that the manufacturer does not offer a warranty if the processor is damaged or data is lost. On an ASRock B650E Taichi AMD motherboard, the AMD Ryzen 5 7600X CPU with all cores could be overclocked to 5701.29 MHz!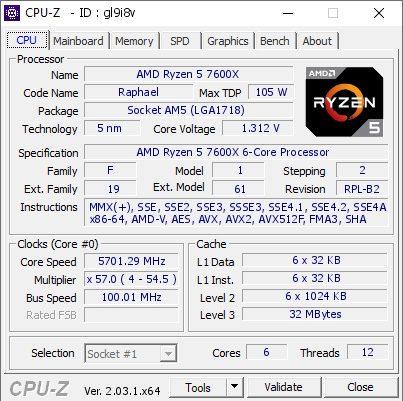 Precision Boost Overdrive …
The tuning algorithm Precision Boost Overdrive (PBO) for semi-automatic overclocking of the processor, already known since Zen 2, is also available again in Zen 4 and even activated in the BIOS by default. It can be used to increase the maximum clock frequency by up to 200MHz and reduce the power consumption. The PBO menu of the BIOS includes controls for power consumption, maximum temperature, power consumption and voltage offset. We will show how well the overclocking works later in the test.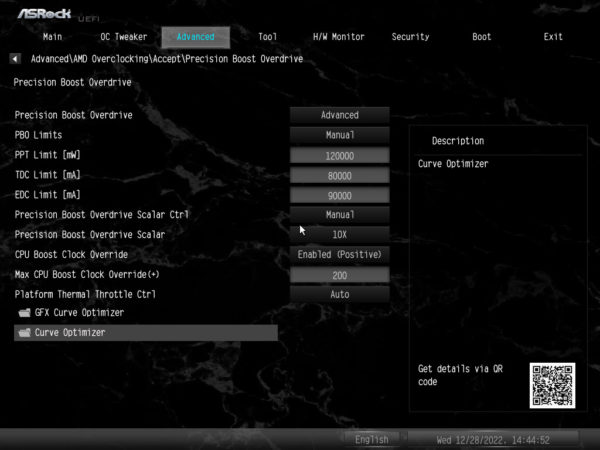 1-Click Overclocking with Performance Presets …
With the latest firmware update AGESA ComboAM5 1.0.0.4, which AMD provides to motherboard manufacturers, the overclocking and optimization of the Ryzen 7000 processors has been simplified even more. Preset PBO configurations can now be activated with a single click in the BIOS. Thus, overclocking or energy saving becomes child's play.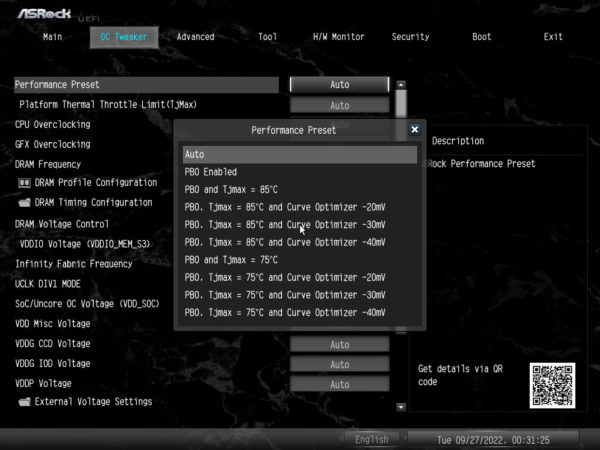 In addition, the already known Curve Optimizer in the BIOS is also available for manual fine-tuning, which allows you to manually set a voltage offset either for all processing cores or even for individual cores. With a bit of skill and time, you can reduce the processor's energy consumption to the extreme.
If you prefer to tweak your CPU in Windows, you can use the AMD Ryzen Master program, for example, which also offers many setting options for optimizing the processor. However, the graphical interface of Ryzen Master is a bit cluttered and the options are somewhat limited compared to BIOS overclocking.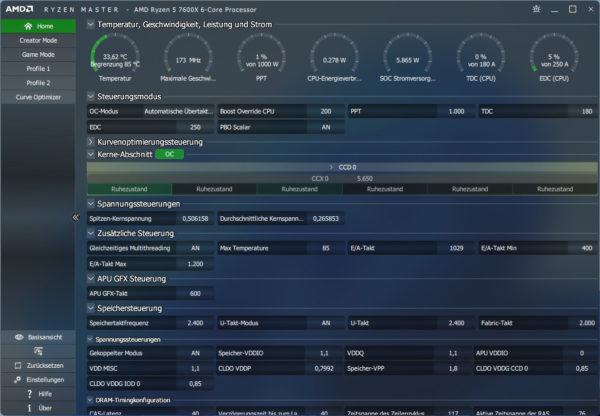 AMD SAM …
SAM is also an old acquaintance. Smart Access Memory has enabled direct memory access of the CPU to the fast graphics card memory since Zen 3 in combination with a B550 or X570 chipset, provided you own an AMD graphics card from the RX6000 series or newer. SAM partly increases the achievable frame rates by a few percent in gaming. To activate SAM, "Above 4G Decoding" and "Resize-Bar Support" have to be enabled in the BIOS.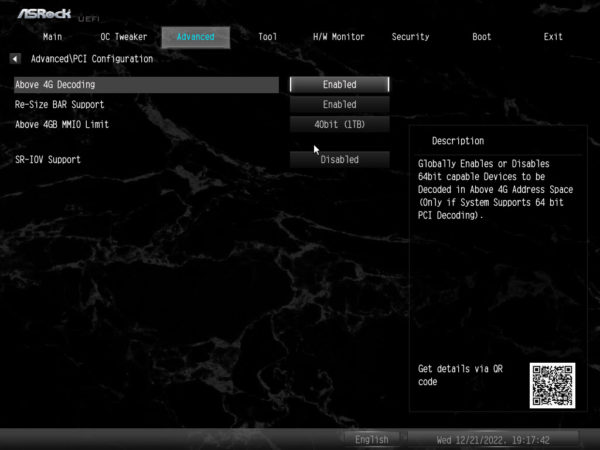 AMD Ryzen 5 7600X Installation and test setup …