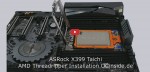 For the soon coming ASRock X399 Taichi ATX motherboard review, we've posted a short AMD Ryzen Threadripper Socket TR4 processor installation video.
Note: Please allow our cookies first to see this external content!
Discuss in our forum about the AMD Ryzen Threadripper Video …
Here you can buy the AMD Threadripper CPU.
Read on in the hardware test area with several hardware reviews …