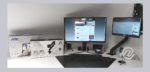 Result and general impression …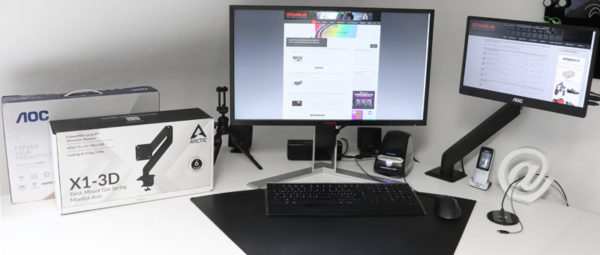 The AOC 16T2 15.6-inch multitouchscreen monitor offers an unexpected extension!
The mobile touch panel can even be used on the go thanks to the integrated battery and can be placed horizontally or vertically using the Smart Cover. In addition, an ergonomic use on the PC is even possible by means of the included VESA adapter plate, as we could show with the Arctic X1-3D monitor arm with softly adjusted gas pressure spring.
The use of the high-quality IPS panel with 10-point multi-touch is enormously versatile. You can either convert your smartphone into a tablet or expand your notebook display with a second screen or elicit unimagined capabilities from the desktop PC with the additional touch panel. Since Windows 7, Windows 8.1, Windows 10 and Windows 11, touch and tablet PC functions have been integrated into the operating system, which enable a pleasant operation of the second multi-touch screen.
For example, while working on the main screen, you can display our forum on the second touch screen so that you don't miss any new posts, or display OC results including monitoring values, or start the chat window or a web conference on the second monitor. But you can also use it to operate your 3D printer, distribute video editing including dubbing over the two monitors and then conveniently operate the additional functions via touch panel. So, all in all, it is enormously versatile!
Only the poorly operable OSD menu did not convince us at all. It is very annoying that AOC only uses one button for the complete menu operation (left/right/+/-/confirm) and the OSD is also extremely sluggish, just like the power button. AOC should urgently improve this with a new firmware and, for example, assign the battery status button twice.
All in all, we are very satisfied with the picture quality, the multi-touch, the Smart Cover and the build quality of the AOC 16T2, but we would like to see better usability and an automatic power-on via USB to facilitate stationary use.
Discuss in our forum and share experiences about the den AOC 16T2 …
Here you can order the AOC 16T2 at a reasonable price.
Read on in the hardware test area with several hardware reviews …