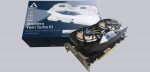 Setup and test results …
Our test system consists of the following components:
| | |
| --- | --- |
| Motherboard | MSI X370 KRAIT GAMING |
| CPU | AMD Ryzen 1600X |
| RAM | 16GB DDR4 |
| Graphics card | Palit 1070Ti Dual |
| Power supply | Sharkoon WPM700 |
| Case | Phanteks Enthoo Pro |
| System SSD | Samsung SSD 840 EVO 250GB (MZ-7TE250BW) |
| SSD | Mushkin Triactor 3DL 512GB (MKNSSDTR512GB-3DL) |
Since the Twin Turbo II could already handle our Palit GeForce GTX 1070 Ti Dual without any problems, we have no doubts about the Turbo III. In this practical test we made a direct comparison between the Twin Turbo II and the Twin Turbo III. For this purpose we put our 1070Ti through a stress test before the conversion by running the card for one hour with Unigine Valley at maximum details in 2K resolution and measured the temperatures. After the conversion to the Twin Turbo III we let it run for another hour. The measurement took place in a closed case, at a room temperature of 23°C. The temperature of the Twin Turbo III was also measured at the same time.
Palit GeForce GTX 1070 Ti Dual with Arctic Twin Turbo II – Measurement after one hour Unigine Valley:


Palit GeForce GTX 1070 Ti Dual with Arctic Twin Turbo III – Measurement after one hour Unigine Valley:


As can be seen from the GPU temperatures, the two radiators achieve similar cooling results at first glance. Everything is in the green range and there's nothing to complain about, even with longer loads.
The known error when reading the fan speed also occurs here again.
But much more interesting in our eyes are the clock rates, because although the GPU was as warm or cold as its predecessor, the average GPU clock of the card was almost 100 MHz higher than the one of the Turbo II. We explain this strange phenomenon by the fact that the backplate cools the whole board of the graphics card much better than the small aluminum heat sinks of the predecessor. Thereby, the graphics card can apparently hold the higher clock rates longer. Probably this effect is even more pronounced on cards with reference layouts, because the power supply is usually smaller than on custom designs and therefore the VRMs get hotter.
Now let's get to the conclusion.
Arctic Accelero Twin Turbo III result and general impression …