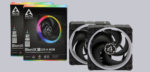 Fan Connector …
The connection of the fan is modular and has been solved excellently. Because you have no unnecessary cable on the fan and can still connect the fan in series. The side with the input is always marked white and the output was kept black. It is therefore difficult to impossible to connect the fan incorrectly.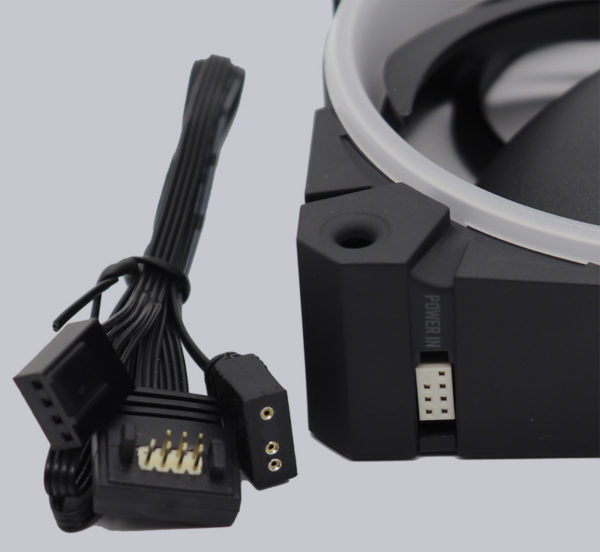 The connection is made either with the included cable to the optionally available Arctic A-RGB controller, which we presented in the previous Arctic Freezer 50 ARGB review. Or directly via the included M/B fan cable to the 3-pin ARGB and 4-pin PWM connector on the motherboard.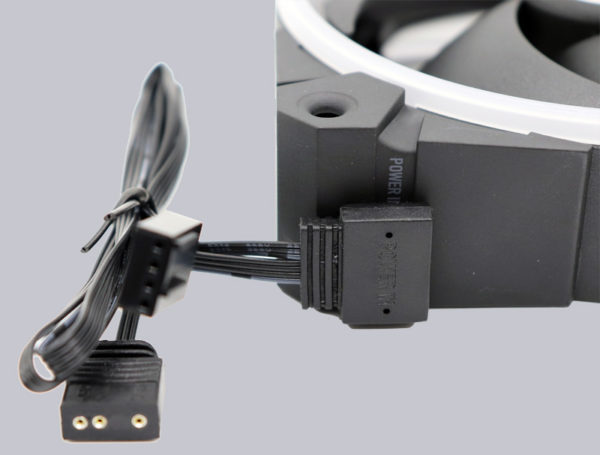 With the included fan-fan cable you can expand this fan with additional fans. By the way, if you use the Arctic ARGB controller, you can drive a maximum of 5 fans in series per channel and if you use the A-RGB on an ARGB mainboard connector, you can also connect up to a maximum of 5 fans per ARGB connector in series, depending on the ARGB connector output power, according to Arctic.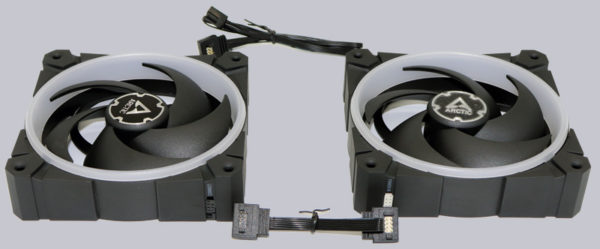 If you want to run the fan directly next to each other, for example to mount them on a water cooling radiator, you can also use the included fan-fan connector block for ARGB series connection.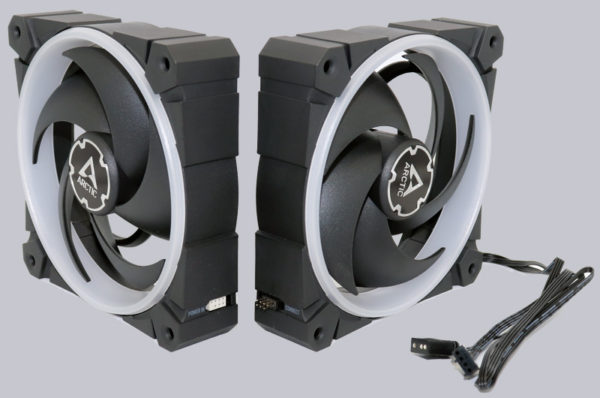 Fan Installation …
The fan can be mounted in the case as usual using the included screws with self-tapping thread. Mounting on a heat sink or radiator is of course also possible. As already shown in our Arctic ARGB Fan Video, the BioniX P120 A-RGB Fann lacks the usual side cutout for mounting using the Arctic Freezer 34 brackets. For this reason, we have come up with the very simple mounting by means of cable ties, where you secure one cable tie at a time with a second cable tie …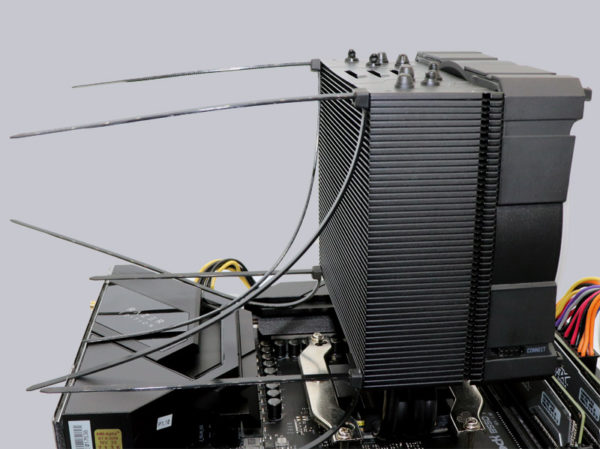 … now simply cut off the protruding cable tie ends, et voila, the fan is already installed on a Arctic Freezer 34 eSports Cooler!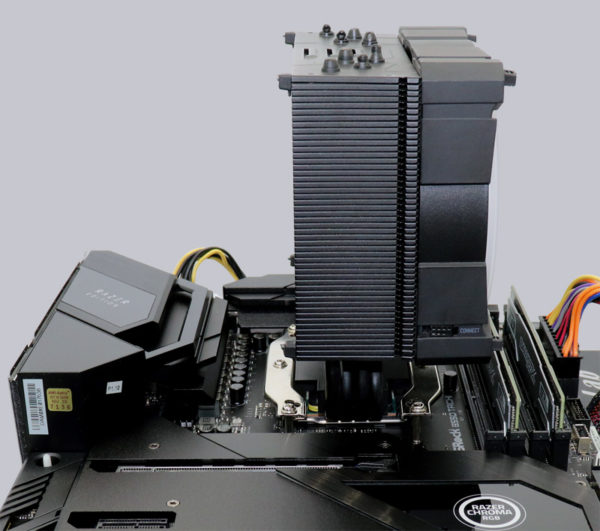 But let's get back to the fan thickness of 30mm. Usually, you can simply continue to use the radiator screws of the old 120 fan. However, we test the two Arctic BioniX P120 A-RGB on an Arctic Liquid Freezer II 240 AIO and first dismantle the two pre-installed 25mm Arctic P12 fan. To mount the 30mm P120 A-RGB fan, however, the radiator screws are a few mm too short, so you have to come up with something again. Either one orders somewhat longer 6-32 UNC screws with a length of approx. 35mm or one works again here with eight cable ties per fan. Of course, you could also just lower the hole a bit, but then of course you lose the warranty.
The connection succeeds very well and an installation in the case is also very simple. For an installation on a radiator, however, you should have the appropriate screws ready. Now we come to the measurement results.
Arctic BioniX P120 A-RGB Setup and test results …