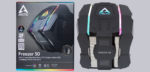 Installation …
The Freezer 50 is compatible with all common Intel desktop sockets of the last years as well as with the AMD AM4 socket. A separate version of the Freezer 50 is available for AMD Threadripper systems. The mounting is approximately the same for all systems. For Intel, the included backplate is needed and for AMD, the backplate of the motherboard is used. Which spacer bolts are needed can be found in the well-illustrated online instruction manual.
We mount the Freezer 50 on our well-known AM4 test system with the Asus TUF B450M-Pro motherboard. To do this, we have to remove the original cooler mounts next to the CPU socket and screw in spacer bolts from Arctic instead. These also prevent the backplate from falling out backwards.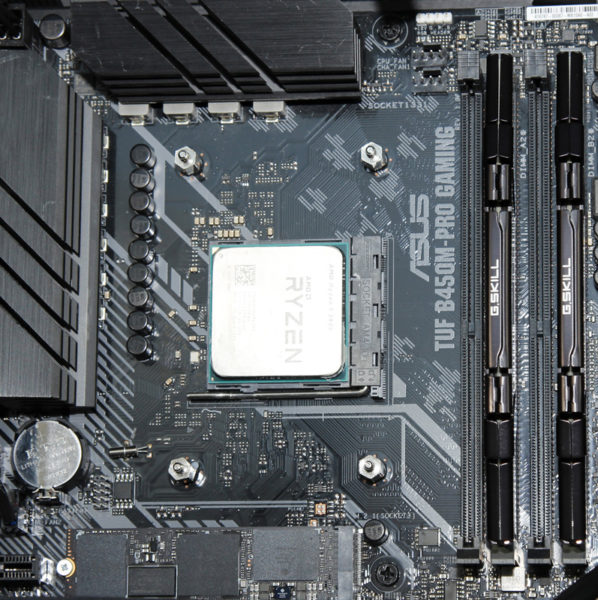 The two nickel-plated retaining brackets are then fastened with 2 knurled nuts each. The threads on which the radiator is later screwed are located on the sturdy brackets.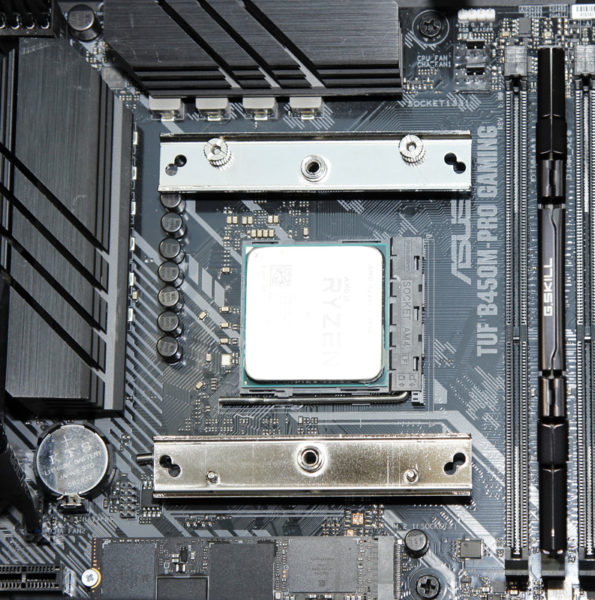 We did not check the height of the installed G.Skill Ripjaw V RAM modules before the cooler installation, but after the final installation we noticed that the tip of the outer fan frame touched a RAM module. Since this was not noticed at all during assembly, we first thought that this circumstance might not be a problem at all and that the cooler might just be resting very lightly on the RAM. To be on the safe side, however, we disassembled the cooler again and checked the distribution of the thermal paste. Apparently, the slight contact was already sufficient for the cooler to no longer rest fully on the CPU. The right third of the heatspreader had no contact with the cooler. This would certainly have resulted in a deteriorated cooling performance.
For this reason, we turned the cooler by 180° and removed the plastic frame on the air outlet side of the cooler. Now the cooler could be neatly placed on the CPU and secured. With this cooler setup, the PC's rear case fan should definitely be installed so that it blows fresh air into the case. Ideally, additional case fans in the case's roof should then transport the warm air to the outside.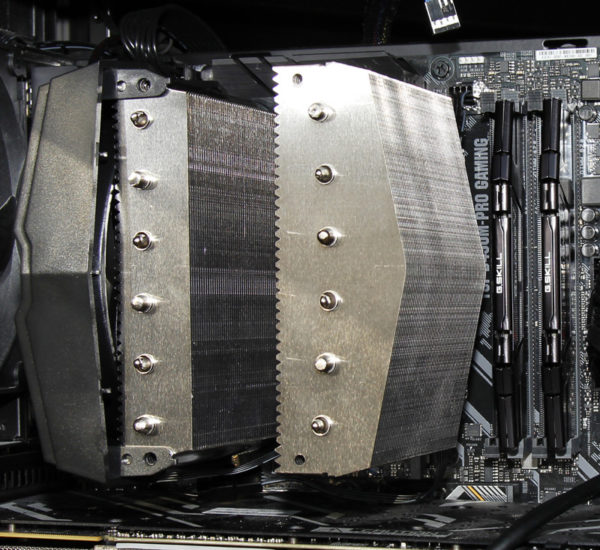 In order to be able to assess the effect of the now missing air guide element, we also tested the system with a single RAM module later during the test. The plastic frame at the air outlet was then mounted to the cooler again. Apart from the expected space problems that can generally occur with dual-tower air coolers, the cooler installation was free of further incidents and problems.
Arctic Freezer 50 Test setup and results …