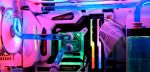 Optics …
In the second part of the practical test, we will focus on the optics of the Barrow LTYK3-04. The already listed components have been found in a Lian Li Alpha 550 housing, which has been extended by another 4 RGB LED fans.
The Barrow LTYK3-04 was simply connected with the help of the included RGB cable to the RGB controller of the Asus motherboard and was immediately great in the overall picture.
But enough of the nice words and have fun with the new Barrow LTYK3-04 video on our OCinside YouTube channel.
Note: Please allow our cookies first to see this content!
Barrow LTYK3-04 result and general impression …