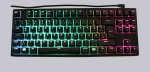 Operation …
The Cooler Master MasterKeys Pro S keyboard was tested on the following system:
PC:
Intel Core i7 6700K @ 4 GHz
4x 4 GB DDR4 RAM
ASRock Z170 Extreme6+
Asus Strix Nvidia GeForce 980ti
Seasonic Platinum power supply 760W
Samsung Pro 840 Pro 256 GB SSD
CM Storm Stryker case
Betriebssystem:
Windows 7 Ultimate 64 Bit
Software:
Cooler Master Application Software V1.00
At first we come to the nKey rollover. Although this feature is not explicitly advertised, we want to find out how many keystrokes can the MasterKeys Pro S process simultaneously. For that we use the know tool Aqua's Key Test from our OC Download area.


Good to see here, there are also in this discipline no reasons for modesty. The keyboard is able to accommodate many keystrokes simultaneously. Whether it is also possible to write good with the MasterKeys Pro S, we've tested on the site Zehnfinger.com which provides a write and/or speed test.


Again we have reached very good values, thanks to the Cherry MX Brown keys which were relatively quiet. 😉 Although the keys of the MasterKeys Pro S are even slightly higher than the key shown in the picture on the right side from the previously tested Tt eSports Poseidon Z RGB Keyboard.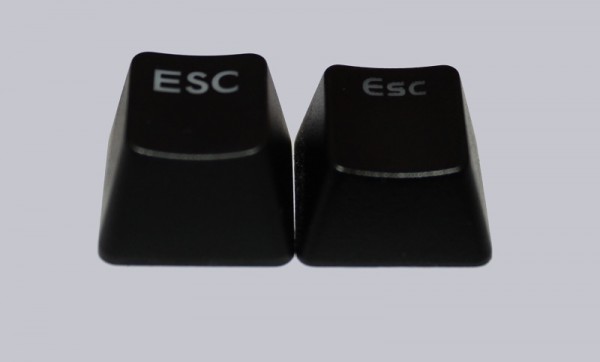 Of course we would like to show you the wonderful RGB lighting and just let pictures speak.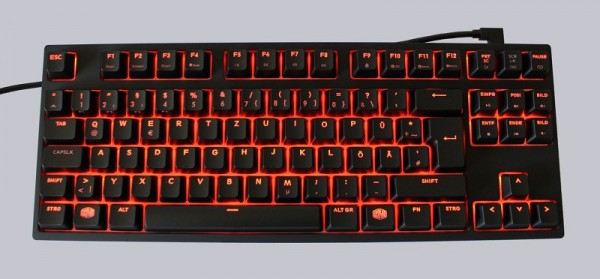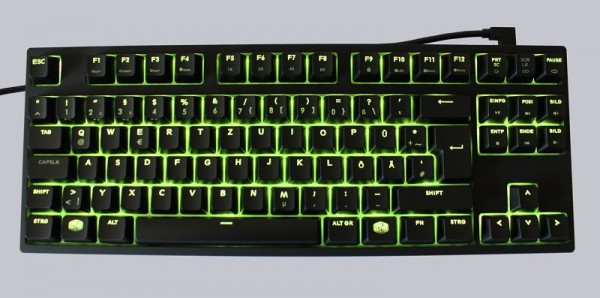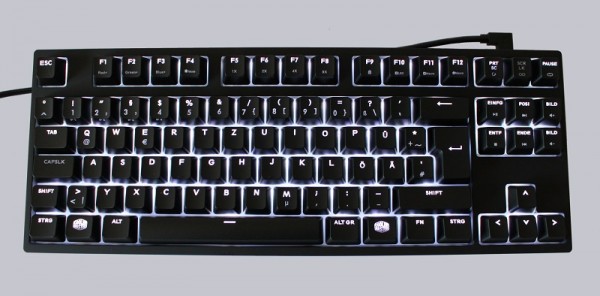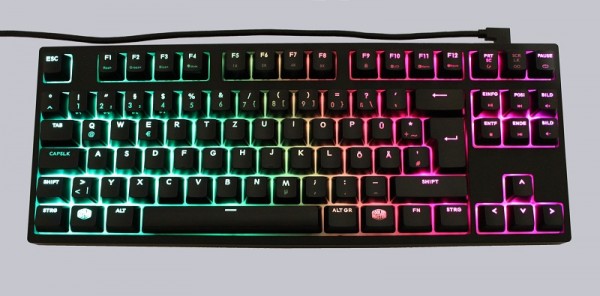 But with good looking alone you wont win any battle. And certainly not a Truck Trial. Thanks to the game Spintires from the Developer Oovee you can get behind the wheel of Russian trucks and master various courses and tasks. The steering, which almost exclusively done by keyboard, was done without any problems. Thanks to the soft keys the sounds of the frequent direction changes were not annoying.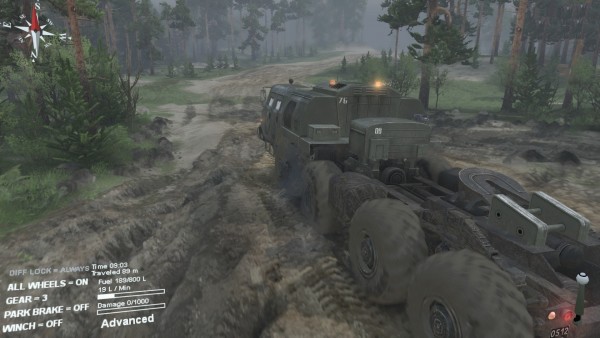 Finally, we would like to highlight two very special illumination modes that make besides the standard mode, the MasterKeys Pro S to something special. The first one is the Equalizer Mode. The frequencies of the sound output of the computer are to be displayed visually as a graphic equalizer on the keyboard. We ran the equalizer only with the Windows Media Player and the browser, persuade example with YouTube. The function with the popular media player "VLC" was not given. Optionally, you can let the keyboard also show the CPU utilization as a bar graph.
Here is the first MasterKeys Pro S effect video from our OCinside YouTube Channel:

Cooler Master MasterKeys Pro S Effekt Video OCinside.de
The real highlight is a small game that should be known to every PC user. We are talking about the retro classic "Snake"! Controlled is the little worm with the red head with arrow keys to catch the green apples. A great feature.
Here is the game video of the MasterKeys Pro S Game Video from our OCinside YouTube Channel:

Cooler Master MasterKeys Pro S Game Video OCinside.de
Now we come to result and general impression of the Gaming Keyboards MasterKeys Pro S.
Cooler Master MasterKeys Pro S keyboard result and general impression …