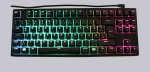 Result and general impression …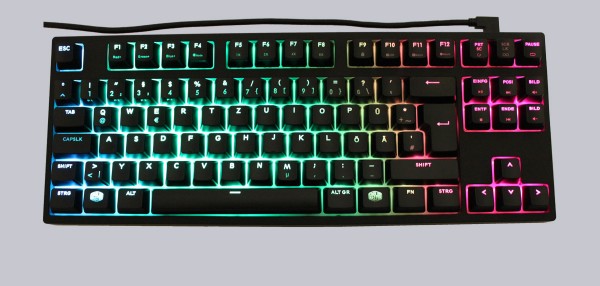 The MasterKeys Pro S from Cooler Master comes with all the important equipment.
Particular attention is paid to the pulling tool, which makes it easier to remove the keys for example to clean them. Also the detachable USB cable represents a useful supplement and makes the keyboard still be usable if the original cable has become a victim of an angry rodent.
The illumination modes offer all more or less important functions and even a few highlights. Thanks to the RGB lighting there are many ways to customize the own keyboard. However, the software is expected to be a little bit more, to provide easier working with the profiles or macros. Even a brightness control would be very welcome, so the user is not blinded by the keyboard in dark rooms. We have tested the Master Keys Pro S Gaming Keyboard with Cherry MX Brown buttons.
We could not find technical defects in our test. One could criticize the high purchase price of approximately 140 Euro, which, however, in view of the durability of the probe into perspective again. For gamers who like to have more space on theirs desks, or for those players who are still up to LAN parties, the Master Keys Pro S from Cooler Master is definitely a very interesting keyboard.
Discuss in our forum about the Cooler Master MasterKeys Pro S keyboard and share experiences …
Here you can order the Cooler Master Masterkeys Pro S keyboard.
Read on in the hardware test area with several hardware reviews …