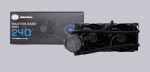 Setup and test results …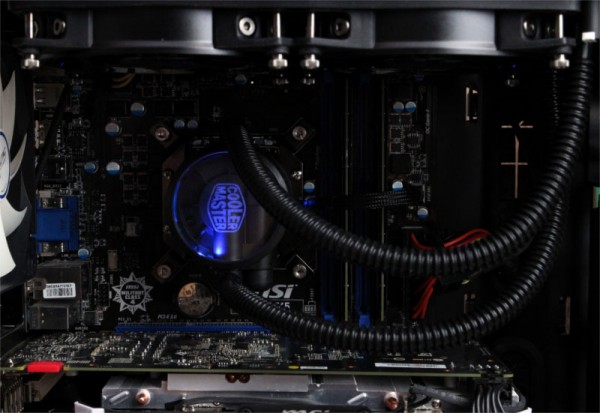 Configuration …
For our test system we used following configuration:
Intel Core i5 4460 @ 3200 MHz with 0.99 Volt
MSI B85M-E45 Rev. 2.0
2x 4GB DDR3-1600
MSI GeForce GTX960 4GB OC
Cooler Master 500W Silent Pro PSU
Fractal Design Define R5 Case
Windows 7 Ultimate 64 Bit Service Pack 1
For measurement we used following tools: Prime95 V28.7, Furmark V1.17.0.0, MSI Afterburner V4.1.1 and SpeedFan V4.51
Thermal grease: Cooler Master MasterGel Pro 8W/mK (supplied)
The ambient temperature was at 20°C.
Because the manufacturer not mentioned the switch on the fans, we have decided to work with 2000 RPM. If necessary, the maximum number of revolutions per minute can be increased with a thin tool (a paper clip, scissors) to 2500 U/min.
First, we have tested the cooler with full pump speed. With a PWM signal of 65%, the pump produces a less audible sound spectrum, so we took advantage of this setting for a second run.
For the silent mode the Cooler Master fans have been set to 600 rpm. For a high cooling, the fans have been set to 2000 rpm. In idle only Windows and SpeedFan was running. Load is managed with small FFTs test of Prime95. Here, no power saving features has been disabled in the BIOS/UEFI.
Cooler Master MasterLiquid Pro 240 test results …
Here is the Cooler Master MasterLiquid Pro 240 compared to boxed cooler of Intel's Core i5-4460. The Intel boxed cooler could be tested not under load in silent mode, because the temperatures to quickly ran out of control.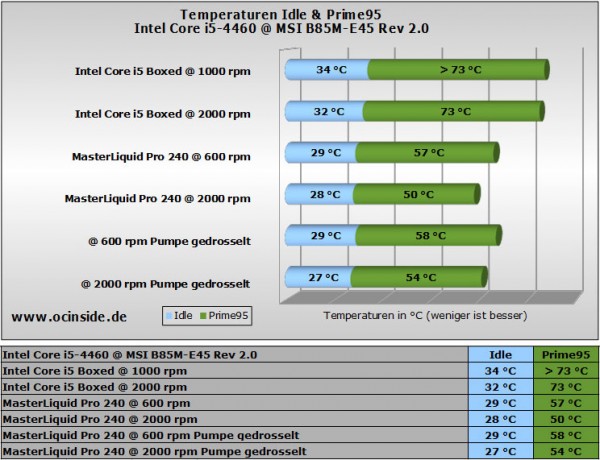 At very low speeds it comes in the pump to babbling sounds, but at higher speeds the pump is heard not outside of the chassis, so that's no real problem. Only at maximum speed one can perceive the pump, but the noise is not annoying.
In our system the fans themselves at low speeds were very loud, because vibrations despite double decoupling to the chassis were routed, also noticed a strong noise when running the fan. Other users not report this issue and described the fan very quiet, so we assume therefore issue an individual imbalance our samples. We've send them to the manufacturer and are waiting for their test results. The airflow is very clearly audible at 2000 rpm, however, this is not surprising.
The MasterLiquid Pro 240 scores well at the cooling performance. So, we can assume that the new cooling fin design of the radiator has a measurable effect on the cooling performance.
Without the aforementioned vibration of our fans silent cooling would have been possible thanks to controllable pump.
We explained the differences in measuring CPU temperatures and how to overclock in detail in our Intel Core i3, Core i5 and Core i7 OC guide.
Cooler Master MasterLiquid Pro 240 result and general impression …