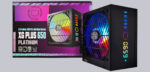 Powerful 80 Plus Platinum PSU with ARGB fan and digital display! How important a good power supply can be in the PC, we have already shown on OCinside.de in numerous tests and OC tutorials. But a high-quality power supply can even look really good and be informative at the same time! The following test shows how the new Cooler Master XG Plus 650 Watt power supply performs.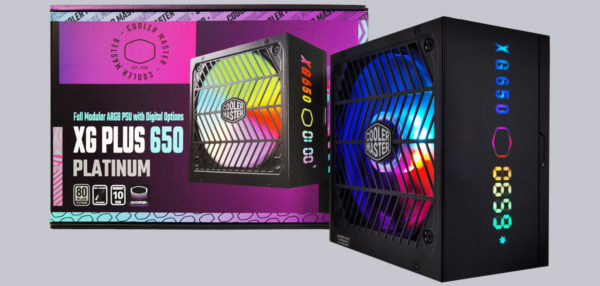 Thanks for the support to Berserkus and the manufacturer Cooler Master.
The Cooler Master XG Plus 650 Platinum PC power supply is priced at approx. 230 Euro, the Cooler Master XG Plus 750 Platinum is priced at around 240 Euro and the Cooler Master XG Plus 850 Platinum is priced at around 250 Euro. Cooler Master XG Platinum power supplies without lighting are also available starting at around 160 Euro (03/2022).
Here you can order the Cooler Master XG Plus Platinum PSU.
The delivery of the Cooler Master XG Plus 650 Platinum …
Cooler Master delivers the power supply in a typical Cooler Master box, where the color purple clearly dominates. Below the product description you will also find the 80 Plus Platinum efficiency certificate and it's still referred to the Japanese capacitors. Furthermore, the 10-year warranty, because Cooler Master is obviously convinced of their power supply quality! In addition, the reference to the Cooler Master software Masterplus+ with which the effects of the power supply are controlled.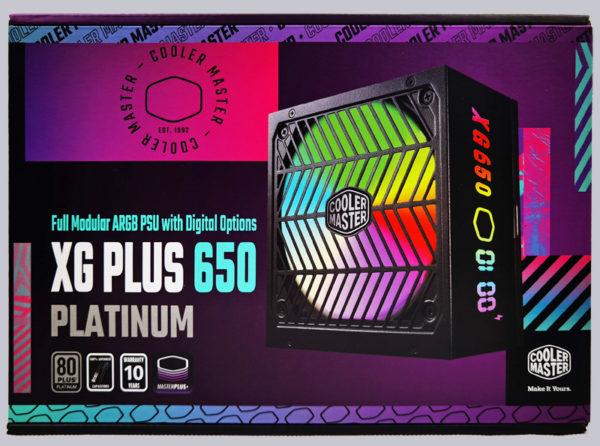 The technical details can be found on the back. A power and fan curve as well as the cable lengths are also given there.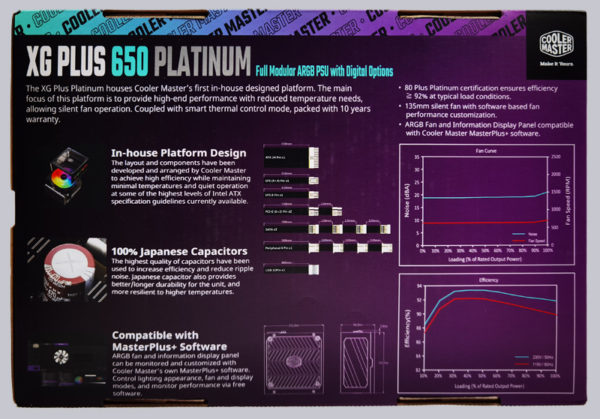 On the right side you will find again some product details in different languages.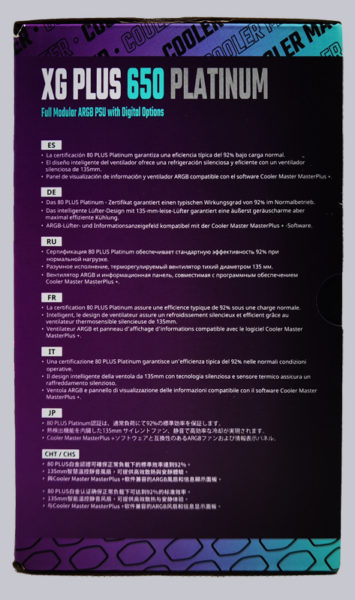 The left side shows the technical specifications and the protection circuits.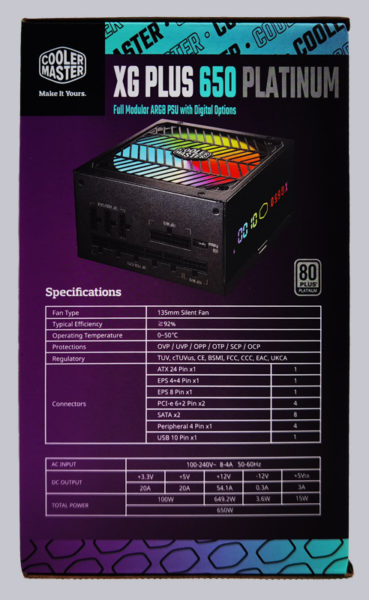 A look at the underside shows what is contained in the box in 23 languages. In addition, the symbols of the certification and testing bodies can also be found here. TUV Rheinland is also represented here. In addition, the EAN and product number as well as a QR code and the contact persons for the different regions are listed.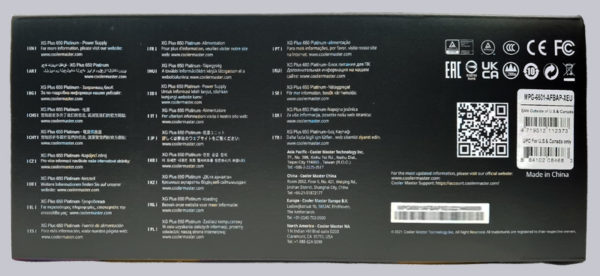 Towards the top we find the product description again.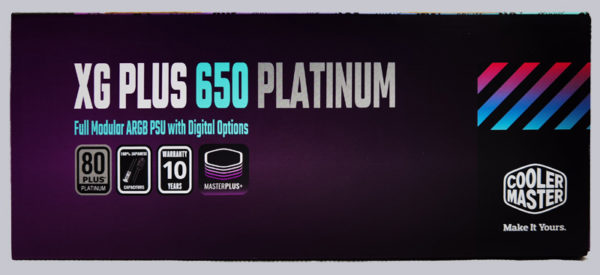 After opening the box, we first look at the user manual and a bag where the included cables are stored.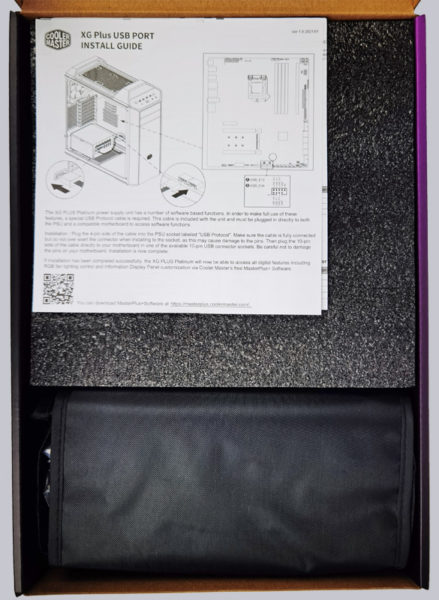 Everything is packed very carefully and the power supply is also packed in a cloth bag.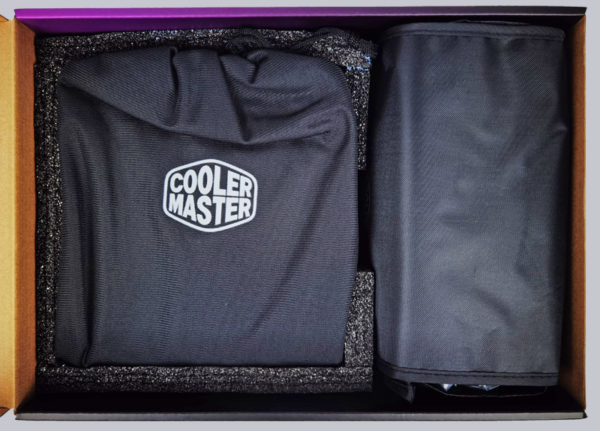 In addition to the power supply, the scope of delivery includes a user manual that is written in 27 (14 on the back) languages.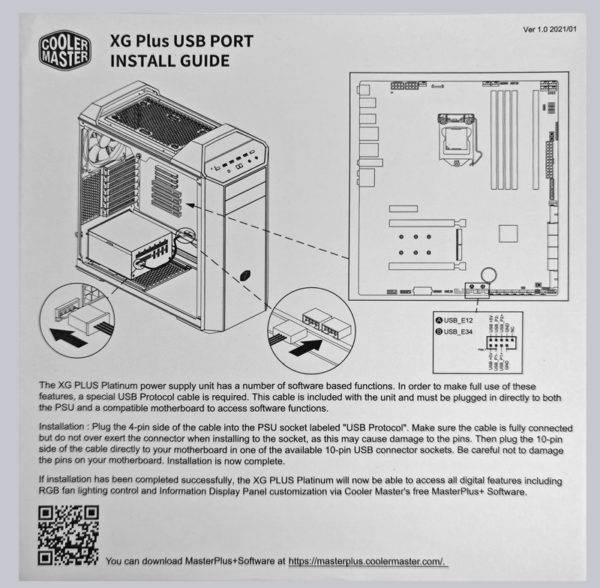 As well as the high quality bag, …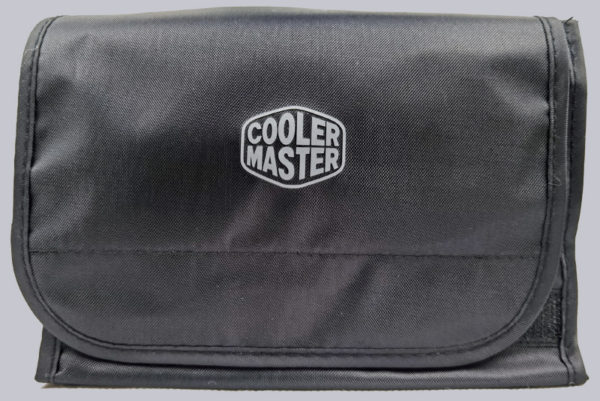 … in which all cables, cable ties and the fastening screws find place.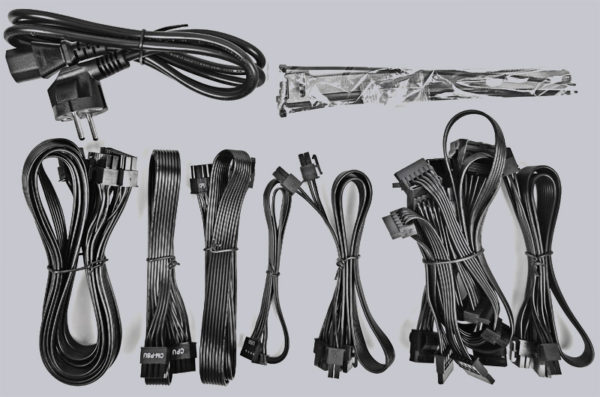 Cooler Master XG Plus 650 Platinum technical data …