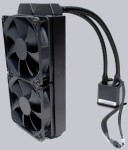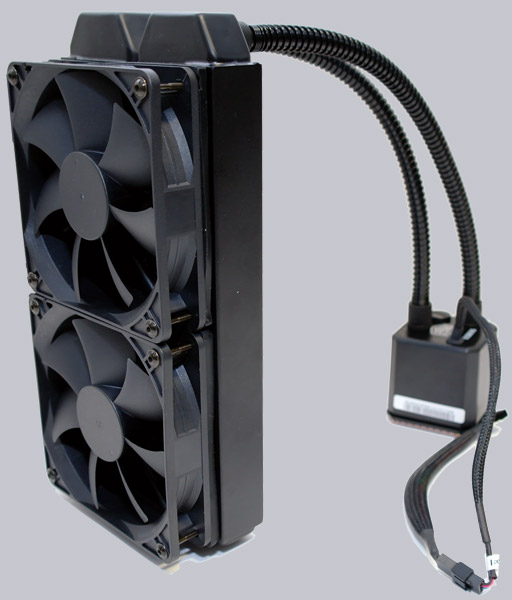 We have already tested some liquid coolers and some pre-filled PC water cooling devices at ocinside.de and today it is time to publish the new Cooler Master Eisberg Prestige 240L review. A few months ago we had already the pleasure to take a look at the first preview versions of it and today is the official launch of the new improved Cooler Master Iceberg 240 version. The Cooler Master Eisberg 240L AIO water cooler is based on a copper dual radiator with two 120mm fans and a CPU heatsink with integrated pump and reservoir. The system is already filled but is nevertheless still upgradable – this is very important for overclockers and enthusiasts. In this review we will check if the system can keep up with our previously tested top coolers and how it sounds, as always at ocinside.de with several online cooler sound samples.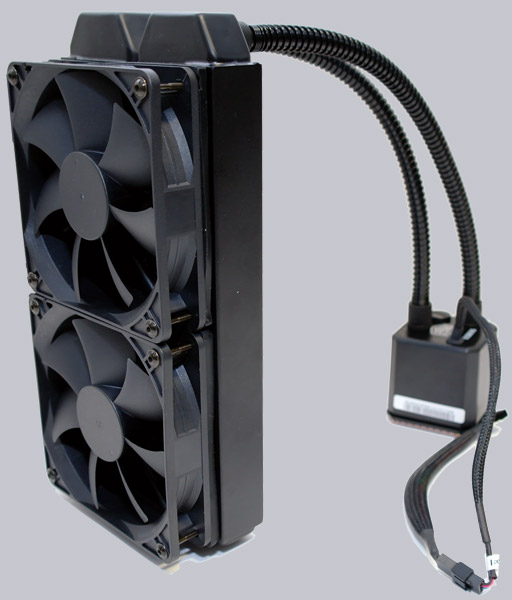 Thanks for the support …
Many thanks for the fast delivery by the manufacturer Cooler Master.

The Cooler Master Eisberg (Iceberg) Prestige 240L has a price of approx. 160 Euro (as of 01/2013).
Here you can buy the Cooler Master Eisberg Prestige 240L water cooling device
The delivery of the Coolermaster Iceberg 240 CPU-Cooler …
In this cardboard box is the well-packaged Cooler Master Eisberg Prestige 240L CPU Cooler with its accessories: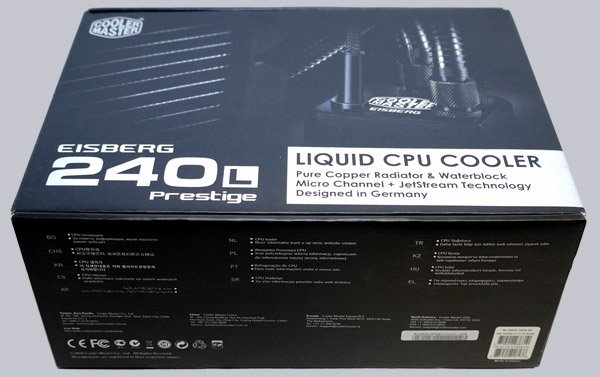 That is contained in the box …
Here is a first look at the box contents: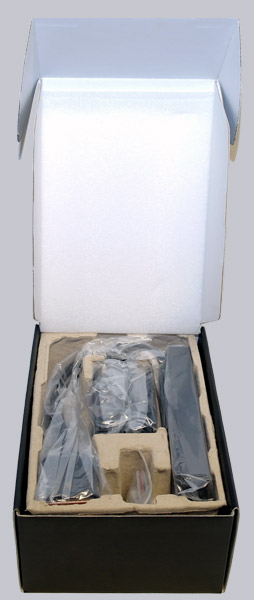 These accessories were included in the Cooler Master 240L box: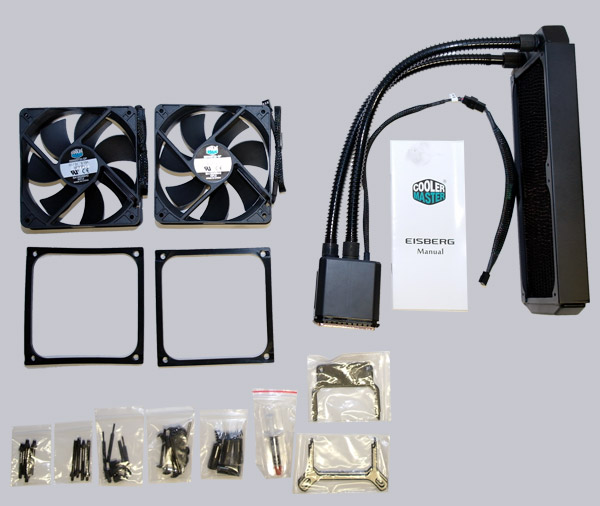 The scope of supply includes the ready to cool Coolermaster Eisberg 240 water cooling and the installation accessories for Intel LGA 775, 1366, 1156, 1155 and LGA 2011 Intel processors as well as for the AMD systems with socket AM3+, AM3, AM2+, AM2, FM2 and FM1. Additionally, two 120 mm fans with anti-vibration rings are in the ready to go watercooler box. The rubber ring could be optimized for the dual-fan radiator. A tube of thermal compound, a 9 volt adapter for reducing the pump speed and a multi-language installation manual is also provided by Coolermaster. Unfortunately, the small black and white images in the included manual were very difficult to recognize, so that one has to guess what threaded rods can be used for which CPU socket. Even if it is self explaining during the installation, better images, additional information or just a few stickers with each socket system on the bags would be helpful.
Cooler Master Eisberg Prestige 240L Technical Data …