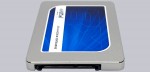 Result and general impression …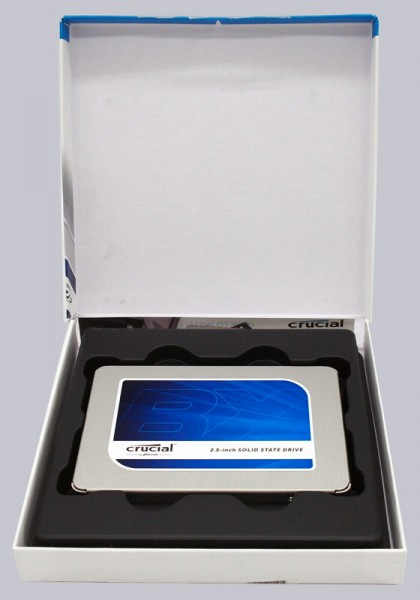 The Crucial BX300 480GB 2.5″ SATA3 SSD CT480BX300SSD1 leaves its name predecessors BX200 and BX100 behind, especially in terms of writing performance, and in some benchmarks even surpasses the MX300, when MX has always stand for the high-end SSD.
A look under the hood in our test could explain this, because the BX300 is not equipped with the cheaper TLC NAND, which was strangely enough used even for the last Crucial MX300 2TB SSD. Crucial relies on MLC for the new BX300, more precisely on 2 Bit 3D MLC NAND!
Crucial is one of the first manufacturers we tested SSDs from on OCinside.de. So it's no wonder that they maintain their model update very regularly. Crucial is a daughter of Micron and so the SSD and the NAND come from a single source. Now we are once again seeing an important development in the highly competitive SSD market and this is the latest 3D NAND generation with higher writing performance at the low prices of the previous TLC NAND production.
The Crucial BX300 480GB TLC Solid State Drive with SMI 2258 controller and Micron 3D TLC NAND can, in contrast to its predecessor, increase its performance considerably and, apart from the 256-bit AES encryption, has some important features that can only be seen with expensive high-end SSDs.
BTW., the new Crucial BX300 480GB is specified with 160 TBW (total/tera bytes written), which is about 88 GB per day over a period of 5 years. This information is not only important for the warranty (limited 3-year warranty) but also speaks for a high durability of the NAND cells. If you want to know more about TBW, you can find numerous data and formulas at Micron and in the JEDEC SSD specifications.
All in all, Crucial has once again managed to get a good litter with the BX300 series, which will be sold at a fair price to many a manufacturer in the course of the market launch – we as SSD buyers will be delighted!
Discuss in our forum and share experiences about the Crucial BX300 …
Here you can buy the Crucial BX300 SSD for a low price …
Read on in the hardware test area with several hardware reviews …