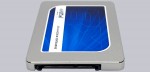 Layout, design and features …
Here you can see the front of the 2.5″ Crucial BX300 480GB SSD …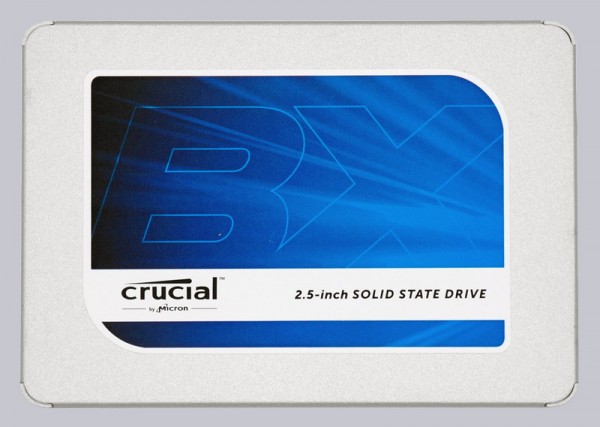 … which looks almost identical to the previous Crucial BX200 480GB SSD.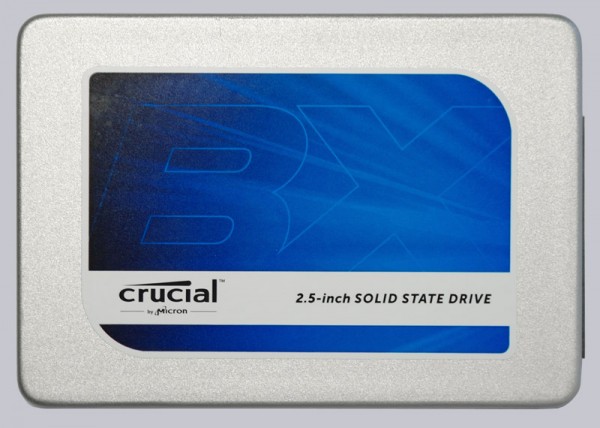 The back side shows the Crucial BX300 2.5″ SSD with some technical data and the firmware version that has been preinstalled. The two SATA3 connections for power supply and data connection can be seen in the following picture on the left side. The SATA SSD port is identical to conventional SATA3 hard disk drives, but a SATA3 SSD can also be operated at a slower speed on a SATA2 port.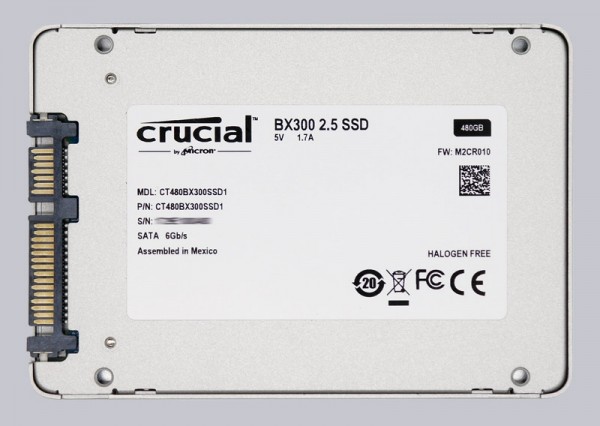 The BX300 SSD is manufactured in the same way as the previous Crucial MX300, MX200, BX200, BX100 and MX100 in the flatter height, which, is only 7mm and no longer 9.5mm. If necessary, the 7mm adapter frame can be placed on 9.5mm adapter frames or fixed on to the 9.5mm adapter frame to remain compatible with the 9.5mm height (e.g. in notebooks).
The Crucial BX300 SSD case was no longer pressed together, but attached with screws. Here you can see the small SSD board together with the SSD cover and the four screws.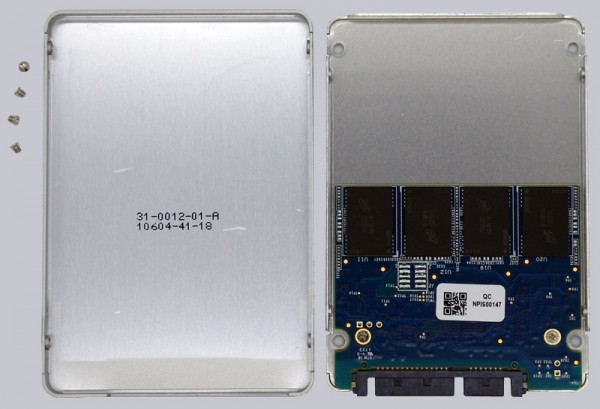 The four of the eight Micron NW818 Micron 3D Micron MLC NAND devices of the SSD with a total capacity of 480GB are easily recognizable. We have already explained the differences between TLC, SLC and MLC extensively in the Crucial BX200 480GB SSD Windows practice test. The MX300 was equipped with the 3D TLC NAND and the BX200 was equipped with a simple TLC NAND, which could only maintain a high writing performance via the SLC cache size. Fortunately, this is not the Crucial BX300 as we will see in the benchmarks.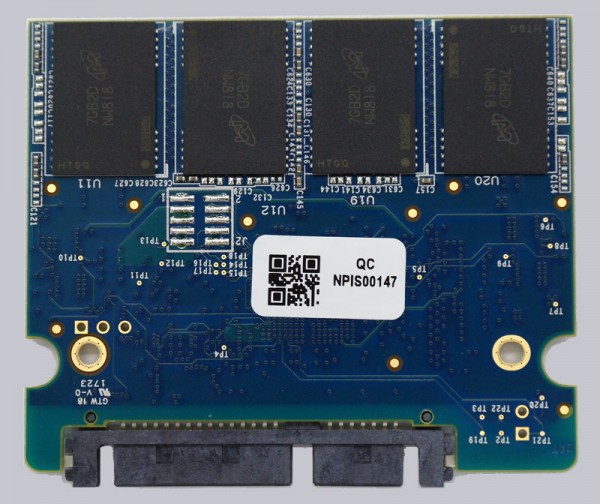 On the back you can see the remaining four Micron NW818 NAND devices of the SATA3 SSD with 480GB capacity and … no, this is not a chewing gum of the Micron employees …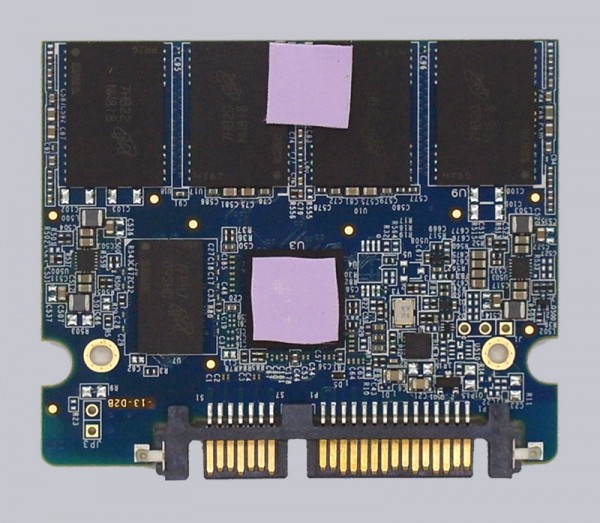 … after removing the two heat conduction pads, the Silicon Motion SMI 2258H Controller IC and the Micron D9SHD 256MB LPDDR3 Cache Module can be seen.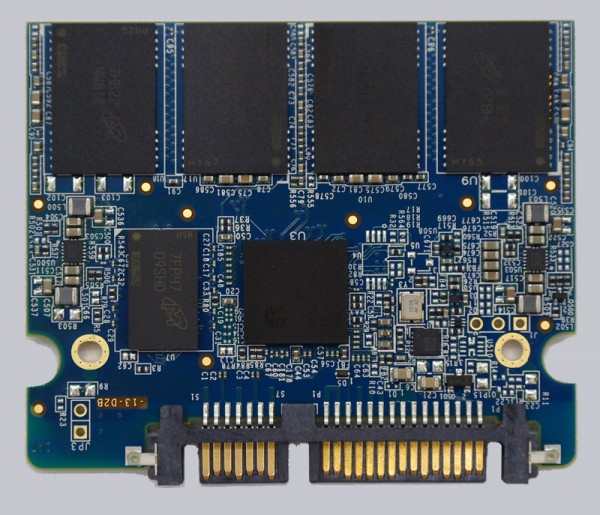 After we have shown the technical data of the Crucial BX300 480GB SSD, we now come to the firmware update.
SSD Firmware Update …
The BX300 SSD was delivered with the M2CR010 firmware. Crucial provides this firmware version M2CR010 for the BX300 as the latest SSD firmware. With the new Crucial Storage Executive Tool you can update the firmware of the SSD relatively easily, but you should save important data as always before the firmware update. You can also use the classic method: download Crucial Firmware, unpack the included ISO file, transfer the ISO file with unetbootin to a USB stick (alternatively burn it to a CD or CDRW), boot with the USB stick and start the firmware update.
The Crucial Storage Executive Tool clearly shows which SSDs and hard disks are installed, what the SMART values look like, allows you to enable the Momentum Cache function, which uses memory as a buffer, securely erases the SSD, allows you to set the over-provisioning area, and updating the SSD firmware.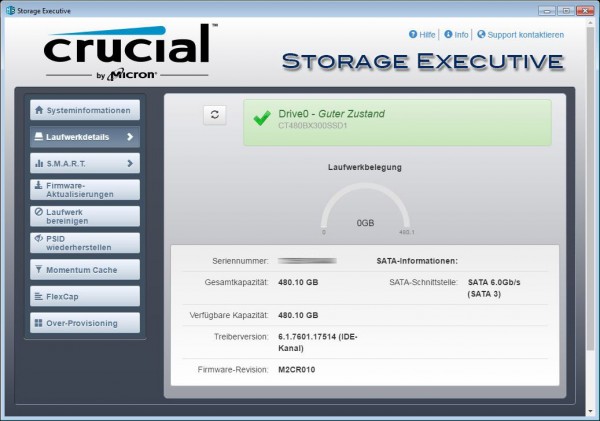 Crucial BX300 480 GB Benchmark values and test results …