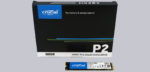 Layout, design and features …
Here you can see the front of the small Crucial P2 500GB M.2 NVMe SSD. By the way, a special sticker made of thin copper sheet metal for better temperature dissipation of the controller was omitted, but it's also not necessary in view of the lower temperatures.


Here you can see one of the four Micron NW959 MT29F1T08EMHBFJ4-3R:B Micron 64 Layer 3D TLC NAND components of this SSD with a total capacity of 500GB. The differences between QLC, TLC, SLC and MLC have already been explained in the Windows Practical testing of the Crucial BX200 480GB SSD. Under the sticker you can also find the Phison PS5013-E13 controller IC and the four TLC NAND devices. A cache device is not supported by this Phison controller, but there is thermal monitoring, OPAL and end-to-end support.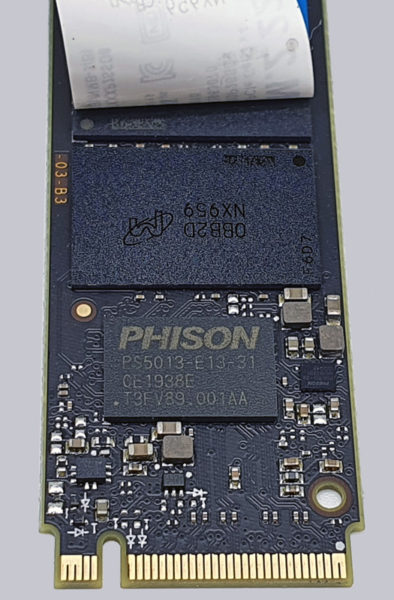 A SMD activity LED like on the Crucial P1 M.2 NVMe SSD was not installed and the back of the Crucial P2 is not equipped on the 500GB version.
Since we would like to provide more information and some practical experience with the M.2 SSD, we have also included a Practical testing page.
Crucial P2 500GB M.2 NVMe Practical testing …