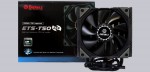 Conclusion and overall impression …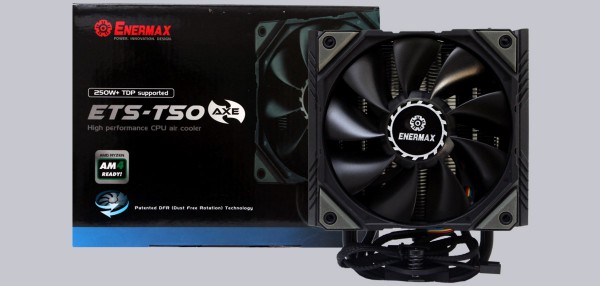 The Enermax ETS-T50 AXE looks damn good!
In our almost completely black test system, this does not come as well as in a white or colored modding housing, but the matt black powder coating in combination with the not too intrusive yet extraordinary design is what pleases us.
In terms of performance, the T50 AXE cooler offers respectable performance data even though it is only equipped with one fan and with many features exactly what you expect from a larger (at least 860g) cooler with 12cm fan.
Through design and features, the ETS-T50 AXE DFP can thus rise into the premium class, which is fortunately reflected in the price only slightly.
For a comparison with other coolers, take a look at our CPU cooler chart 2016 on the Intel Core i5 PC. Here is our CPU cooler comparison 2016, tested on an Intel Core i7 PC system. And here is again our CPU cooler chart with CPU coolers before 2016. A direct comparison to our previously tested coolers is however not possible here, since the test system has changed fundamentally in the meantime.
Discuss in our forum and share experiences about the Enermax T50 AXE DFP …
Here you can order the Enermax T50 AXE cheap.
Read on in the hardware test area with several hardware reviews …