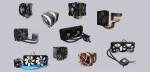 In the last 16 years OCinside has tested several CPU coolers. Today, we have published this CPU Cooler Comparison Chart with selected coolers from Antec, Cooler Master, Cryorig, Enermax, Intel, Noctua, Phanteks, Raijintek, Scythe, Titan and X2 Products, which we have tested on an Intel Core i7 system. So you can easily find the right CPU cooler for your Intel Core i7 PC and compare the cooling results in one chart.
AMD and Intel CPU Cooler Roundup Cooler for Socket AM2, AM2+, AM3, AM3+, FM1, FM2, FM2+, LGA 775, 1150, 1151, 1155, 1156, 1366, 2011, 2011-3 CPUs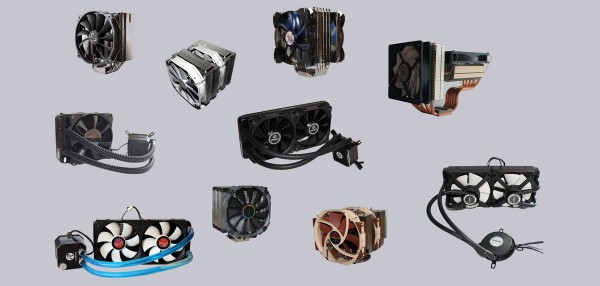 Cooler test setup …
The HSFs are tested with the following system:
Intel Core-i7 2600K @ 4000 MHz with 1.19 Volt
Asus P8P67 Pro Rev 3.1
4x 4 GB DDR3 1600 MHz
MSI GeForce 780ti
Samsung SSD 840 Pro 256 GB
Seasonic 760 W Platinum
CM Storm Stryker
Microsoft Windows 7 Ultimate 64 Bit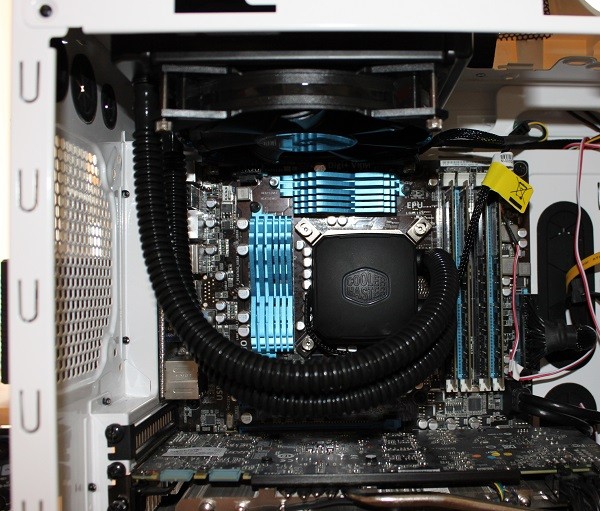 Temperatures are read with the Core Temp 1.0 RC6 and Asus AiSuite II Tools. The program Prime95 get the processor load up to approx. 100%. Measurements are always the peak temperature of the CPU, which is the highest temperature that the processor in the test reached with Prime95 or Idle.
The below coolers are tested on the same system, so their results are therefore well comparable. Of course, the results vary in other systems, but it's no problem at all, because all values should only be compared with each other.
The ambient temperature was approx. 20°C.
The coolers are tested with different fan speeds and were equipped with different available number of fans (if available).
The boxed Intel Core i7 cooler, Cryorig H5 Ultimate, Noctua NH-D15, Phanteks PH-TC14PE, Scythe Ashura Shadow, Titan Fenrir Siberia Edition and the X2 Products Eclipse IV are conventional air coolers.
The Antec H2O 1250, Cooler Master Nepton 140XL, Enermax Liqtech 240 and Raijintek Triton are ready filled all-in-one watercoolers – so called AIO coolers – with integrated water pump and radiator.
CPU cooler test results …
All tested heatsink fan combinations are listed in the following bar chart and splitted into two results: Idle (blue) and Prime95 CPU with 100% load (green). Here you can easily see the different distributions of the cooling results, e.g. the very high idle tmperature of the boxed cooler, but also the differences of the Prime95 results at low fan speed in comparison to full fan speed. Now one can also listen to each fan sound volume on the last page of each detailed review. Mostly with different fan speeds, because an increased fan speed not only increases the cooling capacity, but unfortunately increases also the fan noise.
Here are all temperature results in idle and at 100% load in alphabetical order: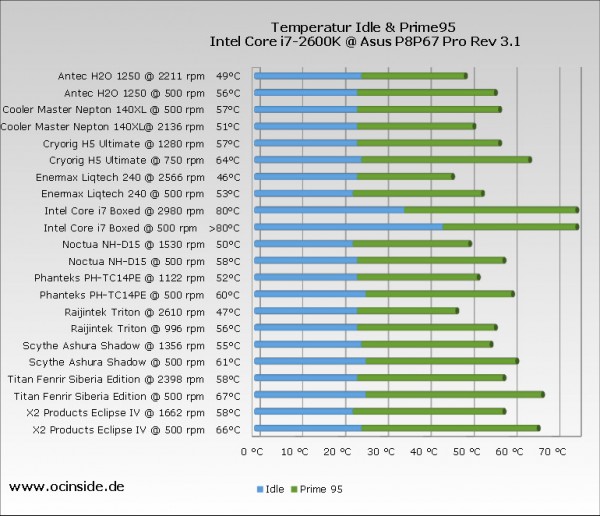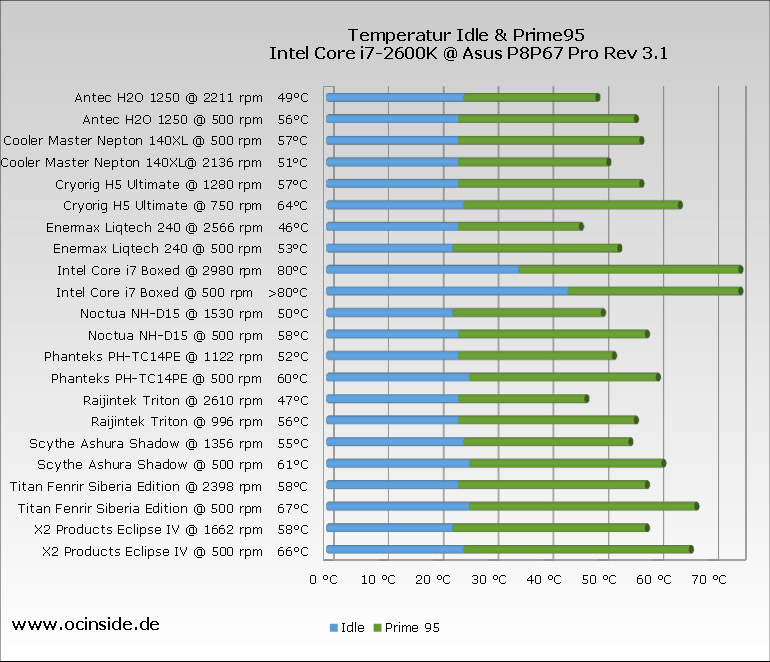 Here are all temperature results in idle and at 100% load sort by the best overall cooling result: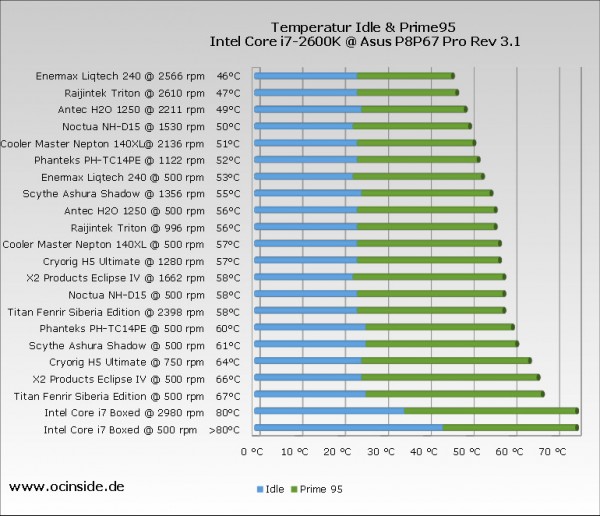 And for easier comparison, here are the cooling results at maximum fan speed, sorted be the best overall cooling result. At the top is the cooler with the best overall cooling result: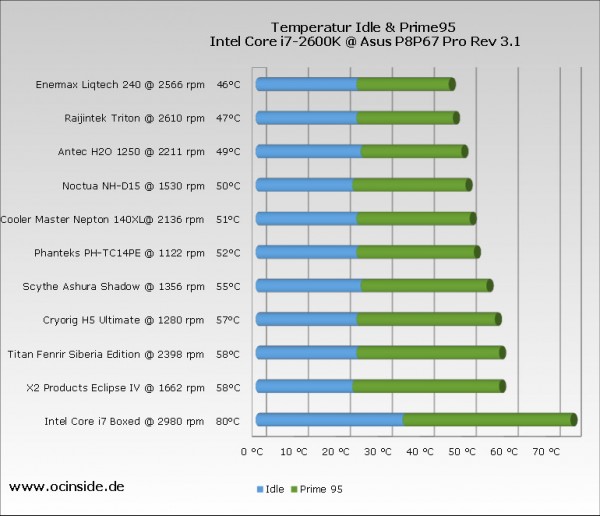 And here are all cooling results listed in tabular comparison:
Clicking on the respective cooler leads to the selected cooler review result with a summary of the overall impression, installation, price, and with a CPU cooler sound sample. The CPU cooler reviews are each several pages long and also can be found in the Hardware Review section. Additionally, there is the well known OCinside.de interactive fit for fan guide with direct cooler sound to determine which CPU cooler fits on which motherboard and how much space is available after installation for the remaining components like e.g. RAM or graphics card.
Hint: With our interactive Fit for Fan guide you can virtually fit each cooler onto different motherboards – missing coolers will be added with the next update.
Discuss and share experiences about the CPU Cooler Chart in our forum …
Here you can buy CPU Cooler.
Read on in the hardware test area with several hardware reviews …