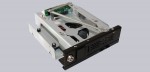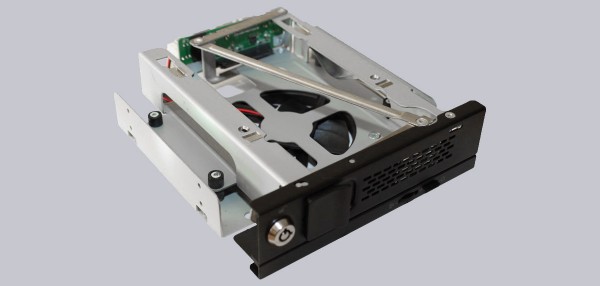 Layout, Design and Features …
Let us take a closer look at the Icy Dock TurboSwap caddy.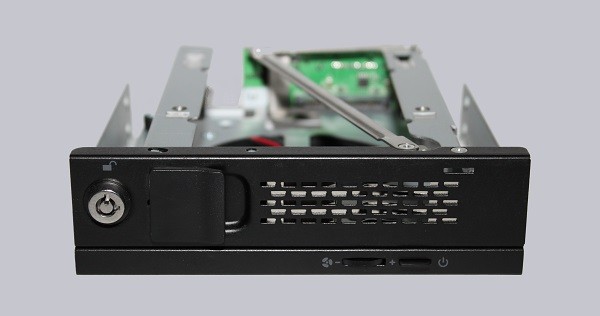 The front is held in plain black, and is expected to add elegant in almost every case. On the right side we see next to a couple of vents also the fan controller, the on-/off-switch and a small LED for power indication.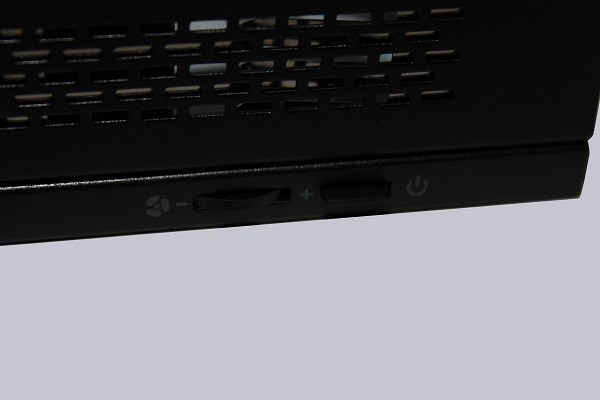 On the left side there is the lock latch and the opening mechanism.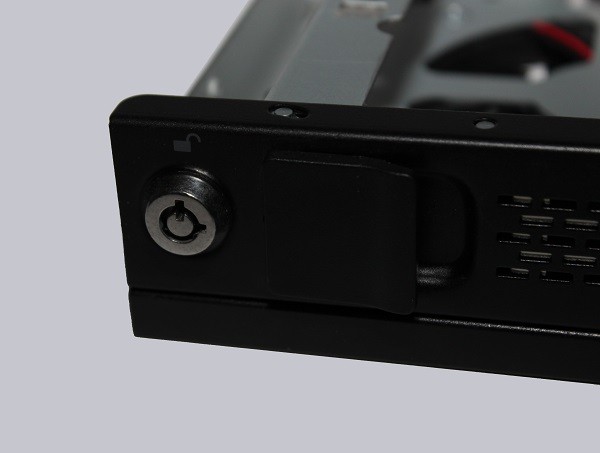 Due to the open construction of the mobile rack …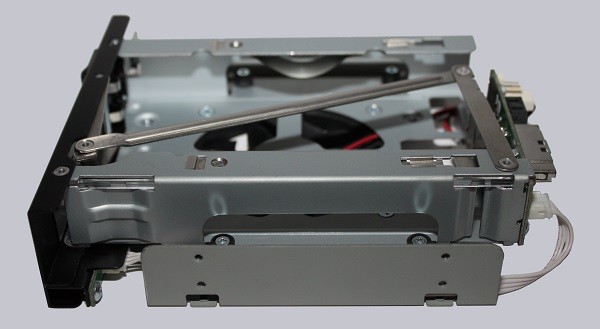 … there is a better fresh air supply.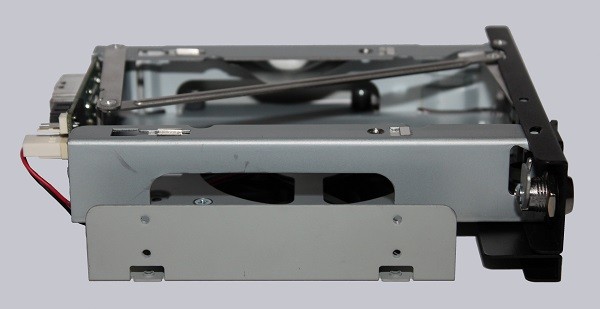 The caddy can be mounted using the standard holes, which also owns each 5 1/4 inch cd/dvd-drive. The opening mechanism consists of an elaborate lever system …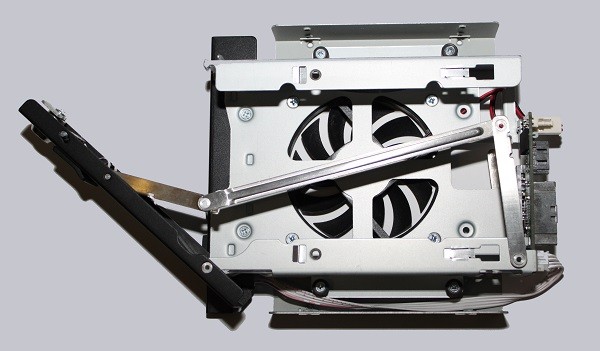 … which comfortable separates the hard disk from the connectors and presses it 1 inch out of the case. The mechanism is also able to push the hard drive back into place.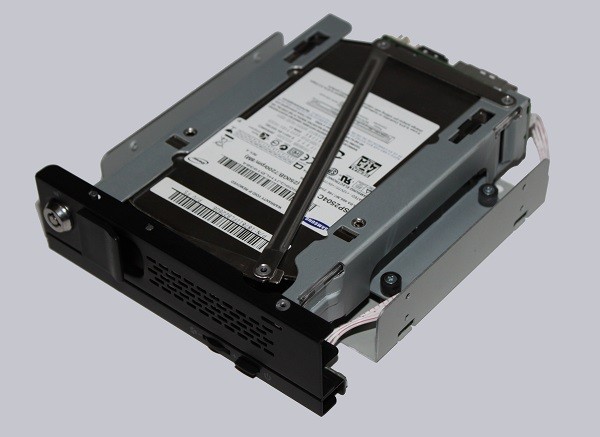 On the back side there are the connections for the power- and data supply, the fan connector and another 2-pin connector for an additional fan.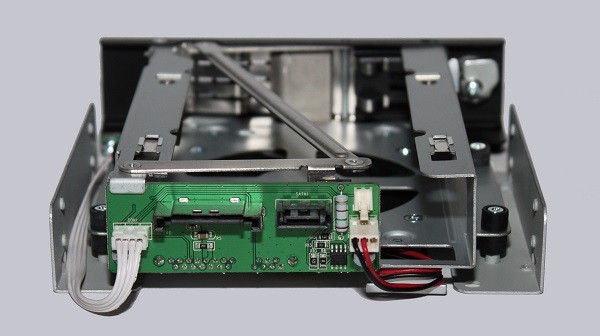 On the bottom we can see very well the built-in fan …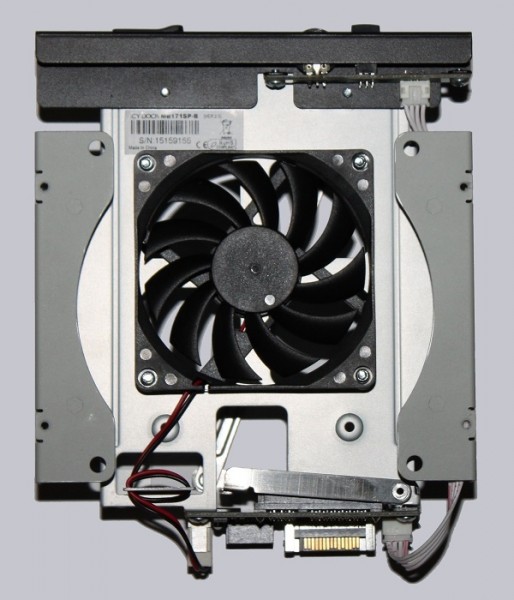 … which we cannot identify 100% even after removing it.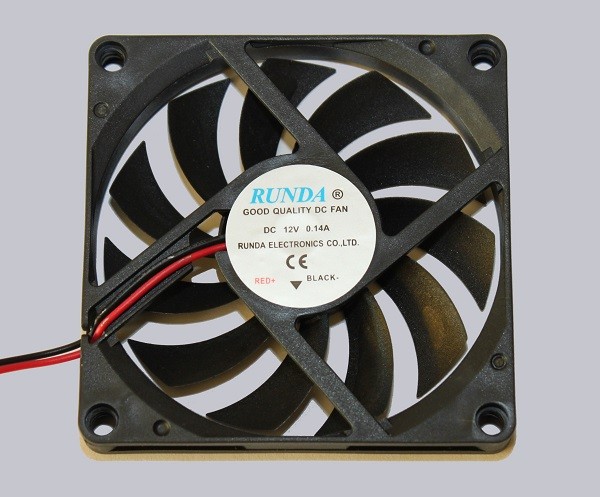 Apart from the voltage and the power consumption there is no more data to be determined. So we have to identify the missing data later in the practical test.
Another feature of the Icy Dock TurboSwap caddy is the decoupling of the frame from the chassis. The frame is mounted on four rubber pads …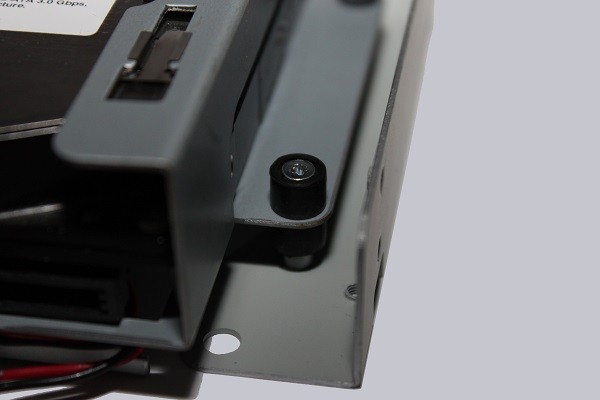 … which prevent that the vibrations are transmitted to the mounting rails. Even when installed, the Icy Dock Turbo Swap hard drive caddy makes a good figure.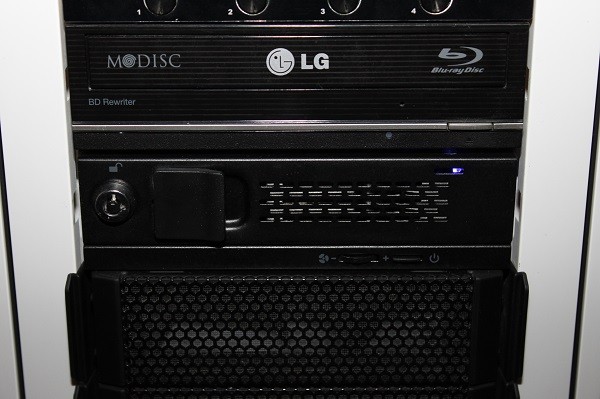 Here, for example, mounted in our Cooler Master CM Storm Stryker case. Unfortunately, there is a little problem caused by the design of the caddy. When ejecting, it is very difficult to pull out the hard drive with your fingers left and right, as there is on the right side the ejection mechanism.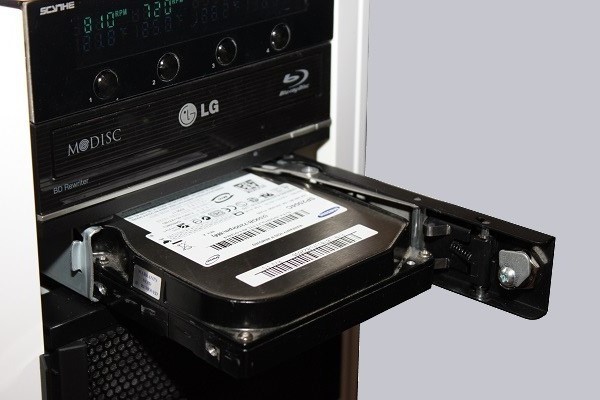 So you can grab and pull cautiously the up-/ downside of the HDD. Previously, you should ground yourself and get rid of the static charge to prevent the destruction of the disk due to accidental touching the board.
Aside that the Icy Dock caddy is making a very good impression. As regards processing and function, this caddy must never hide from the competition.
Whether the functionality of the hard drive is still fully guaranteed or not, we would like to present to you in a practical test.
Icy Dock TurboSwap Setup and Test Results …