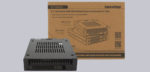 Practical testing …
The practical testing is relatively short at this point, because the MB741SP-B is directly connected to the motherboard via SATA.
Therefore no driver installation is necessary!
Also the performance of the SSD is logically the same as if you would connect it directly to the mainboard.


Instead we prepared a small video on our OCinside YouTube channel in which we show the MB741SP-B again from all sides and install an SSD.
Note: Please allow our cookies first to see this external content!
Icy Dock MB741SP-B Wechselrahmen Result and general impression …