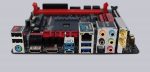 Quickly to the right hardware equipment …
Layout, Design and Features
ASRock X370 Gaming-ITX/ac Equipment and other features
ASRock X370 Gaming-ITX/ac Expansion cards
ASRock X370 Gaming-ITX/ac Memory
ASRock X370 Gaming-ITX/ac Hard disk drive connectors
ASRock X370 Gaming-ITX/ac USB and Firewire
ASRock X370 Gaming-ITX/ac Network
ASRock X370 Gaming-ITX/ac Sound
ASRock X370 Gaming-ITX/ac ITX back panel connectors
ASRock X370 Gaming-ITX/ac PC System

Layout, Design and Features …
As explained in the Unboxing video on our OCinside YouTube Channel, the X370 motherboard offers a powerful basic equipement for AMD Ryzen Summit Ridge and AMD A Bristol Ridge processors.
Here is the ASRock X370 Gaming-ITX/ac Unboxing Video:
Note: Please allow our cookies first to see this external content!
Here you can see the small motherboard board of the new ASRock X370 Gaming-ITX/ac AMD Ryzen motherboard.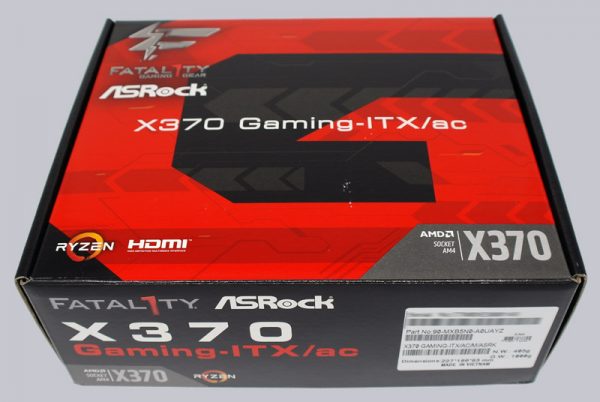 The differences between AMD X370, B350 and A320 are basically in the possible connection, and thus also in the equipment. The AMD X370 chipset supports for example overclocking, two PCIe 3.0 x8 slots, up to eight PCIe 2.0 slots, 2x USB 3.1 Gen2, 6 x USB 3.0 and 6 x SATA3. The AMD B350 chipset supports only up to six PCIe 2.0 lanes for slots, 2x USB 3.1 and 4x SATA3 ports, 2x USB 3.0. Last but not least the entry level AMD A320 chipset supports no overclocking, only up to four PCIe 2.0 slots, 1 x USB 3.1, 2x USB 3.0 and 4x SATA3 ports. We are therefore testing the best possible design today, but in ITX format, where it is not possible to accommodate all the equipment for technical reasons.
The back of the package already shows some features like RGB LED, WiFi, PCIe Steel Slot, Ultra M.2 and many more.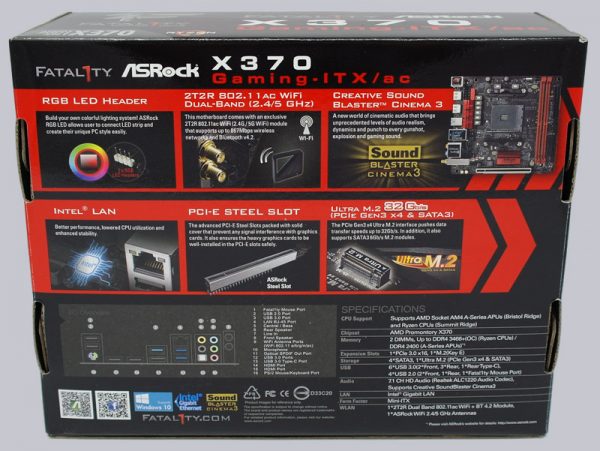 In the box there is another carton, in which at top only the motherboard is shown.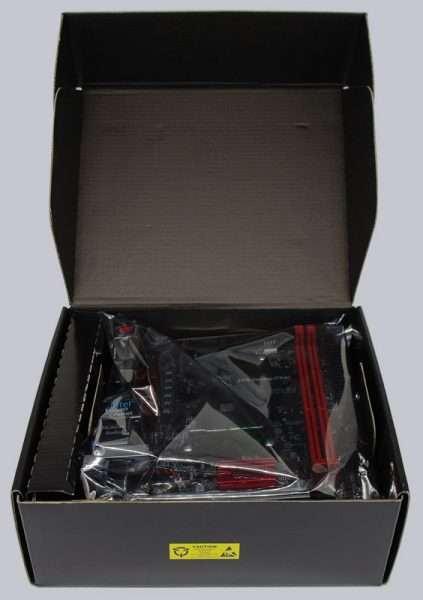 You may not believe that everything fits into the box, but all these accessories are underneath the motherboard.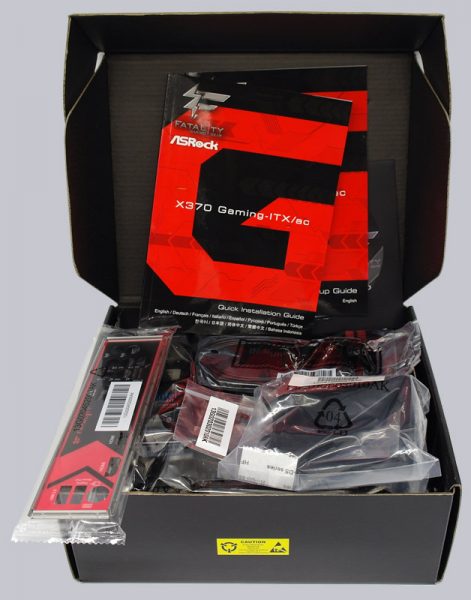 The small ASRock X370 Gaming-ITX/ac High Density Fiber Sapphire Black PCB makes a very high quality impression at first glance.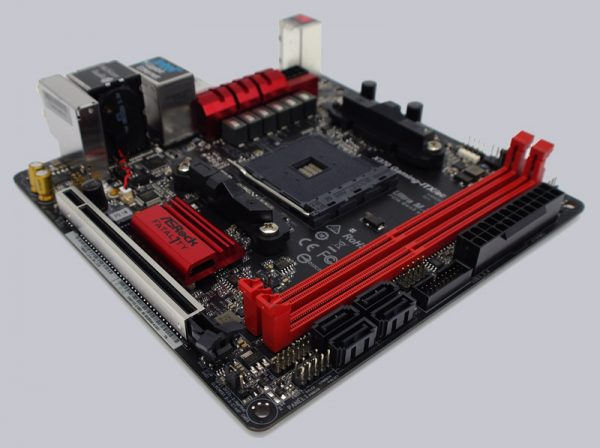 The motherboard features a PCIe steel slot, very durable Nichicon 12K Black Caps, Premium 60A Power Chokes, 8 Power Phase Design, Digi Power and 7.1 HD Creative SoundBlaster Cinema3 Audio via the ALC1220 with Nichicon Fine Gold Audio Capacitors and 120dB SNR DAC.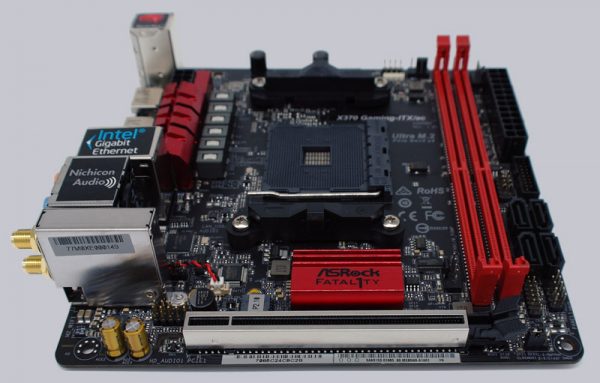 On the back, the ASRock X370 Gaming ITX/ac even offers a fast M.2 slot for PCIe Gen3 x4 modules with up to 32 GB/s. We tested the X370 Gaming ITX/ac with a Crucial MX300 M.2 module.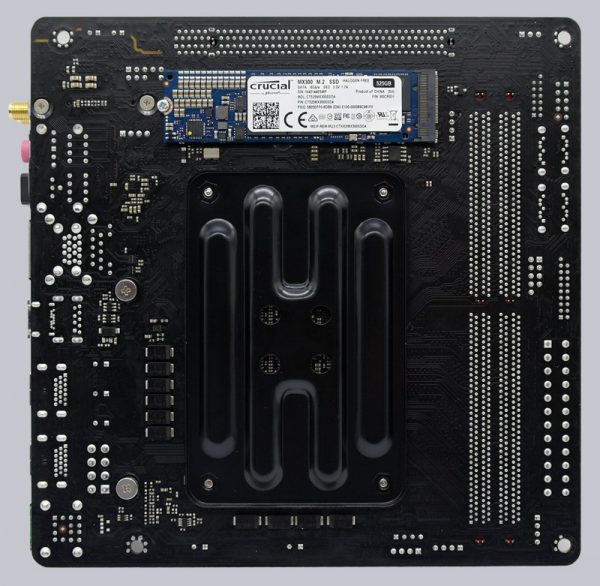 Conventional RGB stripes can be connected to the white 4-pin 12V RGB headers, for example to illuminate the PC case. In addition, the X370 gaming ITX/ac even has an AMD fan LED connector.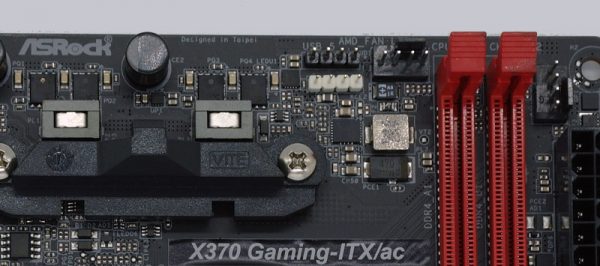 The RGB LED Header is controlled by the supplied ASRock RGB LED software. With the software an RGB LED firmware update is also carried out.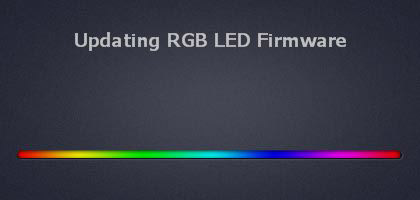 The UEFI doesn't allow you to make all the settings for this AMD motherboard graphically, like the ASRock Z270 motherboards, but the RGB basic functions have been integrated into the UEFI. The ASRock RGB LED software is used to make all settings in a graphical user interface, such as selecting the color inside of a RGB color selector. And you can set whether you want to control the RGB Header separately or together with the AMD Fan RGB lighting.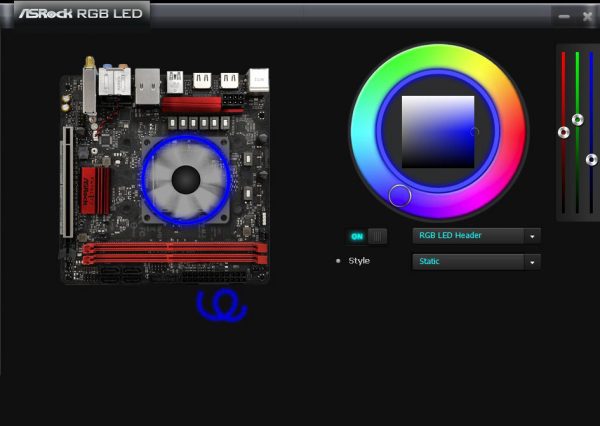 In the ASRock RGB LED menu you can also select whether the LEDs should be lit continuously, breathing, randomly or to music. The user thus has numerous options for how and how fast the LED stripes should light up. This is as already mentioned on the Z270 motherboards, certainly not a "must have" feature, but definitely nice to have!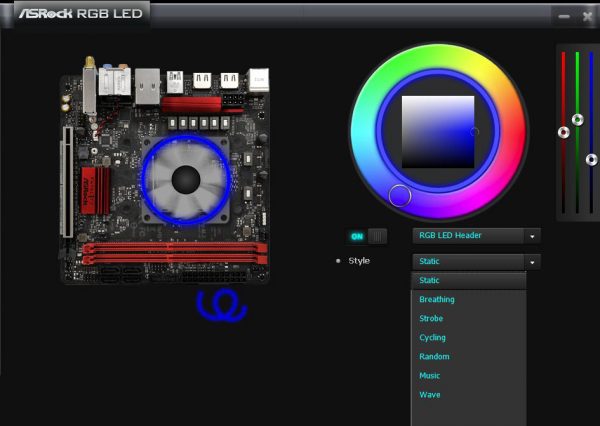 If you don't need the feature, you can of course deactivate the lighting completely.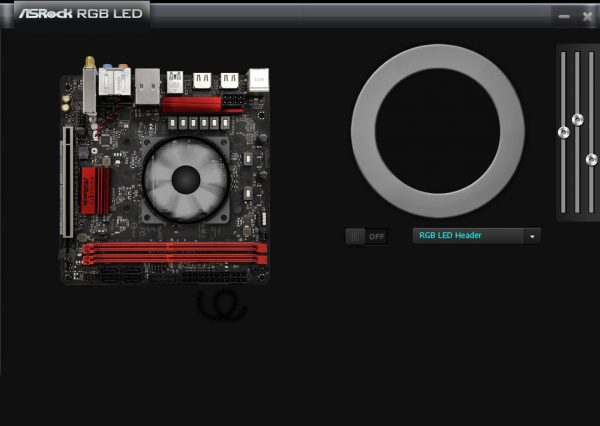 Here you can see the internal USB3.0 connector and next to it the 24-pin ITX power connector as well as a fan connector.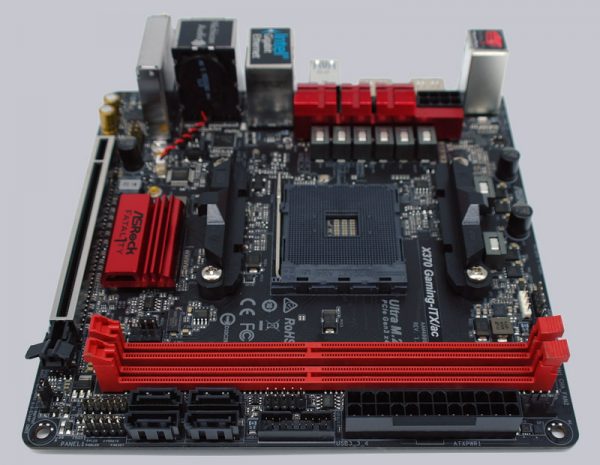 Equipment and other features …
The ASRock X370 Gaming-ITX/ac motherboard came with a manual, software setup guide, DVD, two SATA data cables, a screw for the M.2 socket, an ASRock WiFi 2.4/5 GHz antenna and an ITX I/O shield. USB Slot brackets and the ASRock 3.5-inch USB 3.0 front panel are optional available.
The ASRock X370 Gaming-ITX/ac offers numerous features like for example the ASRock F-Stream Tool, ASRock Instant Flash, ASRock Internet Flash, ASRock Easy RAID Installer, ASRock Easy Driver Installer, 8 Power Phase Design, Digi Power, ASRock RGB LED and ASRock FAN-Tastic Tuning.
Expansion cards …
The motherboard offers a PCI Express 3.0 x16 slot for one graphics card with x16 bandwidth.
Memory …
The ASRock X370 Gaming-ITX/ac can be equipped with up to two DDR4 modules and is expandable depending upon operating system used (see list) up to maximally 32 GB memory.
Here you can see a picture of the two DDR4 memory slots with dual channel support:


The AMD AM4 motherboard supports DDR4 memory modules and can be optimized in the BIOS with a Ryzen processor for DDR4-2667 dual channel modules. In the UEFI there are selections from DDR4-1866 up to DDR4-3466 available.
Thanks to XMP support (Extreme Memory Profiles), XMP memory modules are set correctly with one mouse click in the UEFI and of course there are far more memory adjustments and more OC-options, but more on that later. Before buying the RAM, you should check the officially supported RAM modules at the ASRock memory support page, which is very important especially (but not only) for AMD Ryzen systems.
Hard disk drive connectors …
The ASRock X370 Gaming ITX/ac offers four SATA3 ports.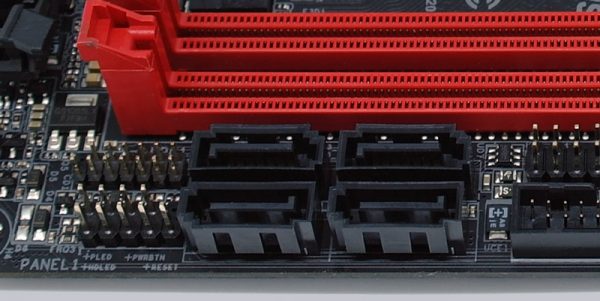 The SATA 3 ports support RAID 0, RAID 1, RAID 5, RAID 10, NCQ, AHCI and the Hot Plug function in AHCI mode (AHCI stands for Advanced Host Controller Interface and can/should be selected in the UEFI, especially when using SSDs). Thanks to the UEFI BIOS also drives with more than 2 TB for the installation of Windows 10, Windows 8.1 or Windows 7 x64 can be installed. Installing the drivers was absolutely no problem with Windows 10 and the Windows 10 installation was done very quickly. But even for Windows 7 AMD offers an all-in-one driver package, which is quickly installed.
Drivers can be installed via the Easy Driver Installer or Easy RAID Installer point in the UEFI, are supplied on DVD for 32-bit / 64-bit Windows 7, Windows 8 and Windows 10 and are available for download on the ASRock support page.
USB and FireWire …
The ASRock X370 Gaming ITX/ac has two USB 3.0 ports on the I/O Panel. The picture shows the USB 3.1 type-A at the top and the USB 3.1 type-C port at the bottom (pluggable on both sides).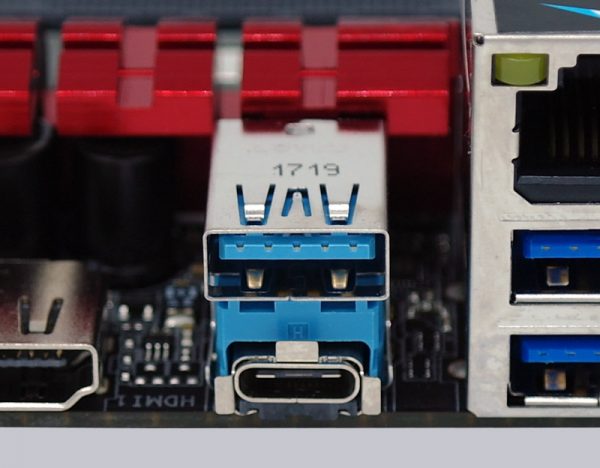 Internally, a USB 2.0 port is available for up to two optional USB ports and a USB 3.0 port for up to two optional USB 3.0 ports. The 20-pin header can be connected to an optional USB 3.0 front panel or to a chassis with USB3.0 support.
Network …
The ASRock X370 gaming ITX/ac has been equipped with an Intel I211AT, which is used to offer the 10/100/1000 network port on the ITX panel. The LAN port is WoL capable, offers LAN cable detection, supports 802.3az Power Efficient Ethernet, PXE and more. In addition, the X370 Gaming ITX/ac onBoard WLAN 2.4 GHz/5 GHz IEEE 802.11a/b/g/n/ac with up to 433 Mbps transmission rate.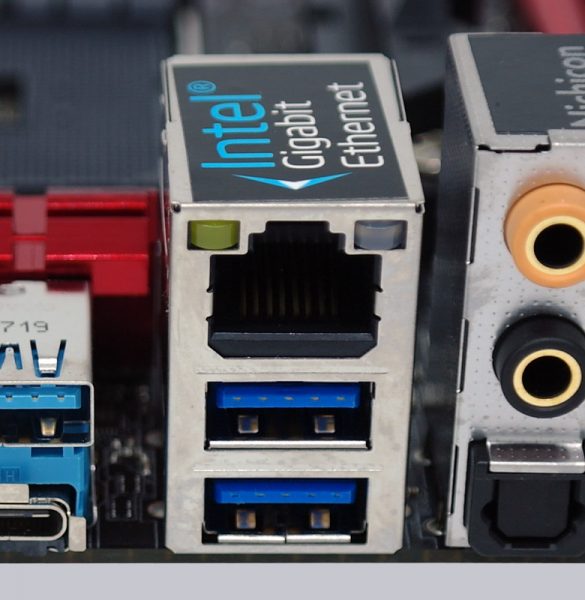 Sound …
The ASRock X370 gaming ITX/ac motherboard features the ALC1220 audio codec with content protection, 120dB SNR DAC and Creative SoundBlaster Cinema 3, which supports 7.1 surround sound and outputs it via 5x 3.5mm jacks on the ITX panel or via the internal front panel audio connection. There is also an optical SPDIF digital output and premium Blu-Ray support. This eliminates the need for an additional sound card with digital outputs for most users.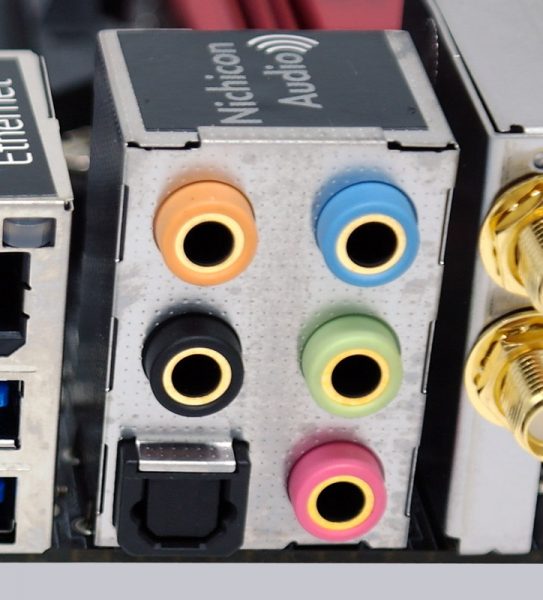 ITX back panel connectors …
From left to right, you can see the USB 2.0 Fatal1ty mouse port and 1x USB 2.0 port as well as 1x PS/2 port for PS/2 keyboard or PS/2 mouse, 2x HDMI, 1x USB 3.1 Type-A port and 1x USB 3.1 Type-C port, RJ45 Gigabit LAN and 2x USB 3.0 Type-A port, optical SPDIF output and 5x 3.5mm jacks for the sound.


Test System …
Now let's get to the AMD AM4 CPU socket. First we tested the X370 Gaming-ITX/ac motherboard with the AMD Ryzen 5 1600 CPU and then we tested it with an AMD Ryzen 7 1800X CPU.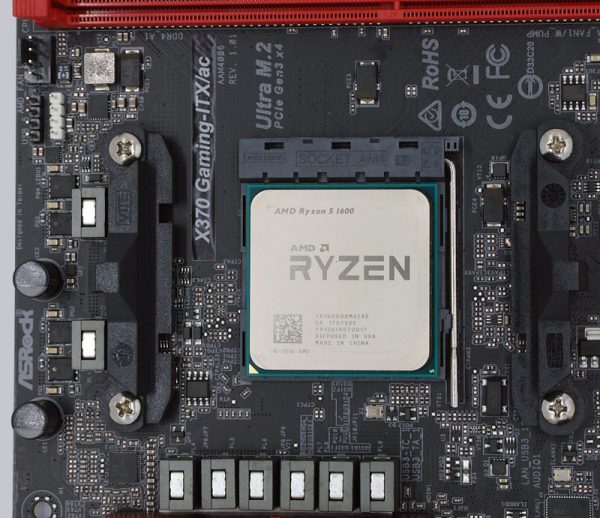 AMD Ryzen processors support dual channel mode. We have used the two memory modules on the AMD X370 motherboard to get dual channel support.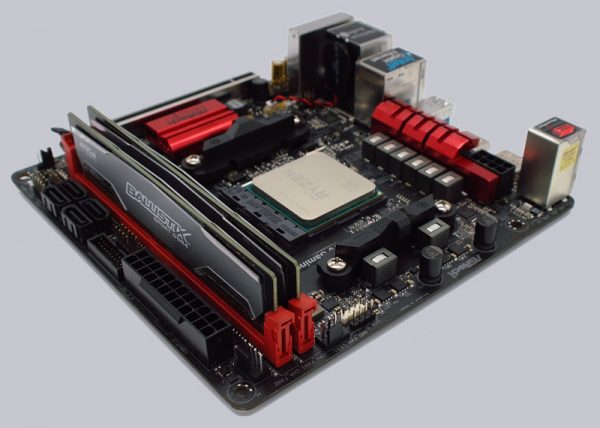 Here you can see the assembly of the memory modules from the side.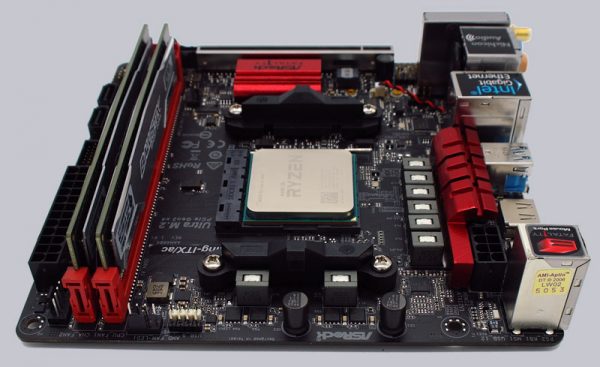 As we have already reported in detail on OCinside.de, a new AMD Ryzen cooler Upgrade Kit is required for many CPU coolers. For this AM4 motherboard test we have upgraded directly to an Enermax ETS-T50 AXE DFP air cooler suitable for socket AM4. The following picture shows the AMD AM4 test system including Enermax cooler, MSI Radeon R9 280 graphics card and Icy Dock MB171SP-B Turbo Swap Swap frame for quick replacement of the SSD and HDD.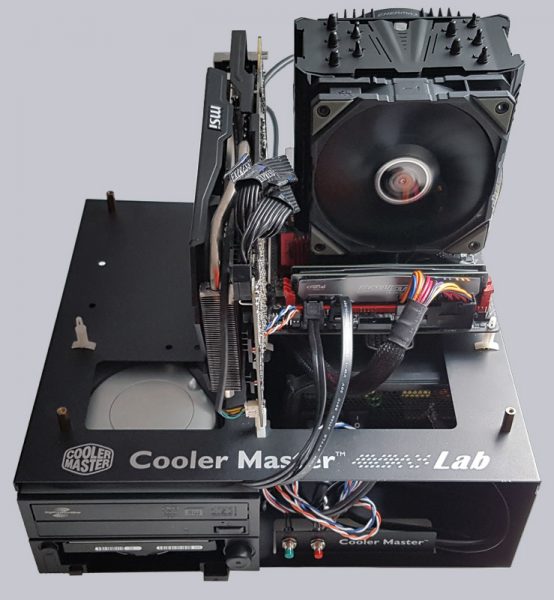 As you can see on the thermal image of the PC system, the AMD Promontory X370 chipset remains pleasantly cool.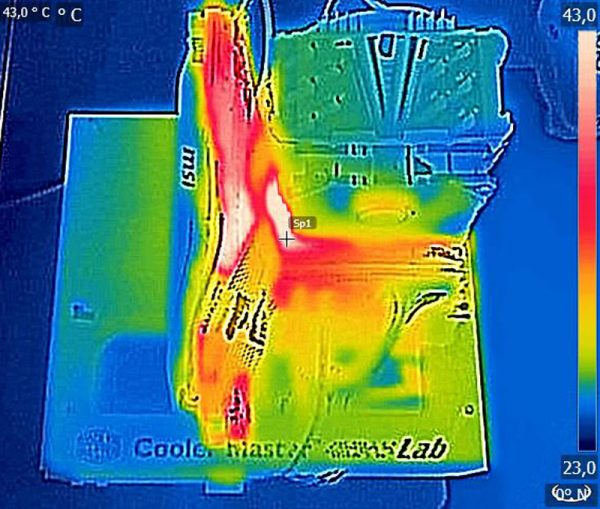 ASRock X370 Gaming-ITX/ac BIOS and Overclocking …