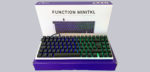 Personalization …
NZXT also offers its own personalization service for the Function keyboards. Via this service, gray keys are optionally available or Accent Keycap Sets in the colors yellow, purple, blue, red or cyan. These Accent Keycap Sets include the Escape and Enter keys, as well as the arrow keys and the Enter key on the numeric keypad.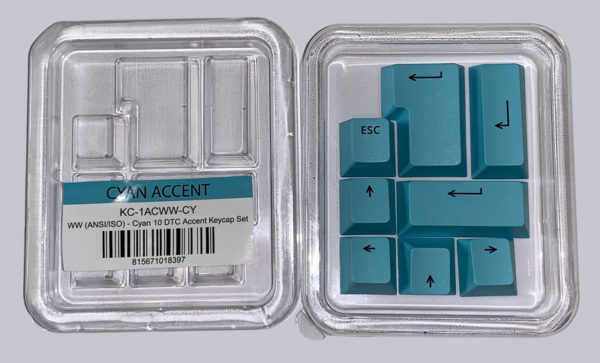 To match, NZXT also offers colored but unlit USB connector cables in the same colors as the Accent Keycaps.
Außerdem stehen folgende Switches zur Auswahl
Gateron red (built in as standard)
Gateron blue
Gateron brown
Gateron Silent Black Ink V2 60g (linear)
Gateron Aliaz Silent 60g (tactile)
We ordered a NZXT Function full-size model in custom design. The bright color combination of white top plate, gray keys and turquoise accent keycaps is pleasing all around. Despite its size, it doesn't represent a massive and oppressive black spot on the desk, but integrates perfectly and skillfully sets subtle accents with the colorful keycaps. A gray cover plate matching the gray keys is also available via the Custom Service.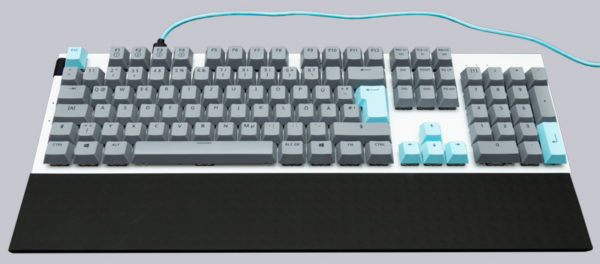 The custom version shown in the picture has the Gateron Silent Black Ink V2 switches instead of the red switches, which are even quieter than the red switches, but still have an excellent pressure point. These switches are probably much more comfortable for frequent typists than the standard red switches, which are primarily aimed at gamers.
NZXT Function MiniTKL and NZXT Function Result and general impression …