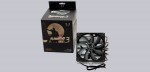 Result and general impression …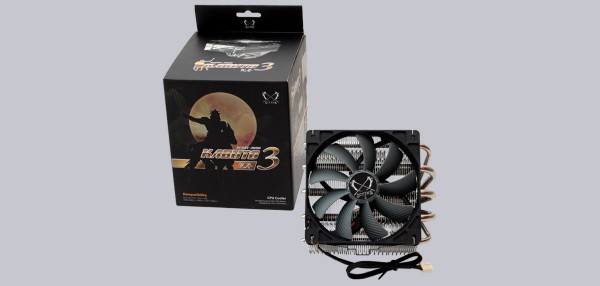 The Scythe Kabuto 3 does not need to hide when it comes to cooling capacity. Still it is an exotic cooler because of its design.
Top blow coolers are usually used in compact builds to get some airflow to the mainboards but with a height of 125mm the cooler itself can't really be called compact. For most classic (m)ATX builds a tower cooler is the better choice when it comes to cost effectiveness. The ideal build for the Kabuto 3 might be a so called 'cube' case where its strengths come into play.
The fan was a bit of a disappointment for us. It got a good speed range and does not get loud quickly, but the grinding baring is a no-go. Especially for a manufacturer like Scythe who are known for high quality fans since several years. Sometimes these sounds can stop after some operation time. Also Scythe assured that this is not a known issue for these fans.
Hint: With our interactive Fit for Fan guide you can virtually fit the cooler onto different motherboards.
Here you can find our CPU Cooler Comparison 2016 Part 2, tested on the Intel i5 PC. You can find even more coolers in our CPU cooler comparison 2016, tested with an Intel Core i7 PC system. And here again our CPU cooler roundup from before 2016. A direct comparison between older reviews is not possible because the test system has changed significantly.
Discuss about the Scythe Kabuto 3 and share experiences …
Here you can buy Scythe produtcs.
Read on in the hardware test area with several hardware reviews …