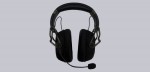 Teufel Cage Headset Field test …
The sound of the cage is fully convincing! Treble, midrange and bass are so well balanced that it becomes a true sound experience! The basses are powerful but not exaggerated and form a symphony with the highs and mids that reproduce every detail crystal clear.
A real feast for the ears!
In addition, the software allows you to adjust the sound to your personal preferences via an equalizer. The volume of the headset is enormous, so it is hardly possible to fully open the cage. But even at full volume, there is no distortion or oversteering of the signal. The 7.1 features help to locate the opponents more precisely and create a spatial impression. Of course, this also comes into its own when playing back films. Furthermore, the headset offers the possibility to connect a smartphone in parallel. So you can also take a phone call while using your PC, or play music from your smartphone in parallel. The call is answered with the button on the auricle and the microphone switch is used to switch between the telephone call and e.g. Teamspeak.
The microphone reproduces the voice well and the noise reduction also works well. Another microphone capsule in the earcup ensures that ambient noise is filtered out. As a little gimmick, the voice can be distorted via the driver software. Which brings us to the next topic …
Teufel Cage Software …
After successful installation, we took a closer look at the configuration options. On the start page we see an information window with the currently set configuration in the upper area, followed by a volume control. The settings here are rudimentary: loud, quiet, left and right.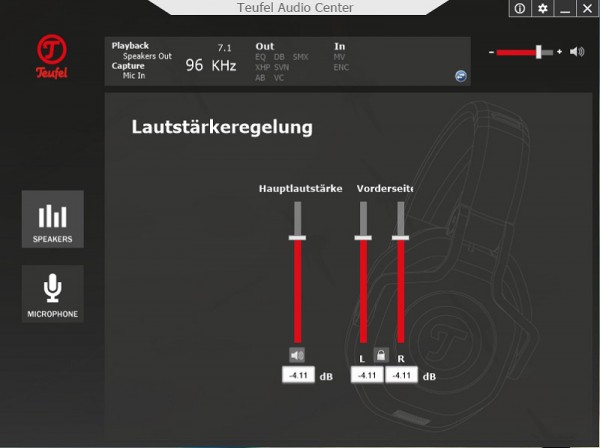 This also applies to the microphone settings.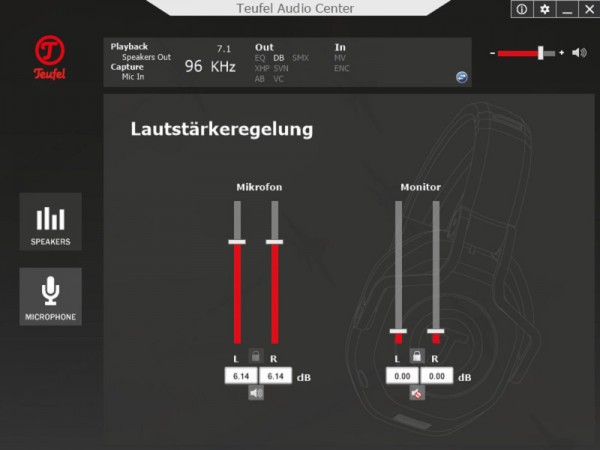 Right-clicking on Speakers opens a context menu where we can configure in detail.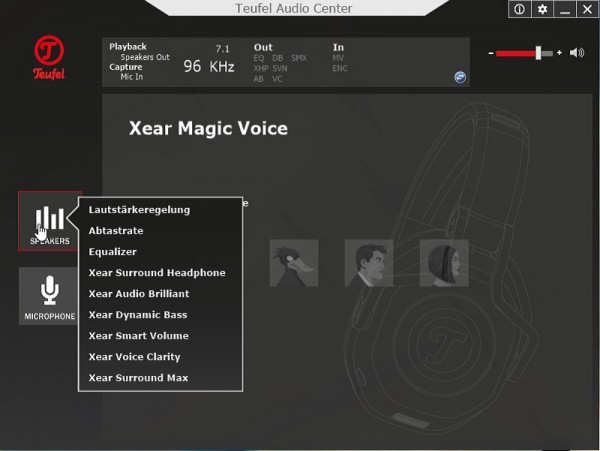 The same applies to the microphone settings.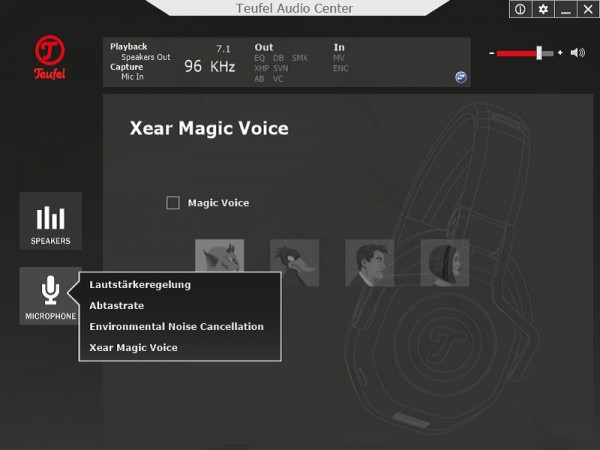 Certainly one of the most used features is the equalizer. Here the sound can be adjusted very sensitively according to your own preferences. Of course, there are also preset profiles. You can choose from 11 profiles, such as bass, dance or jazz.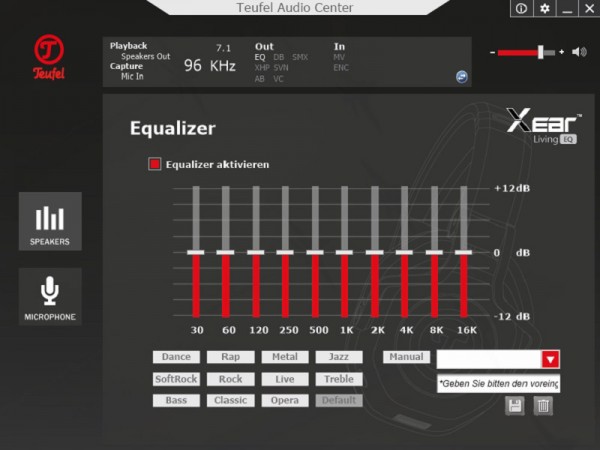 The Xear Surround Headphone settings allow you to further customize the 7.1 feature. This allows you to emulate the distance of the speakers in different ways and to achieve the best possible surround sound effect.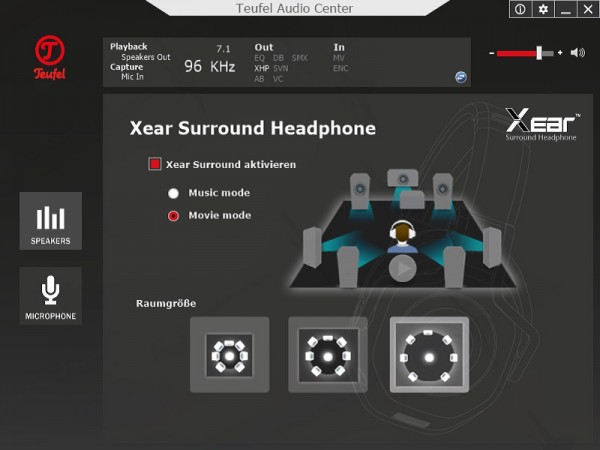 For those who don't like the very balanced and powerful bass, the Xear Dynamic Bass settings are the right choice.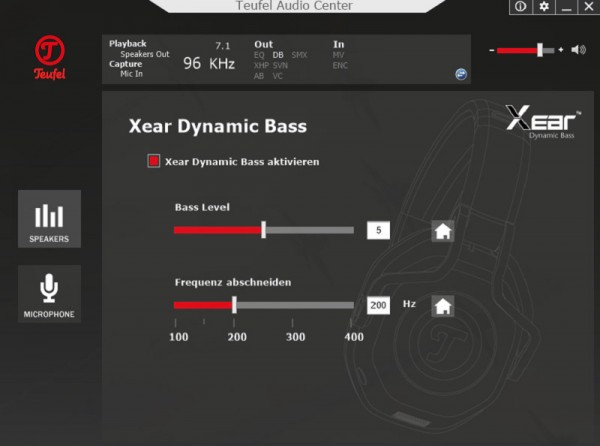 And the sampling rates can also be adapted to your own preferences. The default settings are 96 KHz and 24 bits.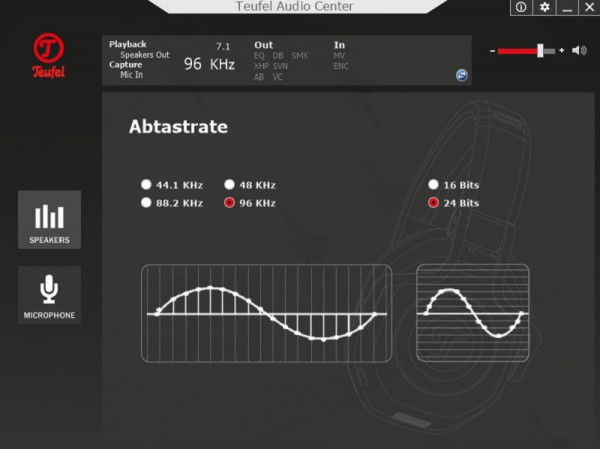 Of course, this feature is also available for the microphone. The default setting here is 44.1 KHz.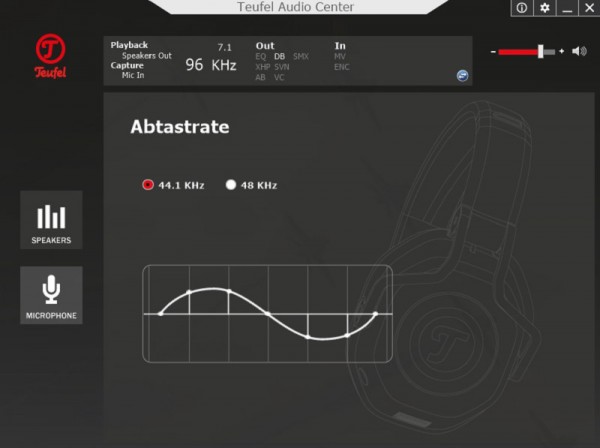 Extended noise suppression is also configurable. These can be activated or deactivated in the ENC menu.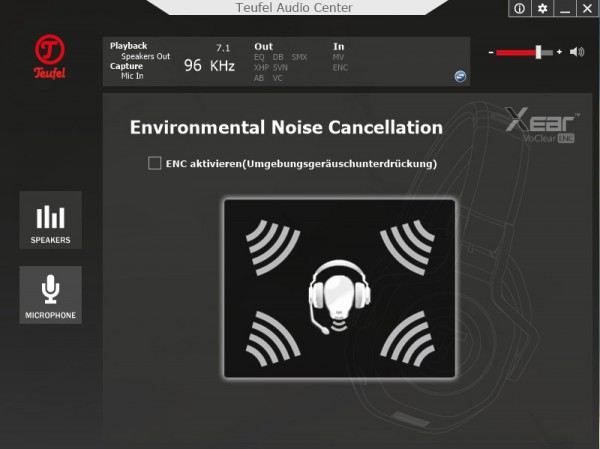 The Xear Magic Voice feature is a nice gimmick. 4 different voice scrambler, such as a monster or a duck voice, quickly lift the mood in serious Skype or Teamspeak sessions.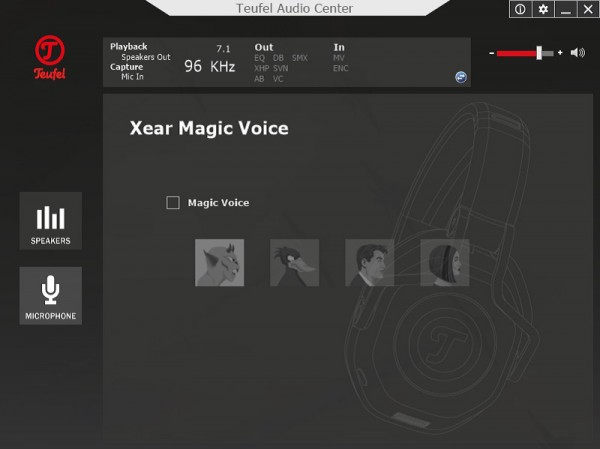 Teufel Cage Result and general impression …