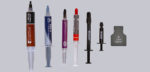 Result and general impression …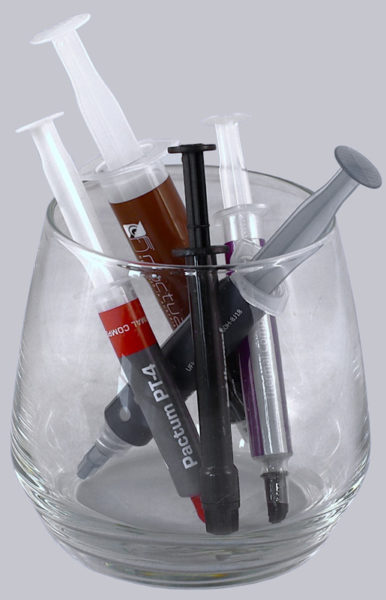 Coming to the conclusion, we can summarize that all tested thermal paste do their job very well. The difference between the first place and last place thermal pastes are measurable, yes, however it would probably make the difference between crashing or setting a new OC world record in the rarest of cases. At least with our test candidates, all of which are high quality.
According to the test results, the best thermal paste in our test is the Cooler Master MasterGel Pro included with our AIO, the Noctua NT-H2 and the Thermal Grizzly Kryonaut Extreme thermal paste. Very closely followed by the Arctic MX-4, Cooler Master Cryo Fuze, Noctua NT-H1 and SilentiumPC / Endorfy Pactum PT-4 and then comes the Streacom TX13, Thermal Grizzly Aeronaut and Thermal Grizzly Hydronaut.
Of course, you would go for the test winners in the hunt for the last percent, no question, but you can draw the conclusion in good conscience that even the supplement paste of renowned cooler manufacturers is usually very reasonable (in our case, it even belongs to the test winner) and you do not necessarily have to buy extra thermal paste as long as the included amount is sufficient.
It's a different story if you need new thermal paste anyway. Then there is no reason why you should not orientate yourself on the test results. However, the competitors are different enough here as well, so there is no "one ultimate thermal paste" in our opinion. Last but not least, the budget also plays a role, just like the intended use. For example, if you want to experiment with cooling methods that work below the freezing point, you must make sure that the thermal compound is suitable for this and choose it accordingly.
Out of competition is the liquid metal. If you can live with the special requirements (see Liquid Metal Guide), then you can achieve completely different dimensions that are beyond the usual thermal paste.
Tip: In the interactive Fit for Fan guide, you can try on CPU coolers virtually on the motherboard and, for the most part, even listen to them!
Discuss in our forum and share experiences about the Thermal compound …
Here you can buy thermal paste.
Read on in the hardware test area with several hardware reviews …