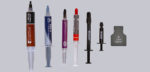 Layout, design and features …
Schauen wir uns an, was uns im Karton erwartet …
Arctic MX-4
Cooler Master Cryofuze
Noctua NH-H1
Noctua NH-H2
SilentiumPC / Endorfy Pactum PT-4
Streacom TX13
Thermal Grizzly Aeronaut
Thermal Grizzly Conductonaut
Thermal Grizzly Hydronaut
Thermal Grizzly Kryonaut
Thermal paste Manufacturer specifications
Thermal paste Thermal conductivity
Thermal paste Temperature range
Thermal paste Information
Arctic MX-4 …
The Arctic Cooling MX-4 is in a handy syringe of 8g without any other accessories. By the way, we have deliberately chosen the Arctic MX-4, because unlike the MX-4, the Arctic MX-5 has reached end-of-life and soon an Arctic MX-6 will come.


Cooler Master Cryofuze …
Cooler Master supplies us with their Cryofuze as a 2g WLP syringe. In addition, the packaging includes a cleaning cloth and a plastic spatula for application.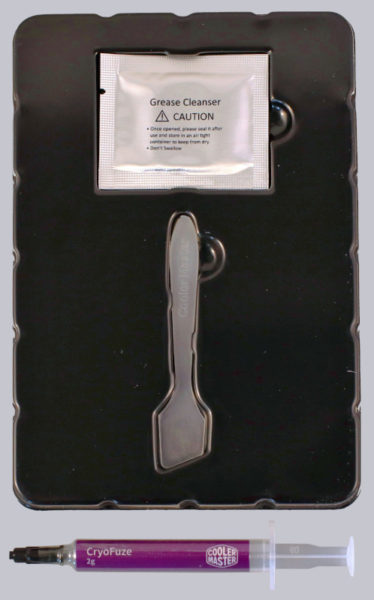 The thermal conductivity of the Cryofuze is specified by Cooler Master with 14 W/m-K.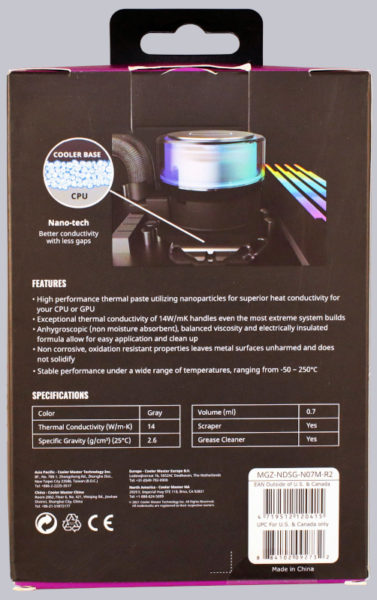 Noctua NH-H1 …
The Noctua NT-H1 is specified with a density of 2.49 g/m³ and can be used on the CPU for up to 5 years.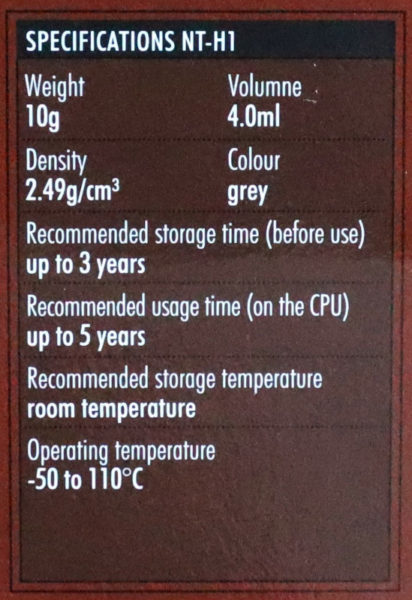 The Noctua NT-H1 comes in a convenient 10g syringe (4.0ml) without any accessories …


Noctua NH-H2 …
… whereas the more advanced Noctua NT-H2 (3.6ml) comes with cleaning cloths.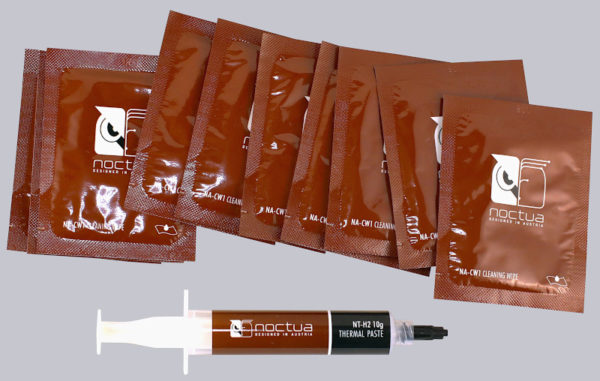 The Noctua NT-H2 is specified with a density of 2.81 g/m³ and allows for a higher temperature range of -50°C to +200°C.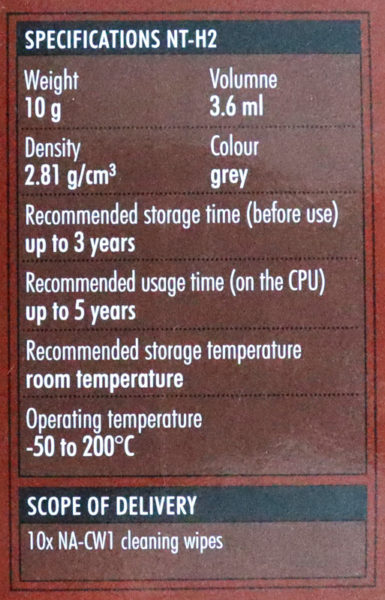 SilentiumPC / Endorfy Pactum PT-4 …
SilentiumPC / Endorfy, in turn, donates a white plastic spatula to the Pactum PT-4. The syringe contains 4g.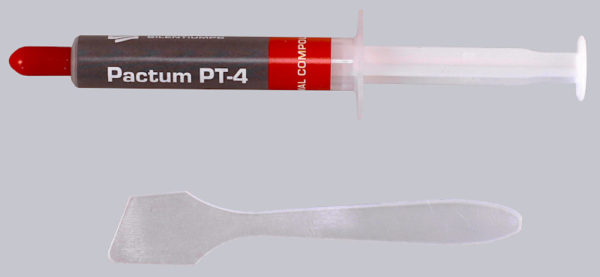 Streacom TX13 …
The only ones in the test field to take a completely different route are Streacom.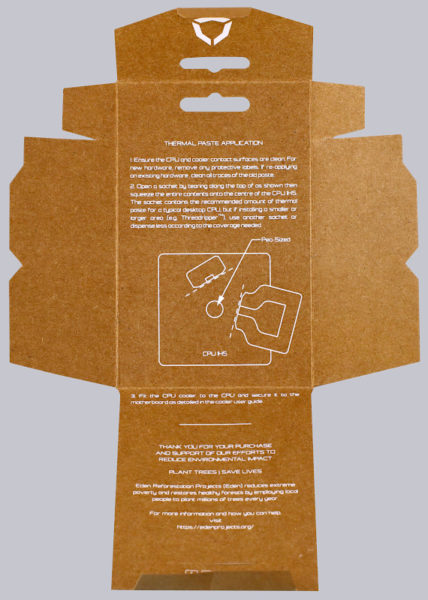 The TX13 thermal paste is packed in 5 "sachets" of 0.25g each for squeezing.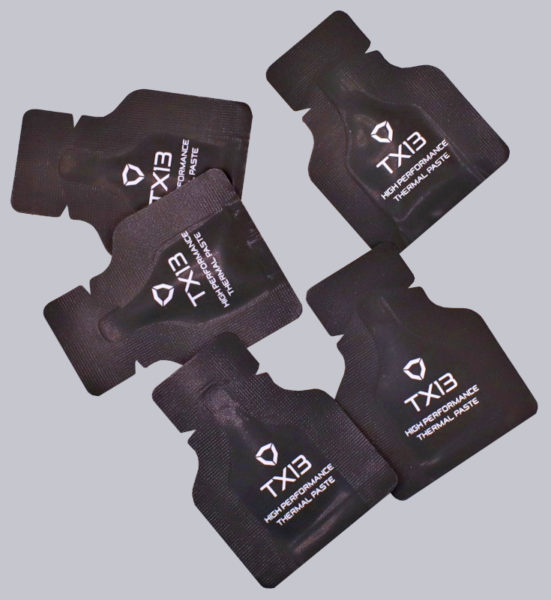 The thermal conductivity of Streacom TX13 is specified as 13.4 W/m-K.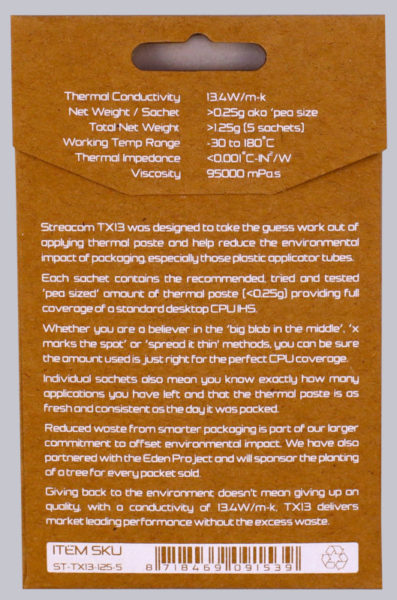 Thermal Grizzly Aeronaut …
The Thermal Grizzly Aeronaut comes with a 1g syringe and a plastic spatula.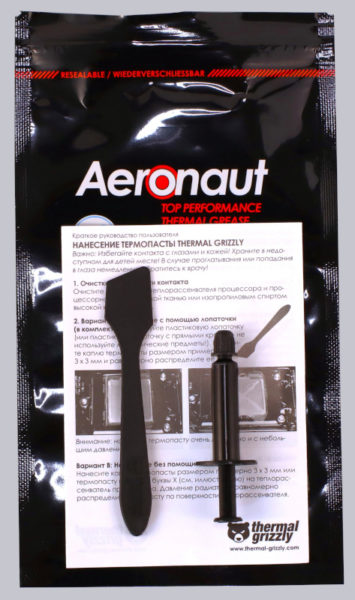 Thermal Grizzly Conductonaut …
Since the Thermal Grizzly Conductonaut is liquid metal instead of paste (see liquid metal instructions), the accessories are also significantly different. The 1g syringe is a kind of needle to unscrew to be able to apply the metal precisely. To distribute then serve the black applicators, which look very similar to cotton swabs, but do not lint like cotton swabs.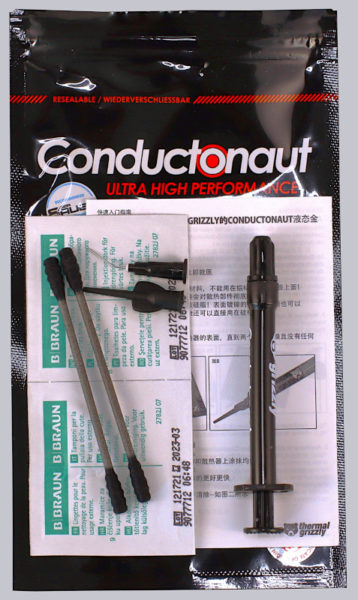 Thermal Grizzly Hydronaut …
The Thermal Grizzly Hydronaut comes with a 1g syringe and a plastic spatula.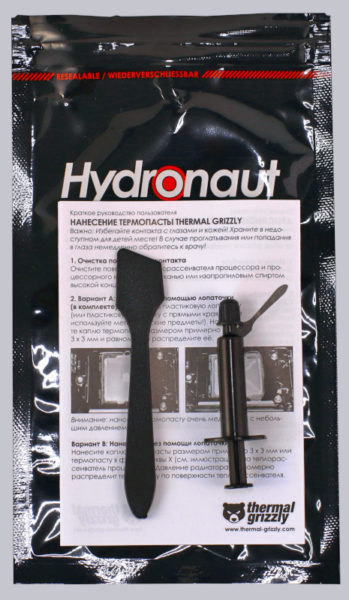 Thermal Grizzly Kryonaut …
The Kryonaut extreme is contained in a 2g syringe. In addition, there are adapters for screwing to the syringe, which have a kind of spatula shape, so that you can distribute the paste well directly from the syringe.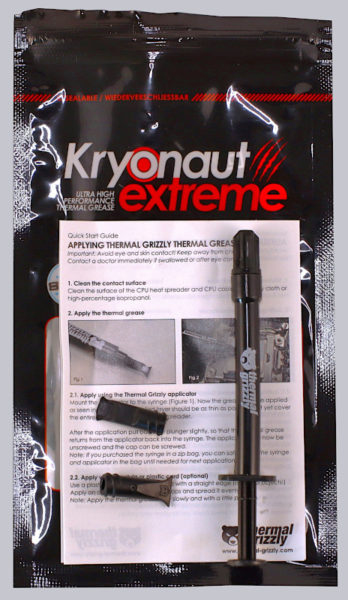 In addition, we still test the "supplement paste" from our AIO test cooler, which comes with a syringe of high-quality Cooler Master MasterGel Pro.
Thermal paste Manufacturer specifications …
The respective manufacturer specifications make it difficult to make comparisons based on the technical data of the thermal paste, as the information and the units used are not uniform or are simply missing.
Thermal paste thermal conductivity value …
.
Arctic, for example, write about this on their website "The mere thermal conductivity value cannot give any information about the actual performance. Often the values are given many times too high and have nothing to do with reality. Typical values of a high-performance paste are between 1 and 5 W/mK."
Noctua seems to follow this example. Thermal Grizzly sometimes gives the thermal conductivity value and sometimes not, depending on the product.
All the more important that we evaluate the performance objectively and practically
Thermal paste Temperature range …
Another value that is unfortunately not always specified is the temperature range in which the respective paste can be used. Here Thermal Grizzly stands out, whose products can also be used far below freezing point (see Build your own compressor cooler and Compressor cooler test). If you have ambitions in this direction, this is very important information.
Thermal paste Information …
Speaking of important information, in our Liquid Metal Guide, we've provided some important tips on handling liquid metal that you should definitely take to heart. And in connection with thermal paste, we would also like to recommend our CPU heatspreader grinding workshop and CPU cooler nickel plating guide at this point, which can also contribute to a significantly better cooling performance. Furthermore, in addition to the surface finish, other factors play a role, such as: Apply thermal paste, thermal paste amount, age of thermal paste, cooler contact pressure, the size of the surface and how the thermal paste is distributed, because the best thermal paste will not help you if it is applied incorrectly or has a bone-hard consistency because the thermal paste is too old. Before applying the WLP, you should remove the old thermal paste, completely from the CPU and from the cooler. Only if everything is correct, there is also a good heat dissipation.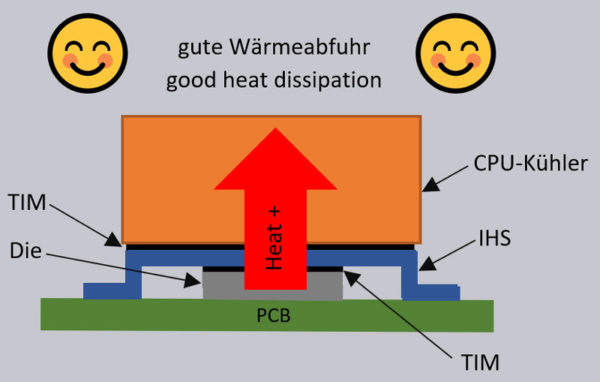 On the following page, we will now look at the thermal paste test results.
Thermal paste Test setup and results …