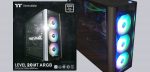 Thermaltake Level 20 MT ARGB Fan lighting …
Now we come to the optical highlight of the tower: the ARGB fans, which are already installed in the tower upon delivery.
The front fans are already connected to a controller hidden on the back of the tower. The controller offers many, to be exact 27 lighting variants, which can be selected by simply pressing the RGB button on the top of the tower. Alternatively you can connect them directly to the motherboard (if an RGB or ARGB connector is available) to control them directly with ASRock Polychrome, ASUS Aura Sync, Gigabyte RGB Fusion or MSI Mystic Light Sync and synchronize them with the rest of the tower.
If you switch on your PC, the tower will be in full brilliance, because the ARGB fans are controlled in wave mode by default, which immediately offers a beautiful variety of colors.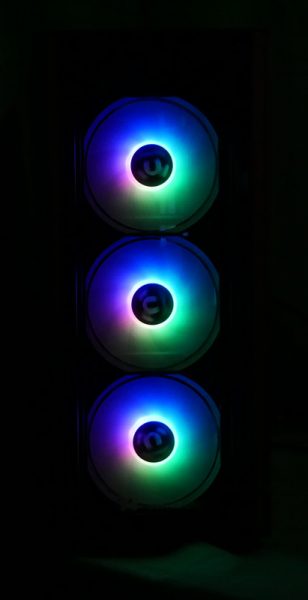 As already mentioned above, the Tower offers 27 lighting variants, which are divided into 8 modes:
1. Wave Mode
2. Flow Mode
3. RGB Lightning (Single Color)
4. Radar Mode
5. Breath Mode
6. Full Lighted Mode
7. Single Color Mode
8. Off
Of course, we have recorded all these variants in a video, so that you can watch and enjoy them. Enjoy the video in our OCinside YouTube Channel.

Thermaltake Level 20 MT ARGB Effekte Video
Thermaltake Level 20 MT ARGB Result and general impression …