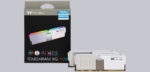 Optics …
We test the illumination of the white RAM modules here on a ASRock Z490 Steel Legend motherboard in a gray/white camouflage look together with the white Arctic Freezer 34 eSports CPU cooler, because the white modules naturally go best with other white components.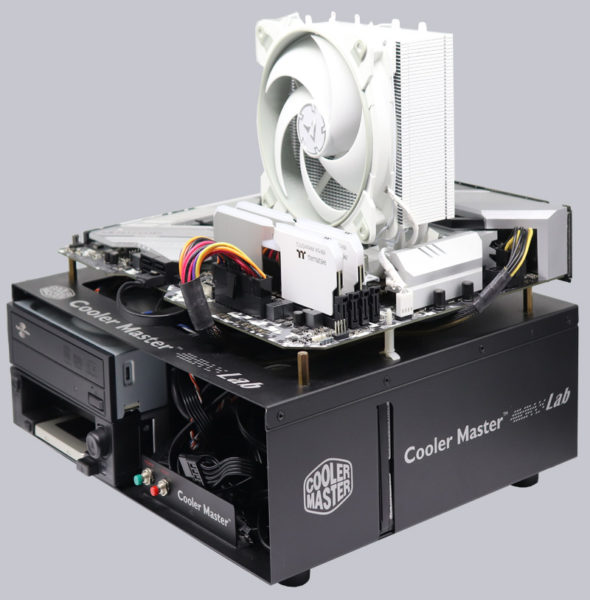 As soon as you turn on the PC, the LEDs start glowing.

RGB Software …
The Thermaltake Toughram XG RGB White modules easily integrate with ASRock's own ASRock Polychrome RGB LED software to then control all RGB components through it.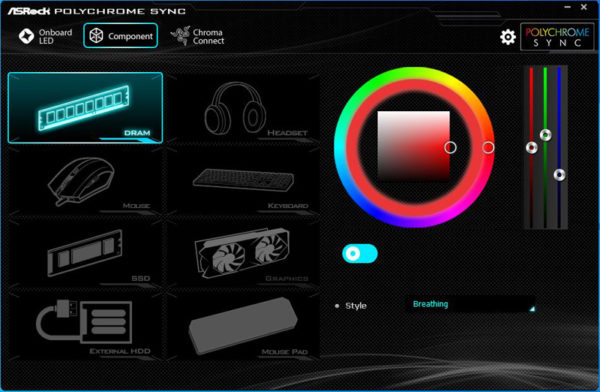 The advantage of the ASRock Polychrome RGB LED software is obvious, because you only need one RGB software, which then controls everything and the control of the LEDs then runs smoothly with the LEDs of the motherboard.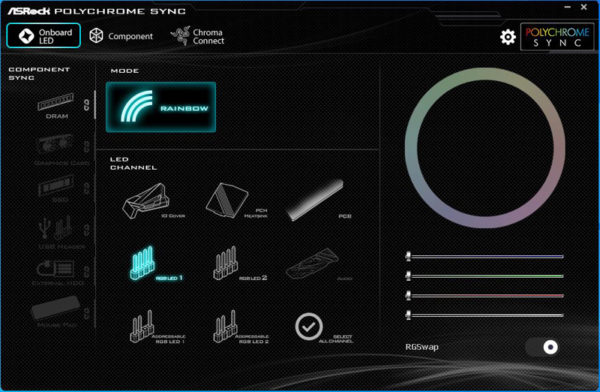 The ASRock Polychrome software offers a lot of RGB effects, which you can actually be happy with without Thermaltake Toughram software.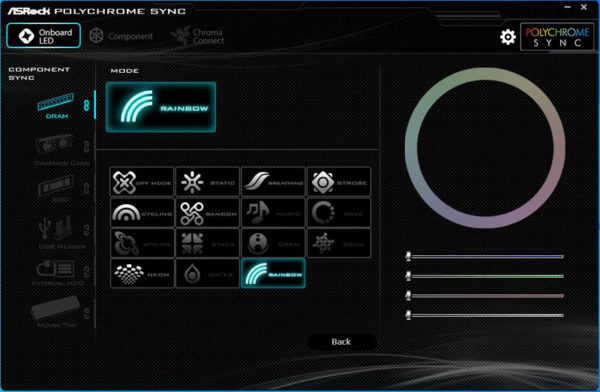 We have presented which effects are possible with the ASRock Polychrome RGB LED software in a ASRock Polychrome RGB software video on our OCinside YouTube channel.
Note: Please allow our cookies first to see this external content!
Thermaltake Toughram Software TT RGB PLUS 1.0 …
However, if you want even more effects, you should definitely install the Thermaltake Toughram software and try it out.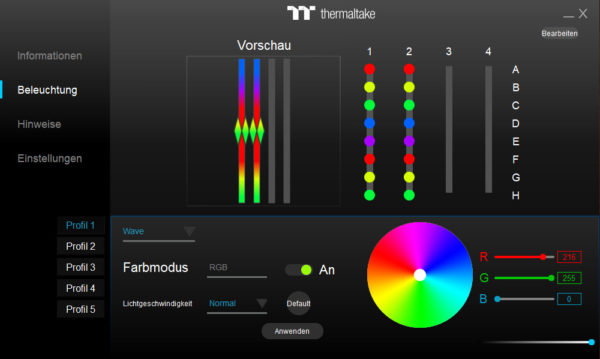 Here you can see an overview of the adjustable effects.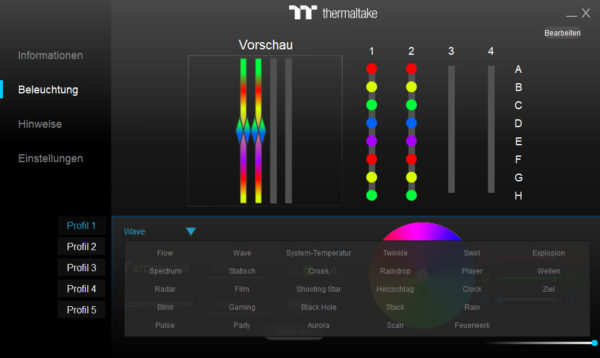 In addition, the software offers the possibility to shut down the PC specifically via temperature profiles. However, the motherboard already offers some monitoring and protection functions here.

The last tab offers a few system startup settings. There, you can also activate the location services to get local weather information, which then adjusts the color of the memory modules to the weather. In combination with the Amazon Alexa voice control, you can use "Alexa, tell Thermaltake" to query the weather and adjust the color of the RAM modules to the weather. Whether you need this function? Better have than need! 😀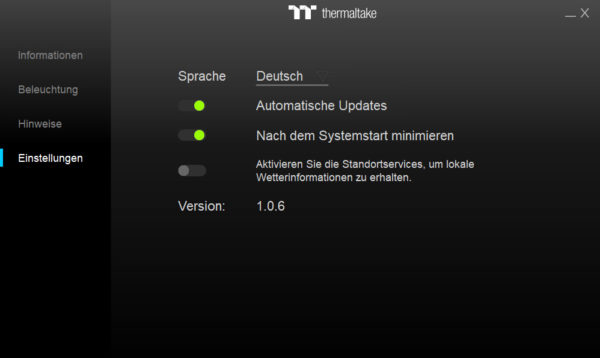 Thermaltake Toughram Software TT RGB PLUS 2.0 …
Meanwhile, Thermaltake has released the TT RGB PLUS software in a second version (V2.0.5), which can be installed instead of the first version V1.0.6. Both versions cannot be used at the same time, so we would directly advise installing the new version 2.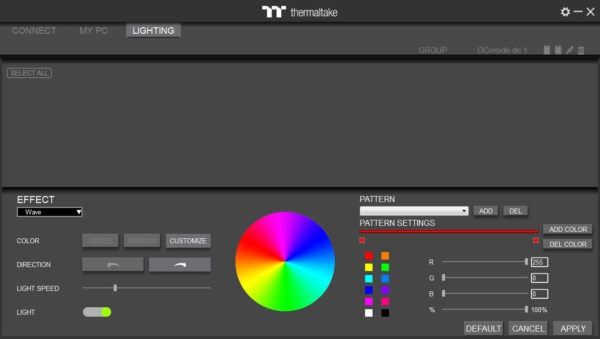 The software has a slightly different structure and also offers numerous effects.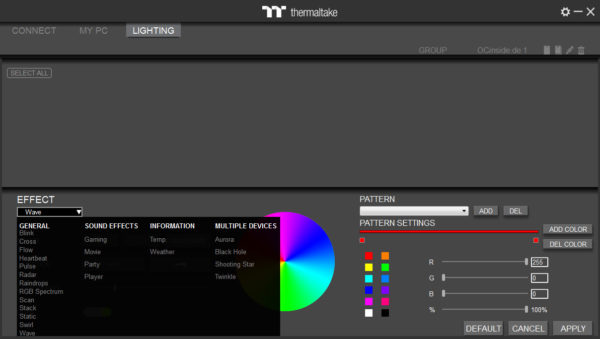 You can even disable the RGB lighting of the software to control the modules via the motherboard software as shown above.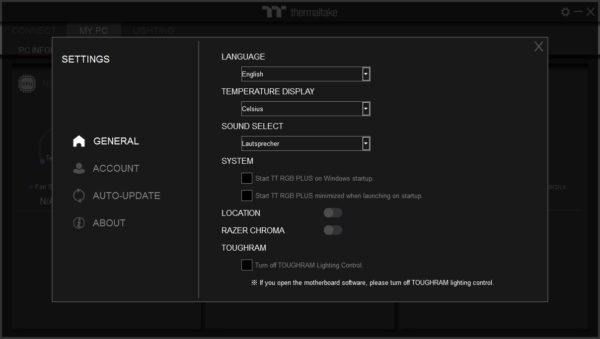 The test system with the ASRock Z490 Steel Legend and the Arctic Freezer 34 eSports (virtually in the interactive Fit for Fan guide) already looks really fancy.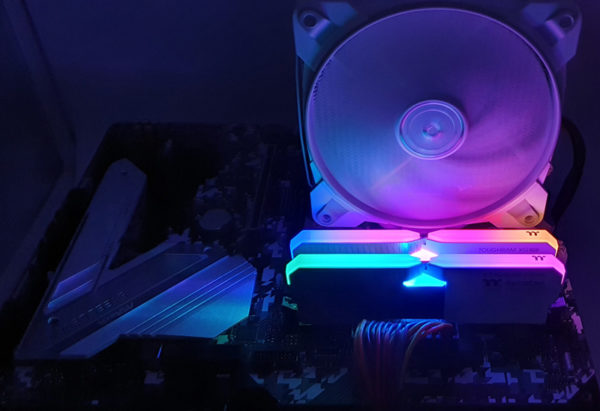 Here you can see how beautifully even the lighting shines through the opal glass.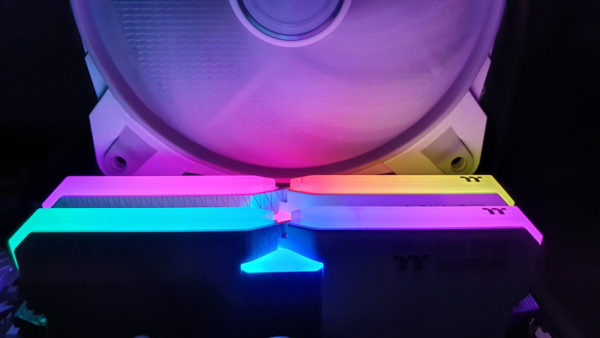 And thanks to integration in the motherboard's RGB software, the effects even run synchronously into each other.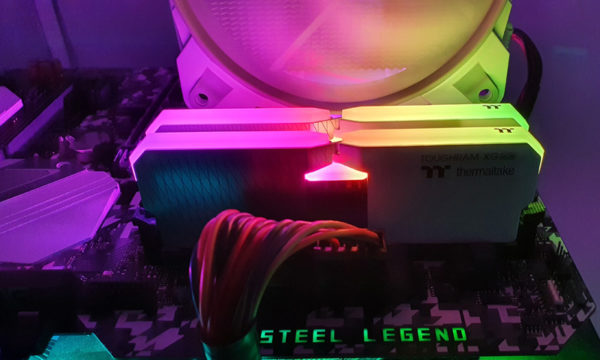 Of course, there is also a short video of the Thermaltake XG RGB White modules in our OCinside.de YouTube Channel.
Note: Please allow our cookies first to see this external content!
Thermaltake XG RGB 16GB DDR4 2x 8GB DDR4-3600 White Overall impression …