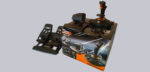 Software …
Of course the Thrustmaster T.16000M FCS Flight Pack can be used without any additional software. Windows immediately recognizes the controller and all axes and buttons. When the TFRP is connected to the TWCS, it appears in the settings as three additional axes of the TWCS.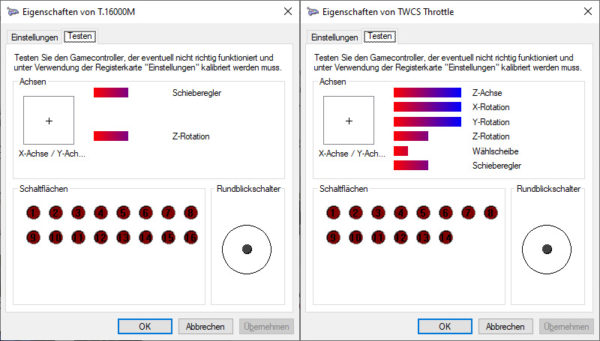 Thrustmaster also offers its own powerful configuration and control software for the T.16000M FCS Flight Pack with the creative name T.A.R.G.E.T. – Thrustmaster Advanced pRogramming Graphical EdiTor.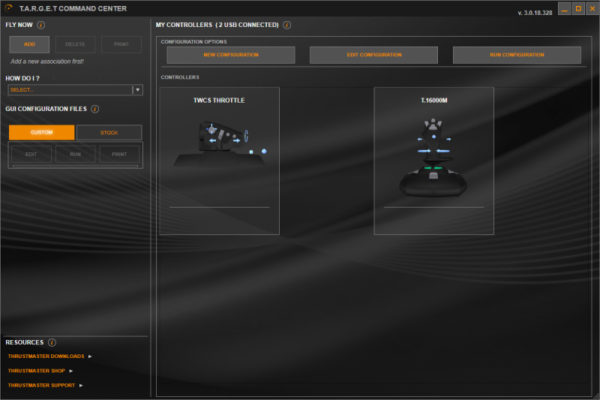 In the software, user-defined profiles for different applications/games can be created for all Thrustmaster devices and device combinations. The software acts as a virtual controller between the physical controllers and the applications and is therefore completely transparent to them.
T.A.R.G.E.T. automatically detects which input devices are available. However, the TFRP pedal is only recognized as a single system if it is connected directly via USB. If it is connected to the TWCS, it appears there in the form of three additional axis settings.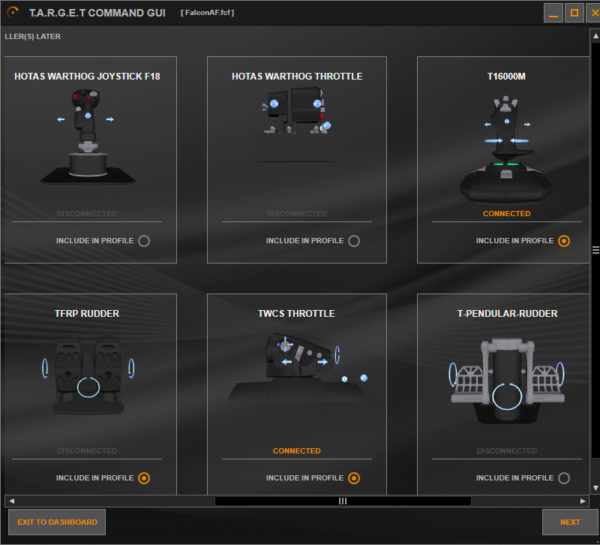 The adjustment possibilities of the software are immense. From the sensitivity of the axes to dead zones, triggering of virtual buttons at certain axis positions to a complete script language for macro programming, no wishes remain unfulfilled.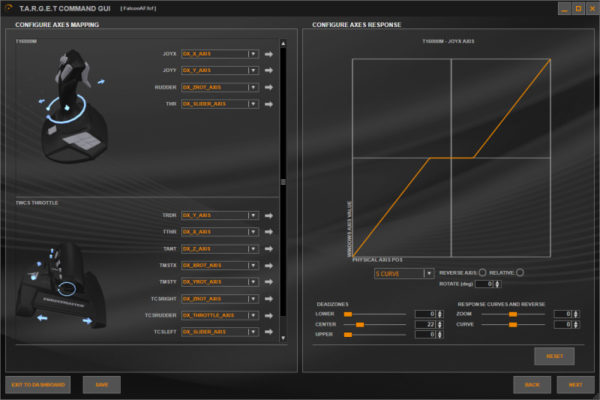 The price is complexity. T.A.R.G.E.T. has its own 43-page PDF manual, which only covers the basics. For script programming there is an additional PDF of 60 pages, which in turn only covers the basics of scripting. The T.A.R.G.E.T. manual is only available in English, French and Chinese, the script manual only in English.
Unfortunately, apart from the enormous complexity, the stability also seems to be a bit problematic. A few times the software crashed unexpectedly and non-reproducibly during the adaptation of profiles, but the next time it worked mostly.
Thrustmaster T.16000M FCS Flight Pack Practical testing …