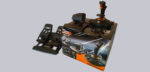 Practical testing …
For the extensive test of the Flight Pack we have chosen two flight simulations with very different degrees of complexity and game ideas.
WAR THUNDER
War Thunder is a free MMOG (Massively Multiplayer Online Game) that combines flight, ship, helicopter and tank simulation. The focus here is clearly on combat missions and PvP (Player versus Player) battles, the level of simulation/realism can be adjusted in three levels.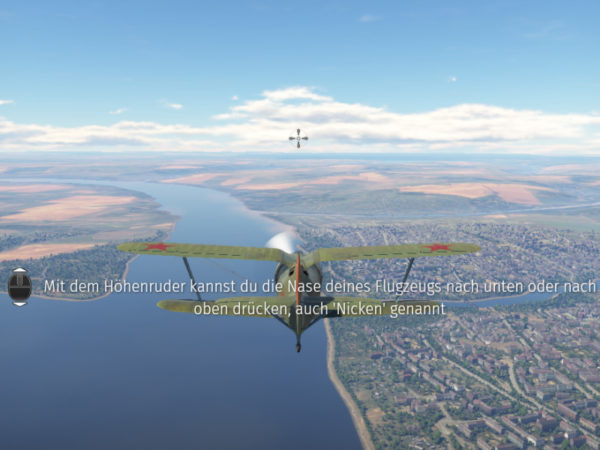 It quickly turned out that the FCS Flight Pack with its numerous control options and buttons offers an unbelievable number of possibilities, but also quickly overstrains them.
It made sense to gradually transfer the controls and actions to the HOTAS and to practice each one individually. That's a bit tedious, but it gave you a quick feeling of success.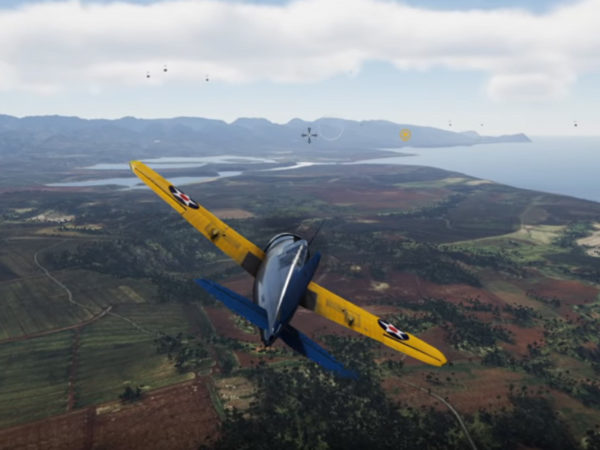 When playing, the points mentioned in the construction and design have been confirmed once again. The trigger is a bit hard and noisy, the key behind the POV is a bit awkward to operate. The tight suspension took getting used to, but then contributed enormously to the flight feeling. In the heat of battle you tend to overly hectic movements – in our case the non-slip rubber feet weren't always up to these.
The control with the T.16000M and the TWCS was a lot of fun and can't be compared to the mouse and keyboard control. The sensitivity of the Flight Stick with its 16bit resolution frightens at first, but with a little practice it allows an incredibly precise control.
FLIGHTGEAR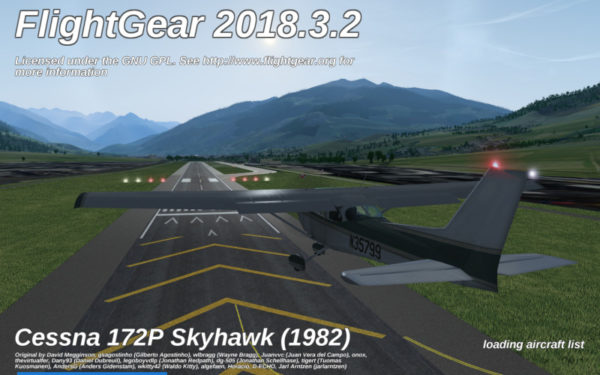 FlightGear is a real flight simulator in open source license with high demands on realistic flight behavior and true to original control. Flight battles are in vain here, instead a patient and somewhat tedious familiarization with the controls of the individual aircraft is required before they take off from the runway at all.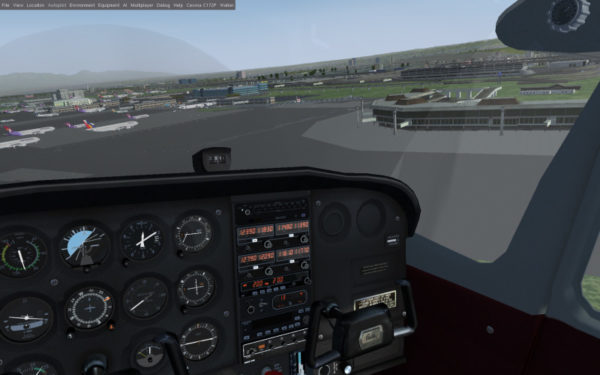 Therefore, we have completed our flying lessons with the beginner airplane, the Cessna Skyhawk. But if you like, you can also fly an A380 or even a space shuttle. For the first flight this is less recommendable 😉
The software has recognized the T.16000M and the TWCS with the additional axles by the TFRP perfectly and has set up meaningful presettings right away (T.16000M XYZ axles, TWCS and POV thrust controllers). The joystick configuration can be used to assign any functions to all axes and buttons of the FCS Flight Pack.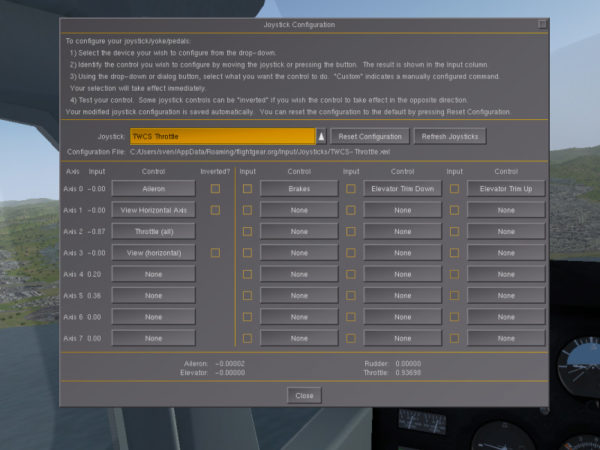 After a short period of getting used to FlightGear, we also got along very well with the FCS Flight Pack. Decelerated flying without enemy contact and aerial combat invites us to experiment and try it out.
The precise control thanks to the high-resolution Flight Stick and the smooth-running and very even slide rail system of the throttle and the pedals contributed enormously to the perceived immersion.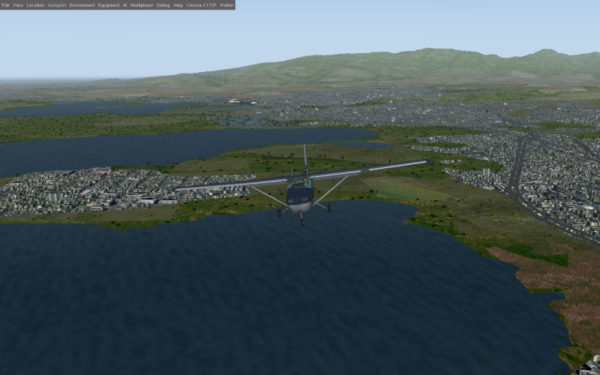 Thrustmaster T.16000M FCS Flight Pack Result and general impression …