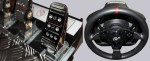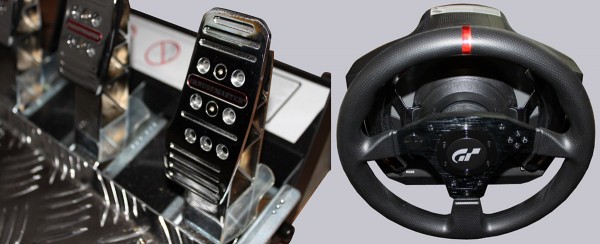 The technical data …
Here are the technical data of the Thrustmaster T500RS gaming steering wheel according to manufacturer.
Authentic wheel:
– 30cm (12″) in diameter with brushed metal central spokes
– Detachable (allows for future upgrades)
– Authentic sequential gearshift levers: crafted of brushed metal, attached to the base (so they do not move with the wheel)
– 17cm in height (for instant access along 1080°)
Precision:
– New H.E.A.R.T HallEffect AccuRate Technology on the wheel's steering:
– Ultra-precise wheel, with 16-bit resolution (65536 values on the steering)
– Precision that won't decrease over time (contactless magnetic sensor)
Realistic pedal set:
– Unique design with your choice of 2 positions:
Floor-mounted position (F1-style)
Suspended position (GT-style)
– 100% metal, for optimal stability, weight (more than 7 kgs) and resistance
– 3 100% adjustable pedals (spacing between the pedals/height)
– Brake pedal with reinforced and adjustable resistance (included and removable "Realistic Brake" mod)
– Included metal footrest with non-slip grating texture
Force Feedback:
– Force Feedback with industrial motor (Torque 150mNm, 3000rpm, 65W, Ø 52mm/2″)
– Super-powerful, quick responding Force Feedback mechanism
– Rigid motorized stopper, no matter what angle of rotation you select
Realistic angle of rotation:
– Mechanism with large dual belts (fluid and smooth action)
– Angle of rotation adjustable up to 1080° (3 full turns)
Compatible with PS3 and PC
The PC drivers required to operate the T500RS racing wheel on PC are available for free download on our technical support website.
Sony PlayStation4 compatibility:
This decision is upon each game developer and will therefore vary from racing game to racing game.
In the event of upward compatibility with PS4 racing games, the T500 RS racing wheel will only be recognized in the game, and not in the console's menus. Please note that the "SHARE" and "PS" functions will not work on the wheel in PS4 racing games. Nevertheless you can still use your gamepad for these 2 specific functions.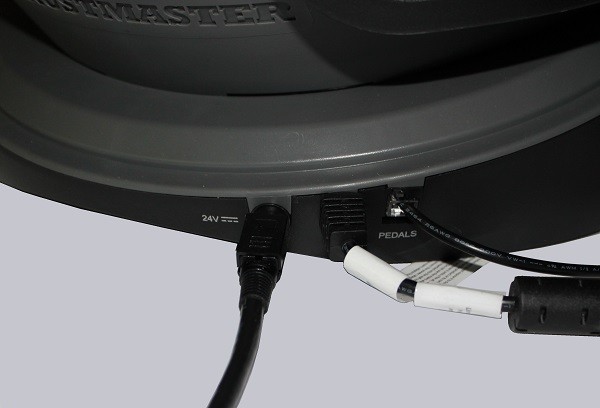 Thrustmaster T500 RS Layout, Design and Features …