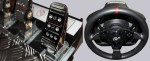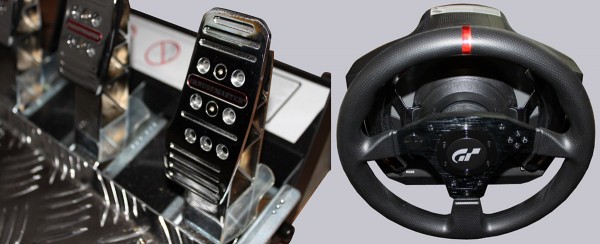 Installation and operation …
As with so many hardware tests, we can offer you only a verbal description of the function of the steering wheel. For this, we have used the most common race and traffic simulations and tested the Thrustmaster T500RS through its paces. The following hardware and software is used for our test setup:
Software:
– Windows 7 Ultimate 64 Bit
– GeForce driver
– Thrustmaster Software
– Euro Truck Simulator 2 + Going East & Heavy Duty Add On
– Assetto Corsa
– City Driving Simulator
After installing the software we first updated the firmware. To our surprise, the steering wheel already had the latest version (v.43), which is only available for a few weeks.
The software itself is open and offers all axes and functions at a glance. Our model was the calibration in factory condition absolutely well. If you like to adjust it manually, you can refer to these instructions how to perform it.
This done, we can start with our first game.
Gaming with ECS Euro Truck Simulator 2 …
The transport simulation euro truck Simulator 2 of the company of ECS.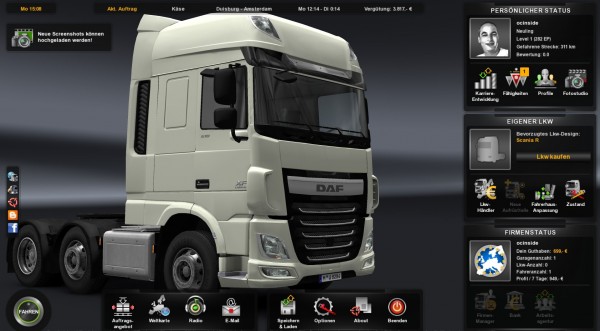 Although the game is not intended, to offer a maximum of realism, it is still very interesting to focus the truck on country roads and highways and to be able to park also backwards.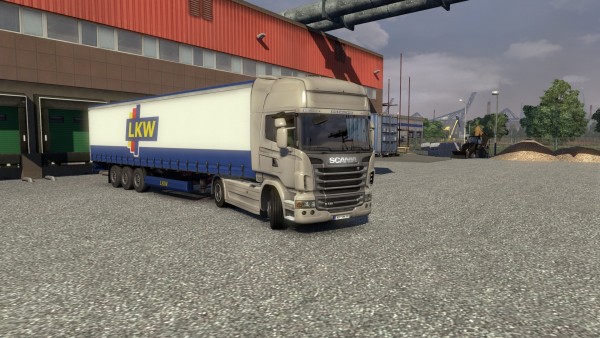 A special feature of this game is clearly the gearshift, which is particularly pronounced in a truck.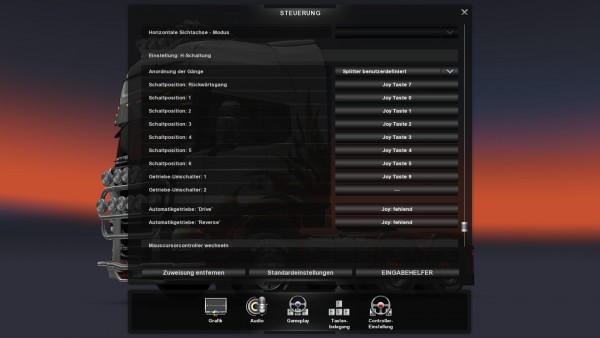 A normal car has an average 4-7 gears, but modern trucks can have already 18 gears including splitting there. As realistic to drive we use the switching pedals of steering wheel lever and the TH8A as indicator to shift through the gears. Steering setting can be chosen between values of 700° and 900°. Regarding the force feedback, you should adjust this according to your personal requirements, because there is also the possibility to simulate motor vibrations and road bumps.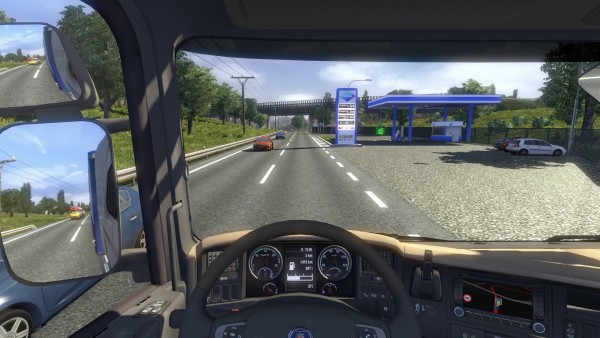 The truck precisely even through narrow streets can be controlled thanks to the many adjustment possibilities.
We now come to the second test match in our round.
Gaming with Assetto Corsa …
A newcomer, which is already published, but still is in flux. This is the racing simulation Assetto Corsa.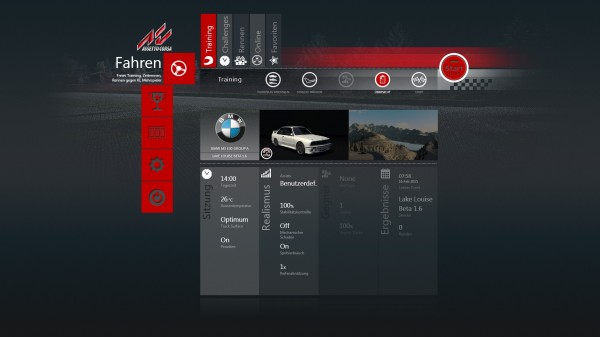 Could we still simply select the settings in the Euro Truck Simulator, you need almost a mechanic course at Assetto Corsa. At least the setting of the steering wheel can be done very simply.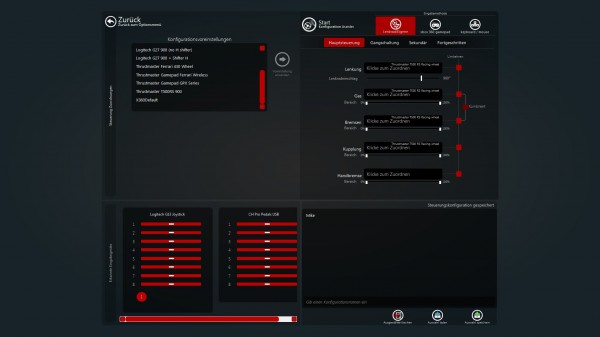 Profiles already include the most common steering wheels on the market. So we choose our T500RS and pleased almost perfect settings. Here and there you have to adjust still something on the axis, or buttons, how they are used. But on the whole, it just fits. Now, there are two ways to drive this game. One is aimed to arcade gamers. Along with optimal line, brake assist, auto clutch and steering wizard it reminds more of a railway simulator than a racing game. No great challenge for our T500 RS wheel.
So we dedicate ourselves to enter the simulator mode and here it goes to the nitty-gritty !
Thundered in games like Ridge Racer with over 200 km/h through the curve, this is possible with approx. 80 km/h at Assetto Corsa even with tight setup, rear spoilers, big tires and ABS/ESP. You must get used to, because these are realistic speeds, which are simulated here.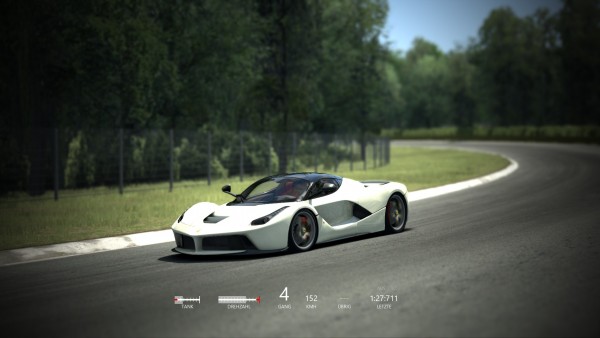 Additionally, there are also still merciless opponents, where we only remember that they have bumped us when it pulls the steering wheel out of our hands. The steering feeling, and the pedals are really very well implemented in this game. It is fun to turn laps on the Nürburgring and to drive with vehicles that you usually do not even get to face with in real life.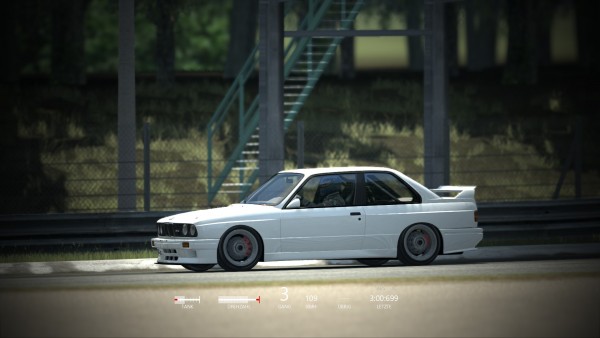 Also ground waves, breaking out of the tail and bumps are authentic implemented by one system.
To get a better impression of them, we have put together a few videos in high resolution:

Our test leads us directly to the final contenders.
Gaming with City Car Driving Simulator …
A game that is likely not well-known, but it has already a certain reputation in the SIM scene. We are talking about the City Car Driving Simulator.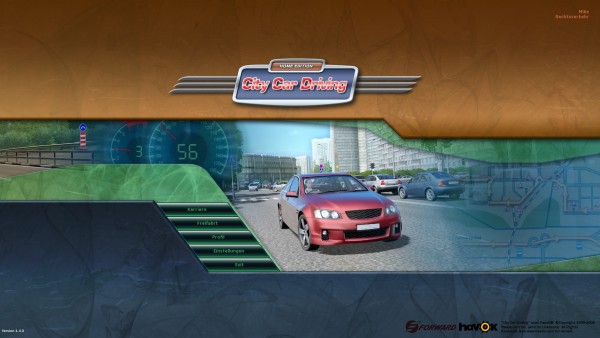 A game that can be downloaded only through the manufacturers website, and thus employs driving skills in a natural environment or a city either by free trips or various missions to be proved. Observance of traffic rules as is, like the omission of vehicle theft and blind destruction 😉
The settings for the steering wheel are quickly done thanks to the simple menu.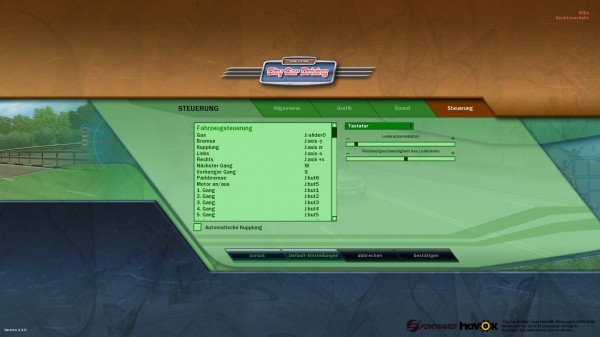 The game even for real drivers is unusal with clutch and gas pedal, because the clutch has no loop point. One has to get used to but right now it disrupts actually only the movement of the head in the direction of the bend. But you can switch this off in the options menu. Despite the simple graphics, it is really fun to play this game with the steering wheel and pedals.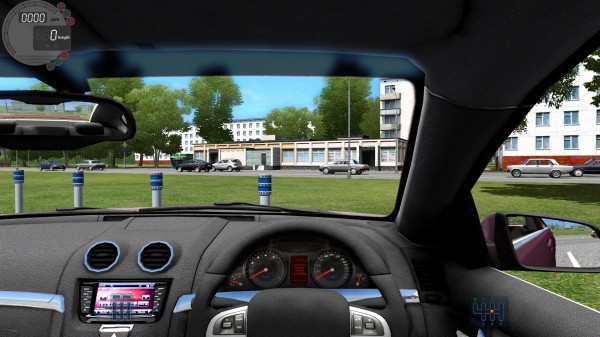 Unfortunately the Forcefeedback is not so clean as in the other games, but that is not bad for the game fun.
Thrustmaster T500RS Result and general impression …