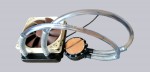 Before – the initial state
The Arctic Hybrid 2 is an AIO water cooler with a 120mm radiator and is designed to be mounted on graphics cards. For this purpose, the holder is mounted directly on the heat sink / pump unit for mounting on the graphics card. Behind this, however, it's compatible to usual mounting for various CPU socket brackets, also be used by Corsair or NZXT AIO liquid coolers for example. BTW. by any modification, you'll lost the warranty and there's always a risk to damage anything, like your PC.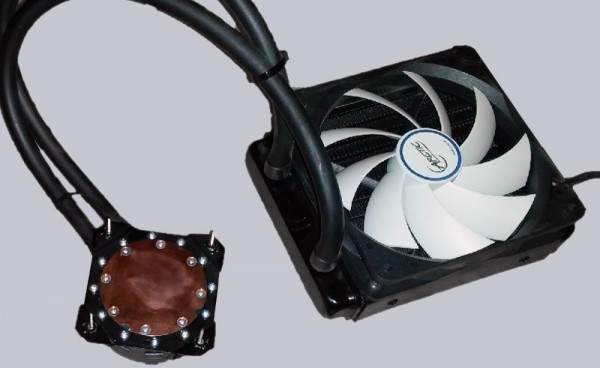 Disassemble the AIO cooling unit
First, loosen the circular screws that connect the GPU holder to the cooling unit, but caution: they also hold the pump housing together! Therefore, it is advisable to secure it with small screw clamps.
Otherwise, water will leak!
In addition, the screws are quite soft, so you should choose a screwdriver that fits well not to damage the screw head.
The screws have a length, that the pump housing is securely held together, with mounted GPU holder. If you leave the GPU holder, they are too long, so they have to be shortened. Luckily they are not very hard, as already mentioned, so the shortening can be easily done with a side cutter. 2/3 of the original length is optimal.
Now you could screw the cooling unit together and everything necessary is done, but we do some additional steps …