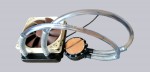 What we have and what we need
If everything went well, you now have a single cooling/pump unit and a radiator. Both have connections for tube with an inside diameter of 6mm. The cooler is made of copper, the radiator is made of aluminum.
For new filling and tube renewing you need 6mm tube and new coolant.
There are no limits to your imagination for the tube as it is available in diverse colors or e.g. UV reactive. The individual circumstances in the own case can now also be considered for the length.
To refill the AIO water cooling system, use a pre-mix with corrosion protection, since 2 different metals (aluminum and copper) are in the same circuit.
Refill and tube renewing
Filling requires time and patience; after all, you want to have as less air as possible in the system.
First cut two equal pieces of tubing and connect it to the pump. We have opted for simple, clear 6 / 9mm tubing (6mm inner diameter, 9mm outer diameter), which will be approximately as long as the original tubing.
It can help to heat the end with a hair dryer or hot air gun to make it softer and easier to connect. You can also secure the tube with a cable tie after connection.
Then we filled the pump incl. tubes by a small funnel with the finished mixture of Alphacool CKC
. With a syringe, e.g. from the pharmacy, you can easy fill everything without any air left.
In between, it helps to softly knock the parts, so you get the last bubbles out of the circuit.
If you are sure that you have filled as much water as possible, the tubes can be plugged in.
Another hint:
The insertion of the second tube will produce a slight overpressure. To avoid this, simply squeeze the second tube at some place with two fingers before plugging it in, then plug it in and release.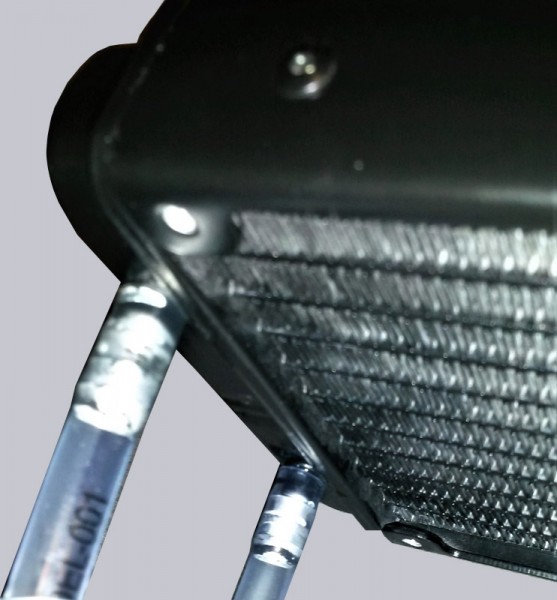 Goodies
Again we did more than necessary, the tube ends were additionally provided with anti-kink springs. They make a visual appearance and also protect the tube against kinking. The ends were additionally coated with a shrink tube. It connects the springs with the cable ties, holds them in their place and improves the appearance.
Since the AIO GPU water cooling system has now become a CPU water cooling system, we have also donated a new PWM fan from Noctua.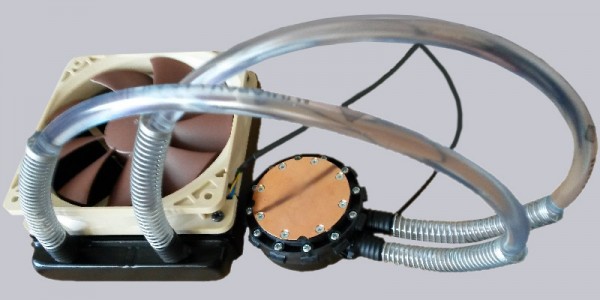 Testing
After such a huge modification, the system should be tested outside of the PC. Because no one would like a leaking water cooling system inside of the PC. If you do not have a separate power supply, use an ATX bridging connector, or look at our PC power supply topic, how to start the PC power supply without connected motherboard and other components. So the AIO water cooling system can simply run separately for a few hours without endangering the PC.