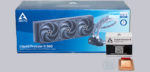 AIO Cold Plate Flat Gasket Replacement Video Tutorial …
We have already published some guides on AIO cleaning, AIO conversion as well as custom loop expansion of AIO water cooling in our water cooling tutorials section and today we will show how to renew the cold plate flat gasket.
How to do that exactly, we show first as an instruction video on our OCinside YouTube channel and by the way we're very happy about every new subscriber 😉
Note: Please allow our cookies first to see this external content!
In the following AIO gasket replacement tutorial, there is an additional step by step guide in German with pictures and useful hints for replacing the gasket.
Arctic Liquid Freezer II Service Kit Installation Guide Step by Step …