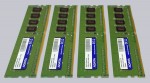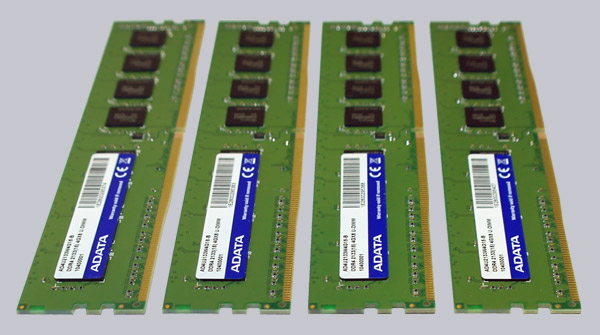 ADATA Premier DDR4-2133/PC4-17000 16GB (4x 4GB) Memory Review
DDR4 memory modules are on many hardware shopping lists at the latest since the introduction of the Intel Haswell-E processors. DDR4 modules are not only interesting in the server area, but conquer also the upper mainstream area thanks to higher bandwidth and lower power consumption. But what are the DDR4 advantages compared to DDR3, which DDR4 memory you should buy and how high can one overclock DDR4 memory? We have today at OCinside.de a 16 GB DDR4 Quad Channel Kit tested, consisting of four ADATA Premier 4 GB DDR4-2133 CL15 memory modules.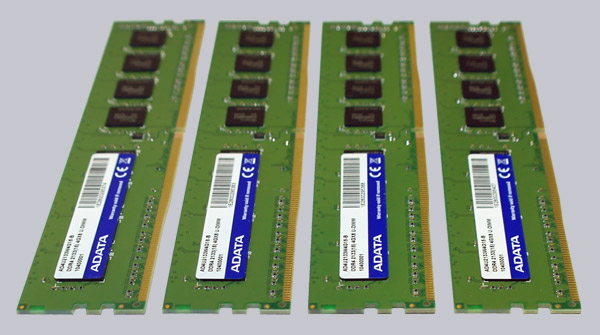 Thanks for the support …
Many thanks for the support with the four 4GB DDR4-2133 modules by the manufacturer ADATA.
We have tested 4x ADATA Premier 4 GB 288-pin DIMM DDR4-2133 AD4U2133W4G15-B als Quad Channel Kit, it
has at present a price of approx. 4x 59 Euro so altogether approx. 236 Euro (10/2014).
Here you can buy the ADATA DDR4 DIMM
The supply of the four 4096MB PC4-17000 memory modules …
Our memory samples were delivered without the usual ADATA packaging.
That is contained …
For the test, we received the four ADATA DDR4 RAM without further additions such as manual, etc..
Here you can see the front side of the 4x 4 GB DDR4 memory modules: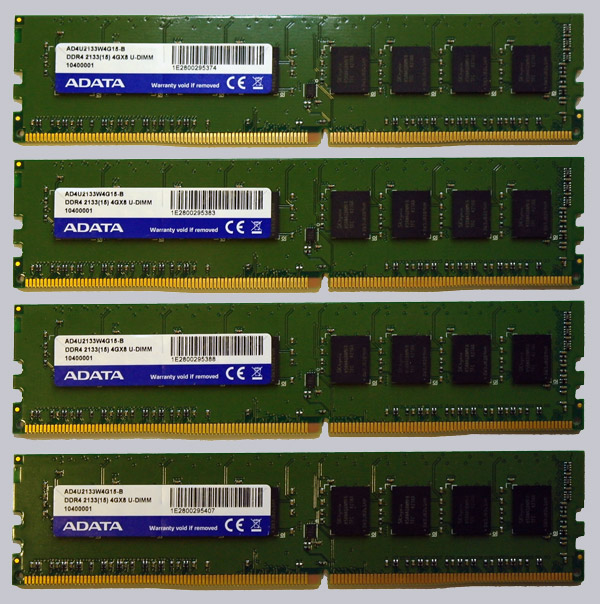 As you can see on the back, the 4 GB ADATA Prime modules are in contrast to the ADATA Premier 8 GB DDR4 modules assembled on one side only: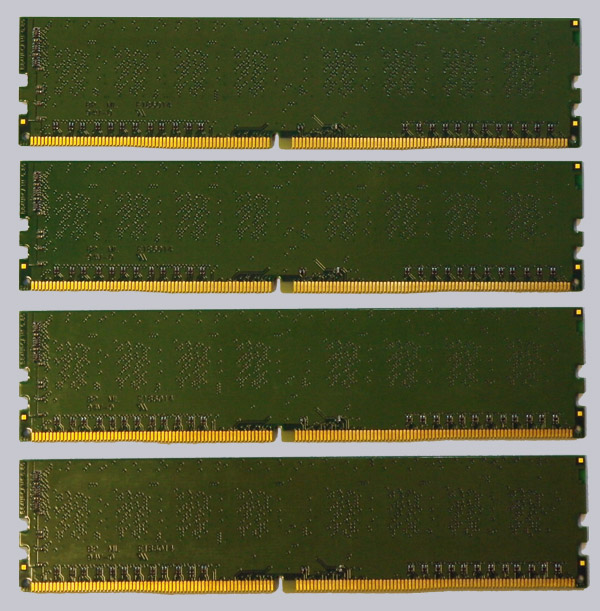 DDR4 vs DDR3 …
DDR4 offers speeds of 2133 to 4266 MT/s, DDR3 provides, only 800 to 2133 MT/s. So, DDR4 achieved with DDR4-2133 a bandwidth of 17 GB/s in contrast to DDR3-800 with 6.4 GB/s. And last but not least DDR4 modules have a higher capacity of up to 16 GB per DDR4 module and that with only low 1.20 Volt (1.05V – 1.35V) DDR4 memory voltage instead of 1.50V (1.35V – 1.65V) for DDR3 modules. Of course, that does not mean that all is gold that glitters, because like often, many other factors such as for example the latency is also very important.
If approx. 50% extra charge is a worthwhile investment, is now there, but the development continues and new platforms such as e.g. the Haswell-E processors requires DDR4 modules.
By the way, not only the number of pins, which have risen from 240-pin (DDR3) to 288-pin (DDR4), but also the DDR4 module design is new, because the bottom of the modules is no longer plane, but slightly flattened on both sides. In addition also the (voltage-) notch is on another position, to avoid that one is accidentally installing DDR4 modules in a DDR3 socket or DDR3 modules in a DDR4 slot. DDR3 and DDR4 memory is not pin compatible.
Here you can see the difference between the DDR4 modules (top) and DDR3 modules (bottom):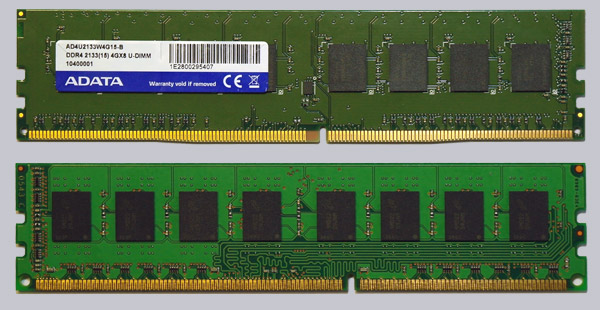 We have a total of four ADATA Premier DDR4 memory modules installed in quad channel mode.
Here you can see the installed memory on our LGA2011-3 test board: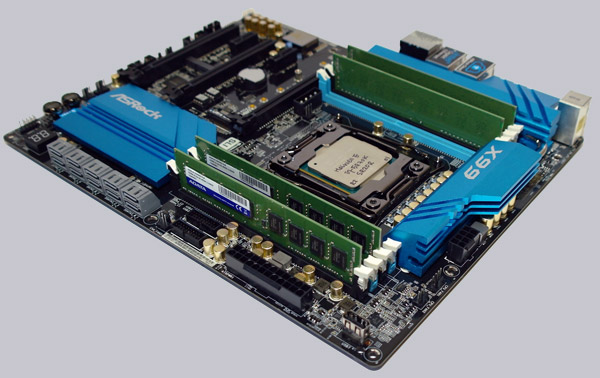 All modules have been properly recognized in the UEFI as DDR4-2133 modules and work in quad-channel mode: