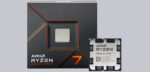 After the AMD Ryzen 9 7950X review and the AMD Ryzen 5 7600X review, we will take a look at the AMD Ryzen 7 7700X processor without AMD 3D V-Cache on OCinside.de today. We will test how well the AMD Ryzen 7 7700X can be overclocked and how the power of 8 cores and 16 threads of the AMD Ryzen 7 7700X compare to the AMD Ryzen 9 7950X as well as AMD Ryzen 5 7600X.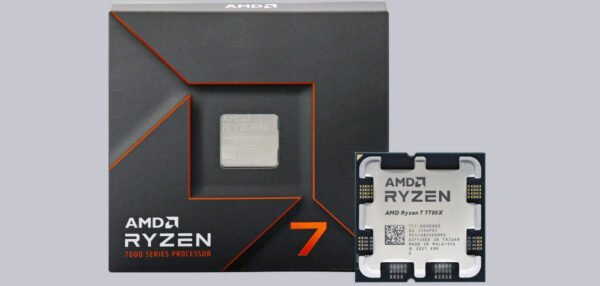 Thanks for the support …
Thanks for the support to AMD.
At the review date, the AMD Ryzen 7 7700X CPU is available for approx. 350 Euro (04/2023)
Here you can order the AMD Ryzen 7 7700X at a reasonable price.
The delivery of the AMD Ryzen 7 7700X …
The AMD Ryzen 7 7700X is delivered in this stylish box with a viewing window and a view of the processor.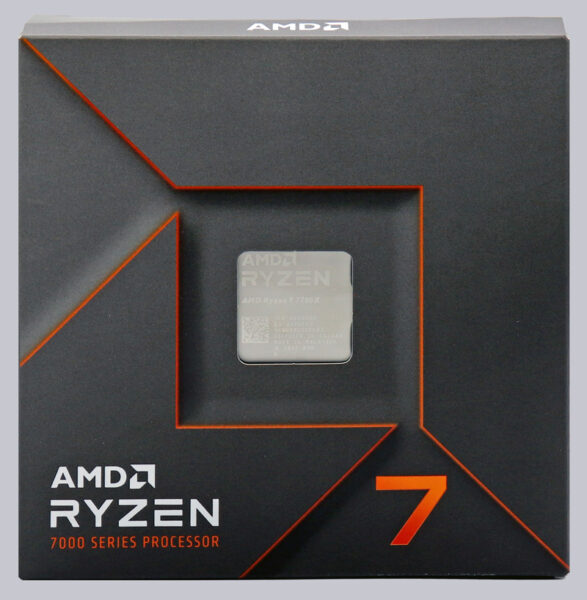 On the back, we find a few technical specifications as well as notes about content, the integrated graphics unit, warranty and possible deviations in the maximum boost clock.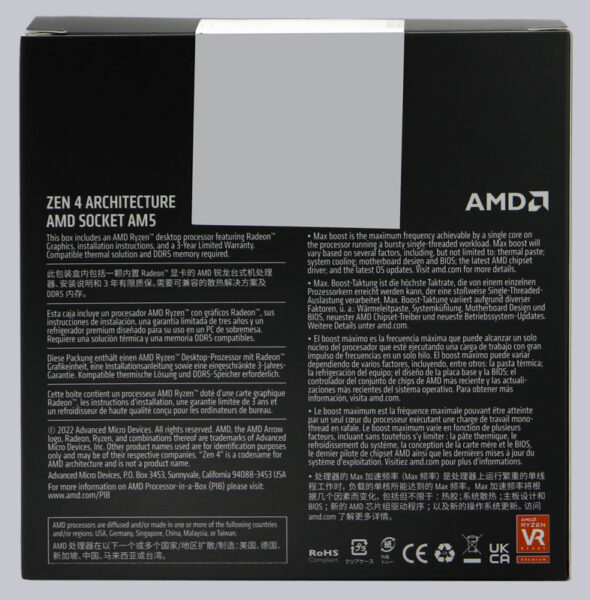 To remove the processor, cut the upper sticker and pull the contents out of the packaging.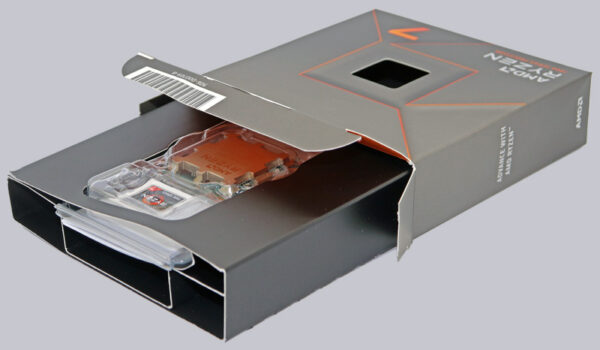 In addition to the CPU, the boxed CPU only contains a quick start guide and a small AMD Ryzen 7 sticker.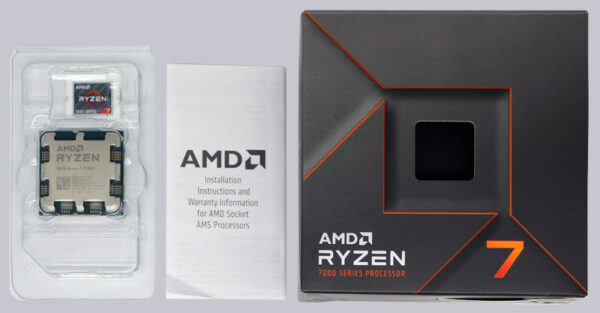 The AMD Ryzen 7 7700X we tested is an interesting processor in the mid-range of the Ryzen 7000 series with 8 cores. Apart from it, the smallest AMD Ryzen 5 7600X with 6 cores, the Ryzen 7 7700X with 8 cores, the Ryzen 9 7900X with 12 cores and the more inexpensive AMD Non-X counterparts were released at CES 2023 (see Hardwarespot.de CPU News and recently the AMD Ryzen series with AMD 3D V-Cache. All four models are the same size and fit into the AM5 socket. They mainly differ in the number of cores, the resulting power consumption and the cache size. Furthermore, there are different clock rates from 3.70 GHz base clock up to 5.70 GHz Boost. AMD has also integrated 3D V-Cache into the AMD Ryzen 9 7950X3D, AMD Ryzen 9 7900X3D and AMD Ryzen 7 7800X3D, which offers better gaming performance compared to the non-3D models. AMD CPUs with 3D V-Cache should not be overclocked manually, but automatic overclocking via Precision Boost Overdrive and Curve Optimizer is still possible for the X3D CPUs.
Here is another Short on YouTube in our OCinside YouTube channel.
Note: Please allow our cookies first to see this external content!
AMD Ryzen 7 7700X technical data …