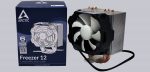 Result and general impression …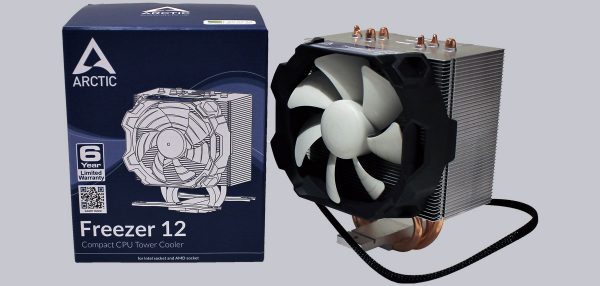 Overall, the Arctic Freezer leaves a positive impression.
The price, quality and cooling performance convince!
It gives a significant improvement to boxed coolers, even with OC potential. In addition, the Arctic Freezer is due to its compact dimensions suitable for special installation situations where larger coolers could cause difficulties.
What we did not like so much is that the fan control through the semi-passive operation really requires flair when a low-speed silent setting is desired. Also, it is certainly not every user happy that he/she has to download the assembly instructions first.
Bottom line and especially in relation to the price of the Arctic Freezer 12 is therefore well worth considering and who needs more power, can get the Arctic Freezer 33 Plus (bzw. Arctic Freezer 33) instead.
Tip: In the interactive Fit for Fan guide, you can virtually test the CPU cooler on the motherboard and even listen to it – the Arctic Freezer 12 will be included in the next update.
For a comparison with other coolers, take a look at our CPU cooler chart 2016 on the Intel Core i5 PC. Here is our CPU cooler comparison 2016, tested on an Intel Core i7 PC system. And here is again our CPU cooler chart with CPU coolers before 2016. A direct comparison to our previously tested coolers is however not possible here, since the test system has changed fundamentally in the meantime.
Discuss in our forum and share experiences about the Arctic Freezer 12 …
Here you can order the Arctic Freezer 12 at a reasonable price.
Read on in the hardware test area with several hardware reviews …