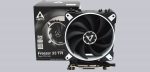 Test setup and results …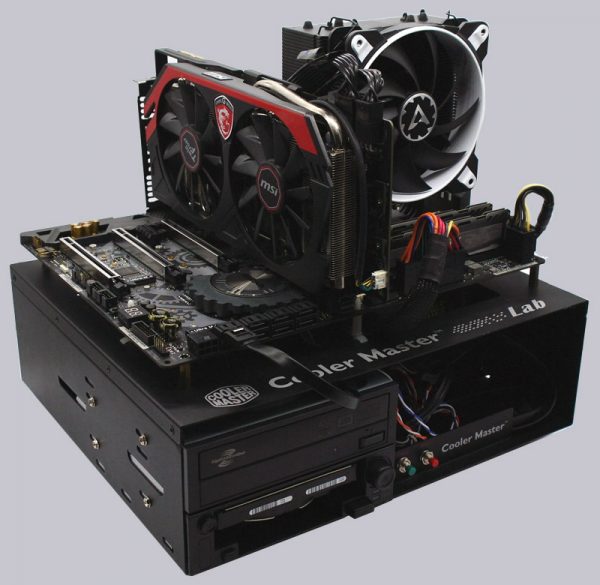 AMD Threadripper Test
AMD Ryzen Threadripper 1950X Default @ 3400 MHz at approx. 1.125 Volt
ASRock X399 Taichi
4x 16GB DDR4-2666 Crucial Ballistix Sport DIMM
MSI Radeon R9 280 Graphics Card
Cooler Master Silent Pro M 600W power supply unit
Cooler Master Testbench v1.0
Windows 10 Pro 64 Bit and Microsoft Windows 7 Ultimate 64 Bit
Intel Skylake-X Test
The following ITX configuration is used as test system:
Intel Core i9-7900X Default @ 3300 MHz at approx. 1.065 Volt
ASRock X299E-ITX/ac
4x 8GB DDR4-2400 CL15 Kingston HyperX SODIMM
MSI Radeon R9 280 Graphics Card
Cooler Master Silent Pro M 600W power supply unit
Cooler Master Test Bench v1.0
Windows 10 Pro 64 Bit and Microsoft Windows 7 Ultimate 64 Bit
For measurement, the following tools were used: Prime95 V28.7 and Intel XTU
Thermal compound: Arctic MX-4 (included in delivery)
The ambient temperature during the test was about 21°C.
The following picture shows a thermal image of the ASRock X399 Taichi Threadripper test system with the Arctic Freezer 33 TR cooler.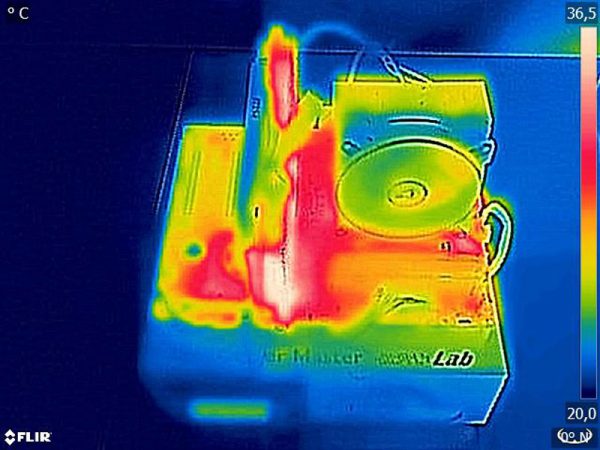 On the AMD Ryzen Threadripper 1950X CPU we have reached about 60°C with the default settings. Overclocked to approx. 4.1 GHz, the temperature then increased to approx. 73°C.
To compare the cooler with the previous Freezer 33 eSports One, we also used the same Intel test system. We have tested the Intel Core i9-7900X CPU without overclocking with the cooler at 3300 MHz and approx. 1.065 Volt VCore in idle at standard and maximum speed. After that we loaded the Intel Core i9-7900X CPU with Prime95 and recorded the temperature, so that with limited power about 140 watts TDP are reached.
The Intel Core i9-7900X CPU is a processor flagship with 10 cores and 140 Watt TDP!
95 Watt TDP has an AMD Ryzen 7 1800X CPU with 8 cores.
65 Watt TDP would have an AMD Ryzen 5 1600 CPU with 6 cores.
But we are testing a Threadripper cooler and the AMD Threadripper 1950X CPU even has 180W TDP!
And we are here at OCinside.de and wanted to test the cooler with CPU overclocking. However, it wouldn't have made such a big difference if we had just increased the clock or CPU voltage. Because then power or current limit throttling would limit the maximum power to 140W TDP.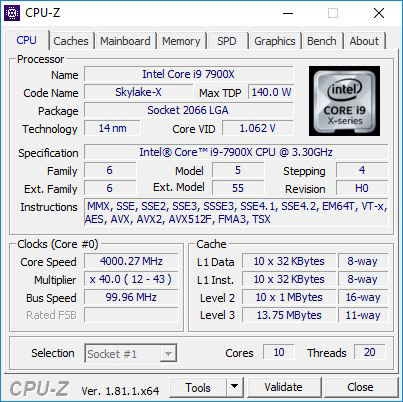 So we just overclocked the Intel Core i9-7900X CPU to 4 GHz and ran at maximum load Primary Plane Current Limit, Short Duration Power Limit and Long Duration Power Limit at Unlimited to reach about 160W TDP.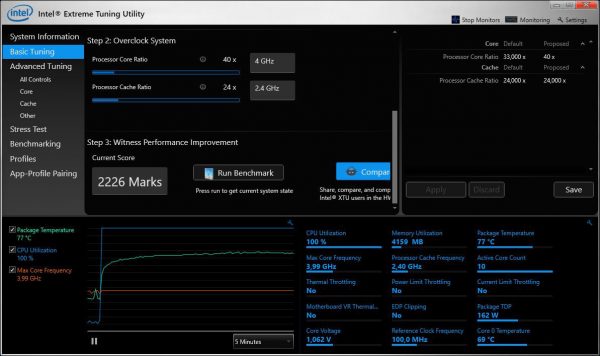 And for maximum load we overclocked the Intel Core i9-7900X CPU again to 4.4 GHz and set the Primary Plane Current Limit, Short Duration Power Limit and Long Duration Power Limit to Unlimited at maximum load to reach about 200W TDP. The voltage converter and the CPU are heavily loaded or even overloaded. As usual: Don't do it!
We measure the fan volume with a dB meter from a distance of 100cm. In addition, we determine the respective speed. Due to the 3-phase motor, the fans output incorrect values via the tachometer signal or are usually not correctly detected by the 3 instead of the 2-phase signals. All speeds are therefore displayed approx. 50% higher and fan controls must therefore be adapted if no 3-phase fans can be selected.
Arctic Freezer 33 TR results …
The following Arctic TR diagram shows from top to bottom the results of the Intel Core i9-7900X CPU at 3.3 GHz at idle with measured 2099 rpm (corresponds approx. 1400 rpm), including at 3.3 GHz in idle with maximum speed of 2954 rpm (corresponds to approx. 2000 rpm), then with Prime95 load, then with 4 GHz without power limits and finally with 4.4 GHz without power limits.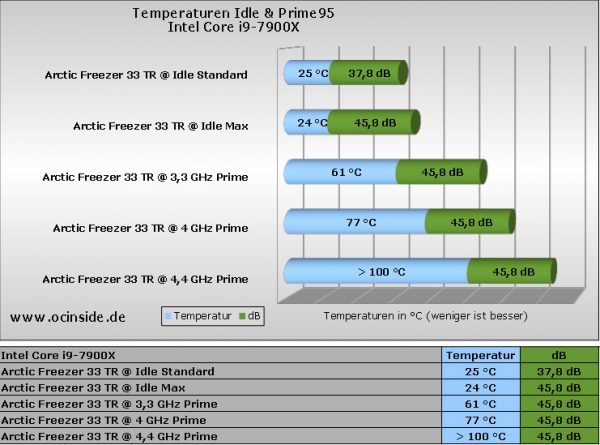 You can see very nicely how the package temperature of the processor can rise to over 100°C in extreme cases, whereby Intel thermal throttling to protect the CPU starting from approx. 105°C. The Arctic Freezer 33 TR easily manages the 140W TDP (Thermal Design Power) or 180W TDP of the Threadripper, only with high overclocking without power limits it becomes critical.
We explained the differences in measuring CPU temperatures and how to overclock in detail in our Intel Core i3, Core i5 and Core i7 overclocking guide.
Arctic Freezer 33 TR conclusion and overall impression …