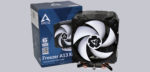 Result and general impression …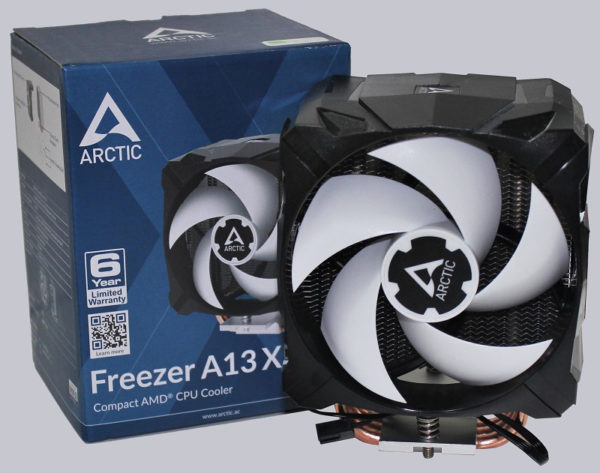 With the Arctic Freezer A13 X Arctic offers a compact cooler that still has a solid performance and is whisper-quiet in everyday life. You will only be able to hear it unobtrusively in load situations.
If you are looking for an inexpensive replacement for an existing boxed cooler and do not have a lot of space in the PC case, you should definitely consider the new Freezer 13X!
Apart from this scenario, the Freezer 13X has a hard time convincing us, considering that there are already 120mm tower coolers for the same money. In addition, with the Freezer 13X you have to decide in advance for the AMD or the Intel variant, whereas other coolers usually bring mounting material for the usual sockets of both manufacturers.
We find it interesting that Arctic also offers a version of this Freezer 13 X for continuous operation (Freezer 13 X CO), whose double-ball-bearing fan is designed for 24/7 use. This version is just 2-3 Euro more expensive. If you're interested in the Freezer 13X, you should consider using the higher-quality CO version for only about 10% extra charge.
Tip: In the interactive Fit for Fan guide you can virtually fit coolers onto different motherboards and listen to many – the Arctic Freezer A13X will be included in the next update.
For a comparison with other coolers, take a look at our CPU cooler chart 2018 on the Intel Core i5 PC and the CPU cooler chart 2018, tested on an AMD AM4 PC system. Here is also the CPU cooler chart 2016 on the Intel Core i5 PC and the CPU-cooler comparison 2016, tested on an Intel Core i7 PC. And here is the previous CPU cooler chart with CPU cooler before 2016. A direct comparison to our previously tested coolers is however not possible here, since the test system has changed fundamentally in the meantime.
Discuss in our forum and share experiences about the Arctic Freezer A13X …
You can order the Arctic Freezer A13 X here.
Read on in the hardware test area with several hardware reviews …