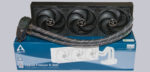 We have received the updated version of the Liquid Freezer II CPU water cooler series from Arctic, which was introduced as first revision at the end of last year. This time we had the chance to test the powerful 360mm version with 3 fans extensively and took a close look at the differences between the revision 2 and the original Liquid Freezer II cooler. One thing in advance, fortunately there was no cost reduction at the expense of cooling performance! All details and of course the measurements including OverClocking are shown in the following review.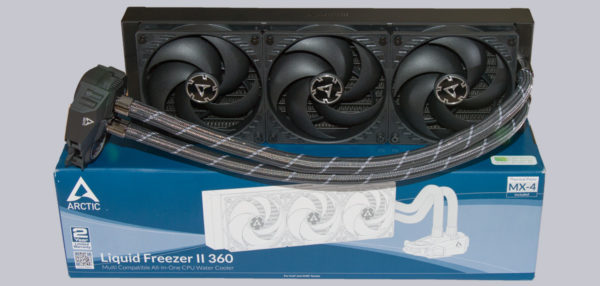 Thanks for the support …
Many thanks for the support to Daniel and the manufacturer Arctic.
The Arctic Liquid Freezer II 360 water cooler has at review date a price of approx. 110 Euro.
Also available are coolers in the sizes 120mm, 240mm and 280mm, which currently cost between 60 and 90 Euro.
Here you can order the Liquid Freezer II 360 at a reasonable price.
The delivery of the Arctic Liquid Freezer II 360 water cooling …
Typical for a 360mm water cooling system the Liquid Freezer II 360 comes in a rectangular box in the usual Arctic blue. Just as typical Arctic the packaging is mainly printed in white. On the front we see an image of the water cooling system and on the left side a reference to the two-year warranty and a QR code that leads to the online product page. On the right, we are pleased to take the reference to the included and from us very much appreciated MX-4 heat conduction paste.


The backside is printed with some pictures to show the most important features of the water cooling system. This also includes the integrated fan for cooling the mainboard voltage converters. There is also a link to the support page of the watercooling, where the installation manual is available in 8 languages.


On the bottom we find the first hint that this is the second revision of the Liquid Freezer II series.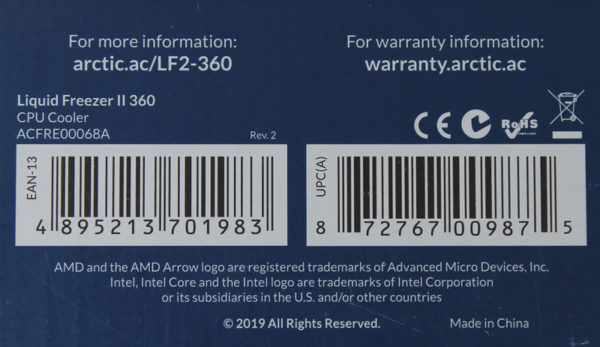 If you open the lid, the solidly packed CPU cooler in cardboard and plastic foil appears. You don't need to worry about transport damage here.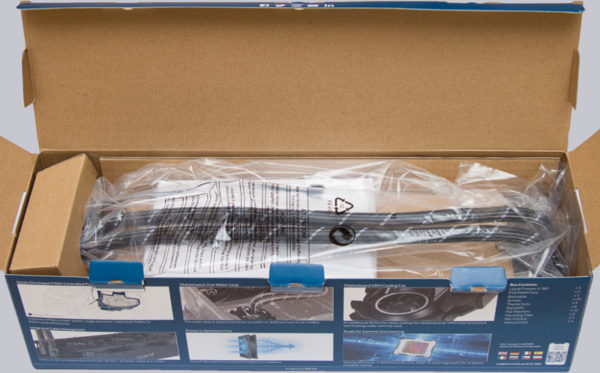 With Arctic AIO water coolers, it is common for the fans to be factory fitted to the radiator. In most cases, this saves the customer time later when assembling the system.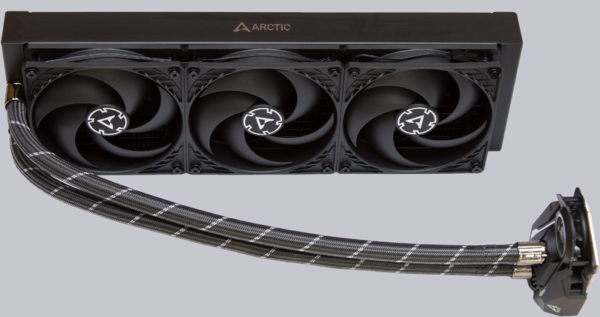 The following components are included as accessories.
– the holding brackets for the cooling block
– Screws and washers for final assembly
– 0.8 gram MX-4 thermal compound
– a QR code to the support page, for installation instructions
– an accompanying note with service telephone number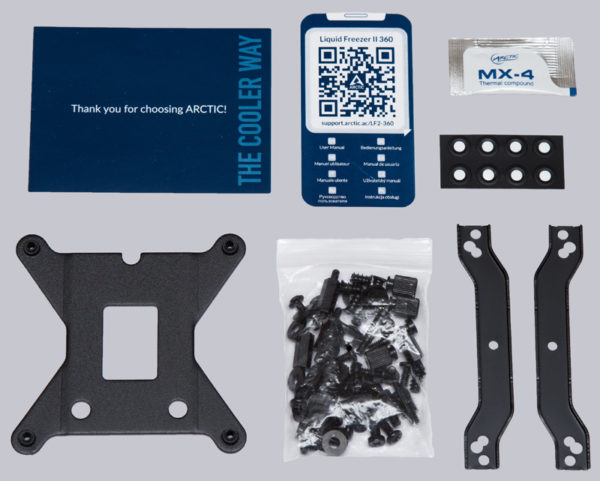 Now let's take a look at the inner values of the Arctic Liquid Freezer II 360 AIO water cooling system.
Liquid Freezer II 360 technical specifications …