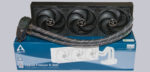 Result and general impression …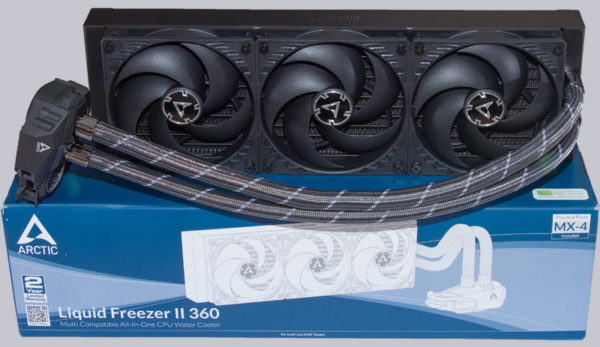 We are glad that Arctic did not take any risks with the minor refresh of the Liquid Freezer II series and therefore did not make any worsening improvements!
Instead, Arctic remains true to its strengths and delivers with the current Arctic Liquid Freezer II 360 Rev.2 a top AIO water cooling for current Intel and AMD systems. Currently, the water cooler from Swiss designers is one of the most powerful and quietest coolers on the market. Fans of RGB lighting won't get their money's worth with the Arctic cooler, but the transparent VRM fan would almost force itself to be illuminated. Perhaps this will appear in the future with another update.
With this perfect test result, the Arctic Liquid Freezer II 360 effortlessly gained our OCinside.de Purchase Tip Award 04/2020.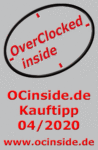 Tip: In the interactive Fit for Fan guide you can virtually fit coolers onto different motherboards and listen to many – the Arctic Liquid Freezer II 360 will be included in the next update.
For a comparison with other coolers, take a look at our CPU cooler chart II on the Intel Core i5 PC and the CPU cooler chart, tested on an AMD AM4 PC system. Here is also the CPU cooler chart 2016 on the Intel Core i5 PC and the CPU-cooler comparison 2016, tested on an Intel Core i7 PC. And here is the previous CPU cooler chart with CPU cooler before 2016. A direct comparison to our previously tested coolers is however not possible here, since the test system has changed fundamentally in the meantime.
Discuss in our forum and share experiences about the Arctic Liquid Freezer II 360 …
Here you can order the Arctic Liquid Freezer II 360 at a reasonable price.
Read on in the hardware test area with several hardware reviews …